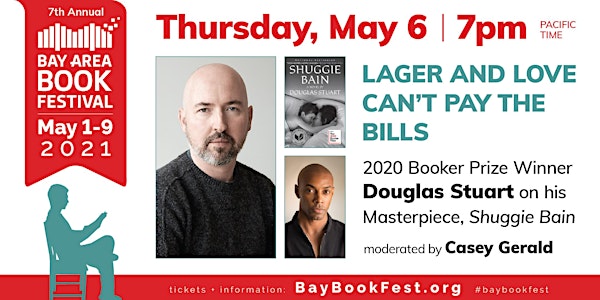 Lager and Love Can't Pay the Bills: 2020 Booker Prize Winner Douglas Stuart
Lager and Love Can't Pay the Bills: 2020 Booker Prize Winner Douglas Stuart on his Masterpiece, Shuggie Bain
Refund Policy
Refunds up to 7 days before event
About this event
Douglas Stuart enraptured readers worldwide in 2020 when his heart-stopping debut novel, Shuggie Bain, took the world's top literary award, the Booker Prize. While Stuart may have seemed like an overnight success, Shuggie Bain was a labor of love that drew from his own history of childhood poverty, hardship, and devotion to a mother whose addiction struggles were intensified by a broken system. This tender and wrenching story has been compared to Angela's Ashes in its emotional power and mesmerizing writing style. Shuggie Bain may have been translated into over 20 languages, but it's the author's own Glaswegian dialect—immediate, accessible, hypnotic—that'll take up residence in your mind forever.
Stuart is interviewed by Casey Gerald, who gained fame with a viral TED talk, "The Gospel of Doubt." Like Stuart, Gerald grew up queer, shaped by poverty and parental addiction. He's another "success story," having made his way through Yale and Harvard Business School, but his memoir There Will Be No Miracles Here, praised by Marlon James as "the most urgently political, most deeply personal, and most engagingly spiritual statement of our time," refuses to reduce his story to an "American dream" parable. This conversation between two rare souls will question myths, mine deep emotional territory, and examine how we break old cycles while still honoring where we came from.
Each ticket includes private access to the event recording for 10 days following the live event.
Just added: join our exclusive afterparty with Douglas and Casey!