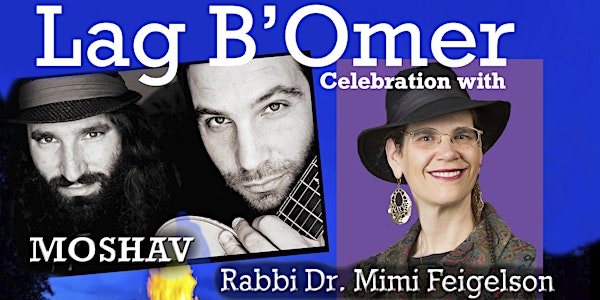 Lag B'Omer Celebration with Reb Mimi & Moshav!
When and where
Location
Backyard of Jon & Danya Hoenig 9501 Oakmore Road Corner of Oakmore and Beverly Los Angeles, CA 90035
Description
Don't miss this upscale and intimate event! Deep Torah inspiration with Reb Mimi, live music from Moshav, and catering from Schnitzly under the stars!
Rabbi Dr. Reb Mimi (Miriam Sara) Feigelson, the first female Orthodox rabbi post-shoah, was ordained by Reb Shlomo Carlebach. She is an international teacher of Chassidut, Spirituality and a story teller. Reb Mimi formed and created the role of the Mashpiah Ruchanit (spiritual mentor) in non-Orthodox Rabbinical Seminaries in the United States and Yerushalayim. Prior to this she was the associate director of the Yakar Institute for Tradition and Creativity, the Rosh Beit Midrash of the Women's Beit Ha'midrash and the adjunct faculty at the Ma'aleh Film College. She is published regularly in the Ha'aretz Literary Supplement.
Wednesday Evening, May 22 from 7PM- 10PM
$26 per person
You will be emailed the address of private home in Beverlywood priror to event.