Description
We are super excited for authors Jacky Davis and David Soman to be joining us opening day of Millbrook Farmers Market, the Saturday of Memorial Day weekend! They will be reading from their newest book, Ladybug Girl and the Rescue Dogs.
Visit us at our Merritt @ The Market booth and meet the authors! Books will be available for purchase and to personalize with your very own message!
Reading begins at 11am. Book signing to follow.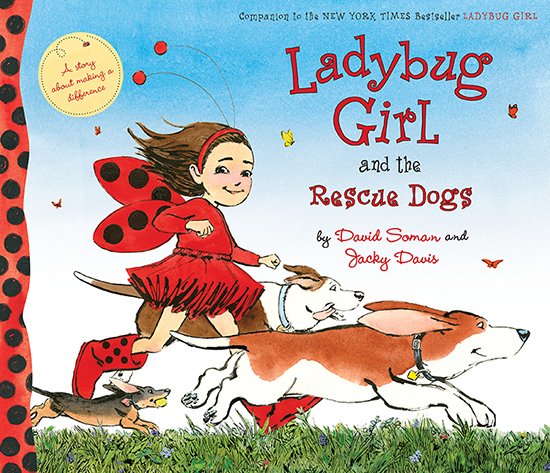 ---
ABOUT THE BOOK

Ladybug Girl and her friends help at a dog-adoption fair and discover that even the littlest things can make a big difference in this tenth hardcover in the New York Times bestselling Ladybug Girl series.

Lulu is excited to meet all the rescue dogs when the pet-adoption fair comes to her local farmers' market. She wants to take all of them home--but she already has Bingo, and Mama says one dog is enough for their family. That doesn't mean Lulu can't help, though. It's time for Ladybug Girl and the Bug Squad--her friends Grasshopper Girl and Bumblebee Boy--to step in! The Bug Squad can do all kinds of little but important things, like brush the dogs, play with them, and bring them water and food. And then Lulu comes up with the perfect plan to help the dogs find their forever homes. Her idea is such a success that the Bug Squad knows they'll be back again next week. Together, they can help every dog get adopted.

This beloved series is celebrated for its gentle, authentic, and imaginative exploration of kid-emotions and -truths.
---
ABOUT THE AUTHORS

Jacky Davis and David Soman are a husband-and-wife team of writer and illustrator. They live in Rosendale, New York, and the Ladybug Girl books are inspired by their daughter and son.