Join us TOMORROW for an exciting half-day event as we equip you to become an extraordinary influencer in this tumultuous political climate!
About this event
When you leave here on Friday, you won't feel helpless any longer!
FAST-TRACK your practical understanding and foundation of the most pressing political topics in our current news cycles
​Learn to MASTER courageous conversations to win hearts & minds to conservative values in a peaceful way
​Meet & CONNECT with your State Legislators
​Get a personal introduction and team up with the most reputable GRASSROOTS groups making an impact
​Walk away equipped and plugged-in so you can seriously INFLUENCE the next election cycle in a classy way
​Help return our nation to God's principles so He can HEAL OUR LAND!
Event Will Include:
Dr. Ming Wang Opening: A very moving musical opener with the world-renowned surgeon, who fled communist China, fell in love with America, and now gives back in countless ways out of gratitude for his freedom.
Common Ground - Dr. Wang will speak on how to find common ground with other ethnicities.
Mastering Courageous Conversations - with Diane Canada, 2020 TN State House of Representatives Candidate, Speaker/Author, and Political Podcast Host. Diane will give a vibrant and interactive presentation on the 7 core conservative principles; how to have effective & courageous conversations about how they apply to today's hottest political topics, without conflict. 
America Was Founded on Christian Principles and We Can Prove It - with Stephen Skelton of the American Bible Project. Stephen is currently putting the Bible back in American schools all over our nation. He will give you strong talking points that you can use in conversation to overcome objections to this important foundation.
The Constitution Simplified - with Joni Bryan of the 917 Society. Joni is currently putting pocket constitutions into the hands of 8th graders all over our nation. She will give you a simplified overview of our Constitution and you will be given one to take home.
Meet Your Legislators - Some of the most effective State Senators and State Representatives will participate in a panel discussion to show what they are doing at the legislative level to keep Tennessee conservative.
Get Plugged In Now! - Tennessee's most productive grassroots organizations will be on hand to answer your questions and help get you connected so you can influence the topics you care about most.
Maggiano's banquet hall will provide a beautiful backdrop for this important event! 
Morning Session: Fresh Fruit & Pastries
Lunch Starters: Stuffed Mushrooms, Spinach Artichoke al Forno 
Lunch Entrees: Chicken & Spinach Manicotti, Gnocchi w/ Tomato Vodka Cream Sauce, Tilapia Lemon & Herb 
Dessert: Gigi's Butter Cake, Tiramasu
We believe that women are highly motivated to engage in our current politically charged environment because they want to ensure that their children and grandchildren grow up in a free society and that our great country will not fall prey to Socialism or Marxism.
We believe women will be instrumental in turning our nation back to God so that He can heal our land.
Attend this event and walk away READY to make a serious impact in your community as we approach the next election cycle!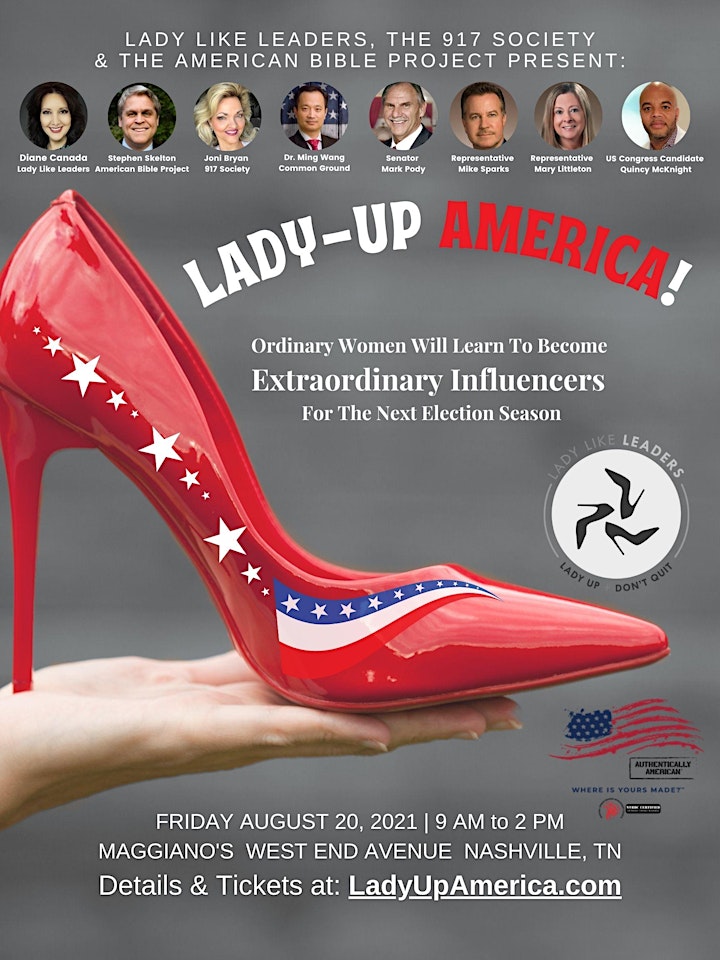 Organizer of Lady-Up America!