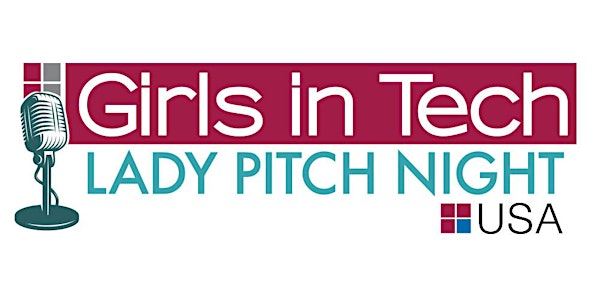 Lady Pitch Night Competition USA
When and where
Location
NASDAQ ENTREPRENEURIAL CENTER 505 Howard Street San Francisco, CA 94105
Refund Policy
Contact the organizer to request a refund.
Description
GIRLS IN TECH HOSTS STARTUP COMPETITION FOR CUTTING EDGE FEMALE TECH FOUNDERS
Lady Pitch Night 2015 will convene over 400 innovative female business leaders, investors, engineers, and designers to explore the best in innovation, tech, and entrepreneurship.
Girls in Tech is hosting the half-day pitch competition for early-stage technology startups for female entrepreneurs. A panel of seasoned tech professionals and investors will be judging based on the innovativeness and viability of the product or service. The competition will take place at Nasdaq Entrepreneurial Center in San Francisco on Tuesday, November 10. Winners will receive a cash prize along with additional resources such as office space provided by RocketSpace, and equipment to move their startup forward.
The evening will also feature inspiring keynote speeches by well-known talented technologists, academics, diplomats, and some of the most successful female startup founders who have reached successful milestones in their careers. To close the night, libations and appetizers will be served celebrating the applicants, finalists, and winner.
For more information on rules and how to apply, visit Girls inTech Lady Pitch Night online at http://girlsintech.org/ladypitchnightsf/ or email info@girlsintech.org
Unfortunately, we cannot provide refunds for this event.

Arum Kang - Arum is the Founder/CEO of Coffee Meets Bagel. Arum loves being in the consumer space. She has experience working at Amazon as well as Avon Products, leading efforts to understand consumer needs and behavior to deliver superior product experiences. After obtaining her MBA degree from Harvard Business School, Arum co-founded Coffee Meets Bagel with her sisters Soo and Dawoon. She is excited to lead a business that leverages technology to bring something truly valuable to consumers worldwide. Arum has given many talks about the intersection of dating and technology in the startup scene, including a recent TEDx talk on 'Redefining Normal'.

Jennifer Tejada - Jennifer most recently served as President and CEO of Keynote Systems. She brings 20+ years' experience growing leading global companies through product innovation, marketing, sales and strategic innovations, having held senior positions with industry leaders across venture, private equity and public sectors in the consumer goods, retail, telecom and technology industries. Prior to Keynote Systems, Jennifer served as Executive Vice President and Chief Strategy Officer for Mincom, a global enterprise software company acquired by ABB. Previously, Jennifer was also Vice President of Global Marketing at i2 Technologies where she was responsible for building the company's brand, market presence and solution portfolio. In addition, Jennifer has held several non-executive director and advisory roles in private equity and venture backed businesses, including oOh Media (current), Gizmo, Pollonizer and Foundation 9 Entertainment. Jennifer has a BA in business management and organizational behavior from the University of Michigan. Follow her on Twitter @jennetejada

Stephanie Tilenius - Stephanie is CEO and Founder of the newly launched health-coaching app, VIDA. Formerly, she was an executive-in-residence with Kleiner Perkins Caufield & Byers and prior to this served as vice president of global commerce and payments at Google, including product search, payments, and products like Google Offers and Google Wallet. Prior to joining Google, she was at eBay for nine years, most recently as senior vice president of eBay North America and Global Product. As general manager and vice president of PayPal merchant services, Stephanie built PayPal's platform on the web from the ground up to be used on 50 percent of websites today and into a multi-billion business. She also ran eBay Motors and eBay Asia Pacific and Latin America. Previously, Stephanie was a co-founder of PlanetRx.com and worked at Intel, AOL, Firefly and Alex Brown. Stephanie is on the board of IronPlanet.com and Chair of the CA Harvard Business School Research Center. She holds a BA and MA from Brandeis University, as well as an MBA from Harvard. She is a 2012 Henry Crown Fellow of the Aspen Institute and a member of the Aspen Global Leadership Network.

Yvonne Wassenaar - Yvonne is Chief Information Officer at New Relic where she is building a unified technology and data platform designed to catalyze the company's growth. She is also executive sponsor of the New Relic's Non-Profit program and Diversity efforts. Yvonne is a veteran in the technology industry and has worked across the US, Asia, and Europe. She spent 17 years at Accenture, where she started her professional career as a computer programmer, and was ultimately promoted to Partner in the Communications & High Tech Strategy practice. Yvonne continued her technology/strategy focus for four years at VMware where she played a number of executive roles helping the company scale and diversify the business. Yvonne received her undergraduate degree and MBA from UCLA where she graduated with top honors. She lives in San Francisco with her 3 children and many pets.
Judges

Jonathan Abrams - Founder & CEO of Nuzzel and co-founder and Managing Partner of Founders Den, a shared office space and private club for experienced entrepreneurs and their friends. Previously, Jonathan was the founder & CEO of Socializr, Friendster, and HotLinks, and a software engineer at companies such as Netscape and Nortel.

Yasi Baiani - Yasi is a product innovator, entrepreneur, and startup advisor. As the Lead Product Manager at Fitbit, she strategizes and builds the next generation of health and wellbeing products. Prior to Fitbit, Yasi was the CEO and Co-Founder of ActivePepper, a health and fitness mobile company and the Product Innovation Manager at athenahealth, a $5.5 billion healthcare IT firm. Yasi also experienced entrepreneurship through the lens of a venture investor; she was a VC for a $3.5 billion venture fund in Silicon Valley, invested in tech and digital health startups. Yasi is currently serving as a Board of Director of Iranian Alumni of Harvard and The Reset Foundation. Yasi is a blogger, writing regularly about wearables and the role of women in tech. She holds a BS in Business Administration from UC Berkeley and an MBA from Harvard Business School. Yasi was listed as The 27 Most Impressive Harvard MBAs by Business Insiders.

Elizabeth Gore - Elizabeth is the Entrepreneur-in-Residence (EIR) at Dell, where she is working with Dell to extend its global advocacy efforts to raise entrepreneurship to the public policy agenda, encouraging policies and practices that support and enable entrepreneurial growth globally. Working with Michael Dell, Elizabeth recently launched #EntrepreneursUNite – encouraging the United Nations General Assembly to pass Sustainable Development Goal 8– promoting entrepreneurs and the jobs they create.

Lisa Hook -Ms. Hook has served as Chief Executive Office since October 2010, as a member of the Board since November 2010, and as President since January 2008. Previously, Ms. Hook served as President and Chief Executive Officer of Sunrocket, Inc., held several executive-level posts at America Online, Inc., was a partner at Brera Capital Partners, a global private equity investment firm, managing director of Alpine Capital Group, LLC., an investment banking firm, held several executive positions at Time Warner, Inc., was legal advisor to the Chairman of the Federal Communications Commission, and was a senior attorney at Viacom International, Inc. Ms. Hook also serves as Senior Independent Director of RELX PLC, and Reed Elsevier NV, providers of information solutions. In 2012, she was appointed by President Obama to serve on the National Security Telecommunications Advisory Committee (NSTAC.)

Michael Hughes - Michael is Co-CEO and Co-Founder of LoopUp, Founder of The Silicon Valley Internship Programme (SVIP), and an Executive Board Member of the British American Business Council. Prior to LoopUp, he was a founding member and CEO of Pagoo, a pioneering VoIP company, and a strategy consultant with Monitor. He has an MEng from Imperial College with First Class Honours, an MBA from Stanford as an Arjay Miller Scholar, and was awarded a Sainsbury Management Fellowship by the Royal Academy of Engineers.

Duncan Logan - Founder and CEO of RocketSpace, a technology campus in the heart of San Francisco. It provides office space and accelerator-like services to a curated community of startups and global corporations designed to help them bring the future to market. RocketSpace's perfect ecosystem has fueled the success of more than 700 startups, including Uber, Spotify, and Leap Motion, and more than 75 corporate partners, such as Tata Communications, Accenture, Converse, and British Airways. At 24, he started his first company, CITYPRO, which he built to $8 million in revenue over a three year period, before its sale in 2000. In 2002, Duncan joined MessageLabs, an early SaaS security company, which he helped to build until it was sold to Symantec in 2008 for $700 million.

Fran Maier - Fran is serial entrepreneur and brand builder with nearly 20 years experience in B2C and B2B internet businesses. She is best known for her 10+ years leading TRUSTe, the leading privacy trustmark and solutions provider, and as co-founder and first general manager of Match.com.

Jason McCabe Calacanis - Jason hosts "This Week In Startups", part of LAUNCH Media and is the founder and CEO of Inside.com. Previously, he was an "Entrepreneur in Action" at Sequoia Capital, Silicon Valley's leading venture capital firm, a position he held since December 2006. Calacanis co-founded and was the CEO of Weblogs, Inc., a network of popular weblogs that was sold to AOL in November 2005. Upon joining AOL, he was appointed senior vice president. In addition, he was named general manager of AOL's Netscape and was responsible for the July 2006 relaunch of the iconic browser as a social bookmarking news site.

Andy McLoughlin - Andy is a Venture Partner with SoftTech VC, one of the most active seed stage investors in the Bay Area. Prior to joining SoftTech in 2015, Andy was co-founder and EVP of London and San Francisco-based Huddle, a leading enterprise SaaS collaboration company. Andy has been an active angel investor since 2010 and built a portfolio covering 35+ pre-seed and seed stage investments, mostly in the B2B space but also covering e-commerce, marketplaces and mobile. His companies include innovative SaaS businesses like Apiary, tray.io, Bugsnag, Rolepoint, Intercom, Import.io, Pipedrive, and Buffer, as well as retail plays including Postmates, Secret Escapes, and Zesty.

Uma Meyyappan - Uma is the VP of Innovation and R&D for Wells Fargo. Having successfully managed next generation technology solutions and large integration programs over 20 years, Uma Meyyappan continues with a vision and passion towards technology. Part of the Innovation group in Wells Fargo, she currently leads the research and proof of concept projects on the latest mobile technologies that create a more personalized and frictionless experience for the user based on contextual information. She led the largest integration program Wells Fargo – Wachovia merger and has been the key driver of big data initiatives. She guides & evaluates prospective partners and start-ups through the enterprise development of new technologies and solutions through proof of concepts and partner team coaching.

Monique Morrow - Monique is the CTO of New Frontiers Development and Engineering at Cisco as of November 2014. Monique was the first CTO of Cisco Services from June 2013 to November 2014 where she led the development of Cisco Services Technologies mapped to Services Customer Solution Reference Architecture that is now foundational for Cisco Customer Solutions implementation. Monique has a track record of co-innovating with customers, that has transcended the globe from North America, Europe, and Asia.

Gil Penchina - Gil is a serial entrepreneur and prolific angel investor. He is the largest angel on AngelList where he is a partner in Flight.vc which manages over 20 investment syndicates supported by over 3,000 other angels. He is a co-founder of Fastly, and board member at Vouch Financial. Previously, he was CEO of Wikia, now a top 50 website and was a member of the pre-IPO team at eBay. Before eBay, Gil worked at General Electric, Bain & Co. and started two small technology companies. He has a Bachelors in Engineering from the University of Massachusetts and an MBA from Kellogg.

Lawdan Shojaee - Lawdan is used to breaking boundaries. As the CEO of Axosoft, an agile project management software company, she has become one of the few women in the Phoenix Valley to head a tech company. She has a doctorate in Physical Therapy, and over 800 hours logged at the controls of a single-engine plane. She is passionate about paving the way for women in the tech, which is why her company created the viral campaign #ItWasNeverADress. Lawdan also believes strongly in equipping the next generation with the skills they need to be successful in life; meaning a curriculum of coding, confidence building, and entrepreneurship!

Jeremy Smith - Jeremy heads up H&R Block's new small business accounting division, which provides bookkeeping, payroll, tax and other services to small businesses. Prior to H&R Block, he was the Chief Strategy Officer at SecondMarket, an NYC-based fin-tech start up, where he helped set the strategic direction of the company as well as led its innovation and new product development efforts. Before joining SecondMarket, Jeremy was the owner and President of Arthur Lauer where he redesigned and implemented the company's business strategy and marketing program. Prior to his time at Arthur Lauer, Jeremy worked in the private equity and investment banking industries. 

Jeremy graduated with honors from Emory University with a bachelor's degree in business administration and holds his Series 7, 24 and 63 licenses. He is a frequent speaker at conferences and has appeared in many leading publications, including BusinessWeek, PandoDaily, Reuters, DowJones, and The Wall Street Journal. Jeremy has also been featured on CNBC, NPR, Fox Business News, and Bloomberg.

Denise Terry - CEO of EmbraceFamily Health, a digital health company for women and families she cofounded with the OBGYN who delivered her twins. Denise led product, marketing, and sales teams for high tech startups across mobile, consumer Internet, social media, and SaaS, including three acquisitions by Microsoft and Experian. Denise was Chief Marketing Officer for DayOne, a center for new and expectant parents in the Bay Area. She also founded a prenatal health practice supporting hundreds of pregnant couples and new parents during pregnancy, birth, and postpartum with education, labor support and wellness services.

Alison Wagonfeld - Operating Partner of Emergence Capital and named by The San Francisco Business Journal as one of the "Most Influential Women in the Bay Area" in 2014 and 2015. Prior to joining Emergence, Alison was the Executive Director of the Harvard Business School California Research Center located in Menlo Park, California. Prior to HBS, Alison worked at Intuit, where she co-founded QuickenLoans.

Roseanne Wincek - Roseanne joined IVP as a Vice president in 2015. She focuses on investing in later-stage, high-growth consumer and enterprise companies. Roseanne was previously a Principal at Canaan Partners, a leading early stage venture firm. Roseanne's tech career started when she co-founded imthemusic and built music apps on the early Facebook platform while still a student at Berkeley. She has been a Product Manager in both the consumer and enterprise sectors for companies such as NextBio and Wiser You, and she was also an Associate with McKinsey & Co in New York. Roseanne holds an M.B.A. from the Stanford Graduate School of Business, where she served as Co-President of the VC Club and Chair of the Social Committee, as well an M.S. in Biophysics and a B.S. in Chemistry, both from the University of California, Berkeley.

Brianna Wu - Brianna is the head of development at Giant Spacekat, a software engineer and the host of Isometric and Rocket on the Relay.FM network. She's also a frequent speaker on women-in-tech issues. Worldwide press has called her the "Games Boss." For more information, find her at Briannawu.net, or on twitter, @Spacekatgal
Emcee

Kym McNicholas - Kym is an EMMY AWARD-WINNING Anchor/Reporter/Producer and Entrepreneur with 17 years of on-camera experience on national television and online. She helped to revolutionize the world of online video journalism as a pioneer of digital video content post dot.com boom and beyond.
Agenda
2:00 PM – Registration & Snacks
2:30 PM – Introduction & Welcome (Adriana Gascoigne speech and intro to Kym McNicholas)
2:40 PM – KEYNOTE #1, Stephanie Tilenius
3:15 PM – Pitch #1, Hinge Bio, Inc.
3:25 PM – Pitch #2, GOODdler
3:35 PM – Pitch #3, Preemadonna
3:45 PM – Pitch #4, Appthetable
4:00 PM – KEYNOTE #2, Yvonne Wassenaar
4:30 PM –STATE FARM "NEXTGEN SCHOLARSHIP" ANNOUNCEMENT
4:35 PM – BREAK
5:00 PM – Pitch #5, Privail
5:10 PM – Pitch #6, UtilityAPI
5:20 PM – Pitch #7, TestRocker, Inc.
5:30 PM – KEYNOTE #3, Jennifer Tejada
6:00 PM – Pitch # 8, Lab4U
6:10 PM – Pitch # 9, Feeding Forward
6:20 PM – Pitch #10, Cocoon Cam
6:30 PM – FRANKLIN TEMPLETON "WINNERS SCHOLARSHIP" ANNOUNCEMENT
6:35 PM – KEYNOTE #4, Arum Kang
7:05 PM – DELL "LAPTOP" GIVEAWAY & PRESENTATION
7:15 PM – Judges Speech, Announcement of First Prize Winner & $25,000 Check Presentation
7:35 PM – Concluding Remarks
7:45 PM – Cocktail Party Celebration!
10:00 PM – Event End
Our Sponsors