An afternoon house concert featuring live (& livestream) music to benefit the SD API Coalition and to support/lift up our API headliners.
About this event
Please join us for our first live (& livestream) event in over a year! This community gathering is spearheaded by Lady Brain Member Shayna Zeigen in response to the unacceptable growth of violent, hateful acts toward the API/Pan-Asian community across the country. Join us in the ongoing fight against racism by helping us raise funds and awareness through love, music, and support for our local API community and creators. All door donations will go toward our API headliners. All virtual proceeds will benefit the SD API Coalition.
RESERVE YOUR PHYSICAL SEAT ASAP! Due to Covid safety, we are releasing a limited number of reservations, so reserve your space ASAP! No upfront money needed to register, but we ask that all guests provide a suggested donation of $25-50 at the door to support our headlining acts as they venture back into performing for live audiences. Help us uplift and celebrate these artists!
LIVESTREAM INFO: A free livestream performance will be available via the Lady Brain Presents Facebook Page from 3-6pm. No registration is necessary, but don't forget to "like" our page so the livestream shows up on your wall!
VIRTUAL TIPS: Please send Venmo tips to @shayna-zeigen. All proceeds will go toward San Diego API Coalition. Even if you can't attend or view the event, any day is a good day to show your support!
DATE/TIME: Sunday, May 30, 2021 // 3-6pm PST
LOCATION/PARKING: Private, outdoor backyard residence in Tierrasanta. Address will be sent with your reservation/ticket. Free Street Parking Available.
LINEUP:
3:00pm - Doors
3:30pm - Set 1 OPENERS: Chloe Lou Duo & Shayna Solo // HEADLINER: Tricia Lynn Trio
approx 4:30/4:45pm - Intermission
approx 4:45/5:00pm - Set 2 OPENERS: Lindsay White Solo & Christina Bernard Solo // HEADLINER: Thea the Band Trio
FOOD/BEVERAGE: For safety, please BYO snacks/drinks, picnic style. Lady Brain Presents will provide a large ice chest to keep drinks cold, as well as water, napkins, plates, utensils, cups, etc.
SEATING: Please BYO lawn/camp chair or blanket and maintain distance with guests that are not in your "pod."
WAITLIST: Once reservations are full, we will begin a waitlist and notify waitlisted guests if/when there are cancellations.
CANCELLATIONS: Out of respect for performers, please refrain from last minute cancellations/no-shows. If you need to cancel, please provide ample (24+ hours) notice so we can accommodate other guests. If you must cancel/no-show within less than 24 hours, please consider providing a virtual tip toward our headliners and beneficiary organization (see above).
COVID SAFETY: We ask guests who are not performing or eating to wear a mask and maintain distance from guests outside their "pod." As more folks get vaccinated, we trust everyone to make great decisions for the comfort and safety of all. If anyone feels uncomfortable or unsafe at any time, please bring concerns to the organizers' attention. This is our first run at a physical event in a mid/post-pandemic world, thank you for your patience as we navigate!
ACCESSIBILITY: The backyard venue and downstairs bathroom are both wheelchair accessible. ASL services will be provided by Carla Warnock and team at the event, and we will make sure interpreters are captured alongside performers within the livestream. Please see below for additional livestream info, and email ladybrainpresents@gmail.com to notify organizers of any accessibility needs or with any other accessibility questions or concerns.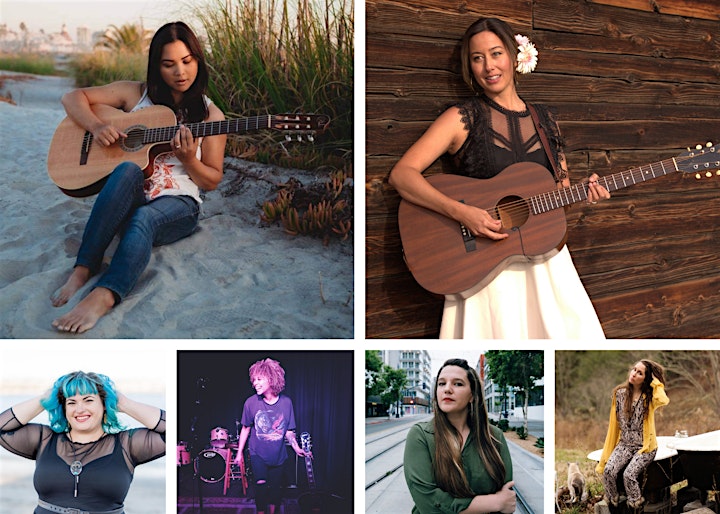 ******************
SPECIAL SHOUT-OUT: Before you navigate away from this page, we'd love to direct your attention to a couple more API Lady Brain members and performers who can not physically be with us on May 30:
VOXY: Voxy is a San Diego vocal band, created to deliver a fun a cappella vibe to events in the SoCal region. Voxy is not yet accepting physical gigs, but we look forward to when they start back up! Check out their video "Anthem (Empowerment Medley)" featuring Karen Lindenberg, Emily Liu, Jenna Jones, Jessica Gottdank, and special guest member Kris Celario. Videography is by Lady Brain member Jaymee Carvajal-Witek.
MELANIE MEDINA: Melanie (currently living abroad) is not only an incredible singer/songwriter and solo act, she is also a talented multi-instrumentalist who has accompanied many Lady Brain members and local projects as a bandmate and backing musician. Check out her song "Stomach Sleeper" below and follow her on Spotify!
******************
Who are some of your favorite local creators in the API community? Email us at ladybrainpresents@gmail.com and share your favorite acts to follow and support!
Please visit www.ladybrainpresents.com for more information on the Lady Brain Collective and our upcoming community gatherings.