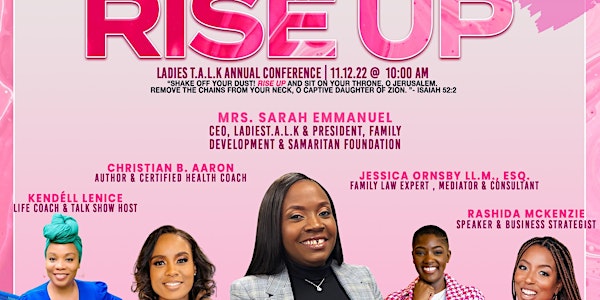 LadiesT.A.L.K Conference - RISE UP
Are You Ready? The LadiesT.A.L.K conference is creating a platform for women to learn, engage, and grow in their leadership  abilities.
When and where
Location
University of Maryland College Park 3972 Campus Dr College Park, MD 20742
About this event
Ladies T.A.L.K is a platform designed to educate, mentor, and empower ladies that desire to break free from circumstances that undervalue their potentials or undermine their creativity. Ladies T.A.L.K's goal is to help women become (Top-Notch. Accomplished, Leader, Knowledgeable) women they are destined to be.
We'd love for you to join us during our upcoming LadiesT.A.L.K Conference titled, "RISE UP," inspired from Isaiah 52:2, where women from different paths of life come together to gain insight on what it means to RISE UP, step out, and break free from circumstances that limit their potentials.
When choosing your ticket on the next screen, please choose your ticket based off a breakout session.
You can ONLY attend no more than two sessions during the conference.
Session A: Barriers Women Face in Leadership Roles: How to Get Your Voice Heard
A conversation about issues women encounter in leadership: structural barriers, institutional mindsets, individual mindsets, and lifestyle choices.
Session B: Operating Faith Through Challenges
Discussing attitudes towards achieving leadership while remaining true to your faith or values.
Session C: Being Your Authentic Self: Discovering Your Self Worth
Realizing and birthing your potential as a leader.
Rising up as a leader in the midst of circumstances and uncertainties
Session D: Mental Wellness & Awareness
Dealing with depression and trauma
Gaining back your confidence
For more information, please visit www.ladiestalkconference.org