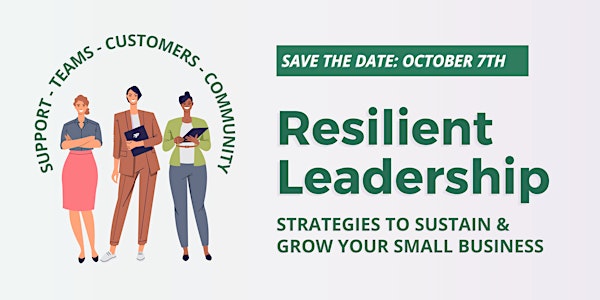 Ladies Who Launch Free 'Resilient Leadership' Summit (DAY 2 - VIRTUAL)
Need more working capital? Struggling with cash flow? Join the LWL Fall Virtual Summit on Oct 7th!
About this event
NOTICE: If you are registering today, 10/7, please follow THIS LINK to access the event on the Hopin platform.
Join Ladies Who Launch virtually for Day 2 of our Fall Summit, "Resilient Leadership: Strategies to Grow & Sustain Your Small Business," on Friday, October 7th, and learn about innovative solutions to increase working capital and how best to apply them to YOUR business.
This virtual convening will focus specifically on leveraging trusted financial institutions and resources to support growth. You will hear from fellow founders and entrepreneurs who have successfully used tools like loans to increase their working capital, as well as innovators in the small business financial products and services space. We will demystify the often daunting world of loans and credit with guidance on how to find the right fit for your business.
You are not alone in the challenges you face! Join us to learn, be inspired, and hear from entrepreneurs and funders from across sectors.
Attend our Summit to learn more at these incredible panels:
Building a Community You Can Count On!
The overwhelming majority of women and non-binary small business owners bootstrap, and only 25% seek business financing. Our opening keynote will elevate the trusted community institutions across the U.S. working to increase education and access to fair financing to help businesses grow.
Sarah Friar, Co-Founder of Ladies Who Launch and CEO, Nextdoor
Pam Hendry, Vice President & Treasurer, United Airlines
Melissa Widen, Co-Founder, Chief Administrative Officer & General Counsel, First Women's Bank
Increasing Your Working Capital: Exploring Loans as An Option
Loans can provide businesses with game-changing working capital, but figuring out which options are a good fit can be daunting. These speakers will share their challenges and the benefits of financing to help you find the right fit for your business.
Alisha Griffey, Founder & CEO of working capital loan provider, Daintree Capital
Claudia McMullin, Founder & Owner, Hugo Coffee Roasters
Adrienne Walker, Founder & Owner, BlueHenry
Exploring Non-Bank Loan Options
Outside of traditional banks, there are other working capital options to meet the unique needs of your small business. This session will explore a range of financial products out there and how small business owners have successfully built partnerships with providers to drive growth.
Peggy Alford, Executive Vice President-Global Sales, PayPal
Julie Matzen, Founder & President, Team MayDay and Kabbage by AmEx customer
D'Shawn Russell, Founder & CEO, Southern Elegance Candle Company and PayPal customer
Gina Taylor, EVP & General Manager of US Small Business Banking and Kabbage, American Express
Jennifer Warren, Executive Director, Ladies Who Launch
The Power of Community & Capital
When you build and expand your community of support – peers and institutions alike – you discover more and better opportunities. Join our panel to hear these speakers discuss the powerful outcomes made possible by combining community and capital.
Sarah Friar, Co-Founder, Ladies Who Launch and CEO, Nextdoor
LaTeasha Gaither-Davis, Founder & CEO, Therapeutic Focus, LWL Grantee and Tory Burch Fellow
Heesun Lho, Director of Programs, the Tory Burch Foundation
About Ladies Who Launch
Ladies Who Launch (LWL) celebrates, elevates, and empowers women and non-binary small business owners and entrepreneurs across small towns and big cities globally. We focus on four pillars: Inspiration, Education, Funding, and Community to help give women and non-binary entrepreneurs the motivation, resources, and connections to scale and sustain the businesses of their dreams. For more information, visit www.ladieswholaunch.org, and follow LWL on LinkedIn, Instagram, Facebook, and Twitter.
Thank You to Our Sponsors!