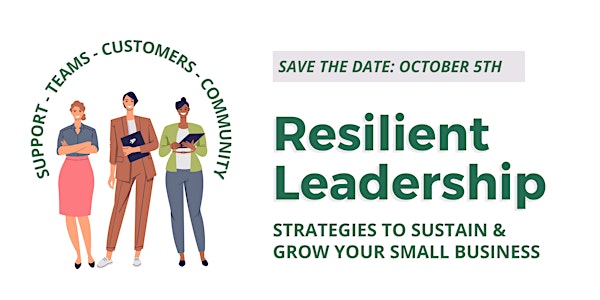 Ladies Who Launch Free 'Resilient Leadership' Summit (DAY 1 - IN-PERSON)
Looking for actionable tools to build resiliency and scale your business? Join the LWL community in-person on October 5th in San Francisco!
When and where
Location
Bespoke 845 Market Street #Suite 450 San Francisco, CA 94103
About this event
Being a small business owner is hard. To weather the many challenges of our times, small business owners and entrepreneurs must invest in and leverage their communities—internally and externally—in order to thrive.
Ladies Who Launch recognizes the critical importance of building and strengthening communities, from hardworking teams and loyal customers to the towns and cities where we live and work. Join Ladies Who Launch for an evening of conversations & community on Wednesday, October 5 as part of our "Resilient Leadership: Strategies to Grow & Sustain Your Small Business" Summit. You'll hear from best-in-class founders and leaders and explore actionable strategies to take your business to the next level. The event will include:
Panel discussions on topics ranging from hiring and retaining talent to expanding your customer base;
Mixing & mingling with other entrepreneurs and experts across industries while enjoying delicious food; and,
Free chardonnay from woman-owned business, Une Femme Wines, and other treats and swag from small businesses, including alumni of our Launch Program.
Our program will be followed by a networking mix & mingle where you'll have the opportunity to engage with peers and advocates! Come to learn, be inspired, and meet entrepreneurs and funders from across sectors. Stay tuned for updates on our amazing keynote speakers, moderators, and panelists!
Attend our Summit to learn more at these incredible panels:
Keynote: Supporting Your Employees, Customers & Community
As our community of small business owners and entrepreneurs tackle new challenges and crises—from inflation to the Great Resignation—investing in teams, expanding customer bases, and building community will be critical to our success. These extraordinary leaders will share how their respective companies are creating community-first cultures to navigate hard times and thrive.
Janet Lamkin, SVP Market & Community Innovation at United Airlines
Michelle Pusateri, founder & CEO of Bay-area-based Nana Joes Granola
Sarah Friar, Co-Founder of Ladies Who Launch, CEO of Nextdoor
Finding & Retaining Talent
Competing for and retaining top tier talent in the current market is a major pain point for many small businesses and entrepreneurs. Hear from those who are making strides in this space with limited resources, including what has worked (and not worked) and how to implement these tactics in your own business context.
Irene Li, Co-Founder, Mei Mei Restaurant Group & Co-Founder, Prepshift
Amy Peterson, Co-Founder & CEO, Rebel Nell
Susan Ruth Lundy, Chapter Chair & Certified Mentor, SCORE San Francisco
Expanding Your Customer Base
From curating a powerful online presence to expanding your brick & mortar footprint, it takes a multipronged approach to grow your customer base. Hear from customer-centric leaders to learn strategies for acquiring new marketshare and growing brand loyalty in a highly competitive market and digital world.
Anna Collins, Operating Executive, LWL Board
Abby Malchow, Amazon
Tammeca Rochester, Founder of Harlem Cycle
Closing Keynote: Building & Leveraging Community to Support Your Success
Identifying best fit mentors and coaches, and connecting with other small business owners can be overwhelming and time consuming. You're not alone in facing these challenges! Learn how to effectively cultivate communities, from your team, to your customers and among your peers to support your growth and sustainability.
Sarah Friar, Co-Founder of Ladies Who Launch, CEO of Nextdoor
Yumeka Rushing, Chief Strategy Officer, NAACP
Sherice Torres, Chief Marketing Officer, Circle Internet Financial
NOTE: To ensure the health and safety of all attendees and staff, please stay home if you are feeling unwell or if you have had a recent known exposure to COVID-19.
You must be 21 years of age to attend this event.
This is an in-person event that will be recorded, but will not be live-streamed. For information on Ladies Who Launch's Virtual Summit on Friday, 10/7, visit the registration page here.
About Ladies Who Launch
Ladies Who Launch (LWL) celebrates, elevates, and empowers women and non-binary small business owners and entrepreneurs across small towns and big cities globally. We focus on four pillars: Inspiration, Education, Funding, and Community to help give women and non-binary entrepreneurs the motivation, resources, and connections to scale and sustain the businesses of their dreams. For more information, visit www.ladieswholaunch.org, and follow LWL on LinkedIn, Instagram, Facebook, and Twitter.
Thank You to Our Sponsors!