Description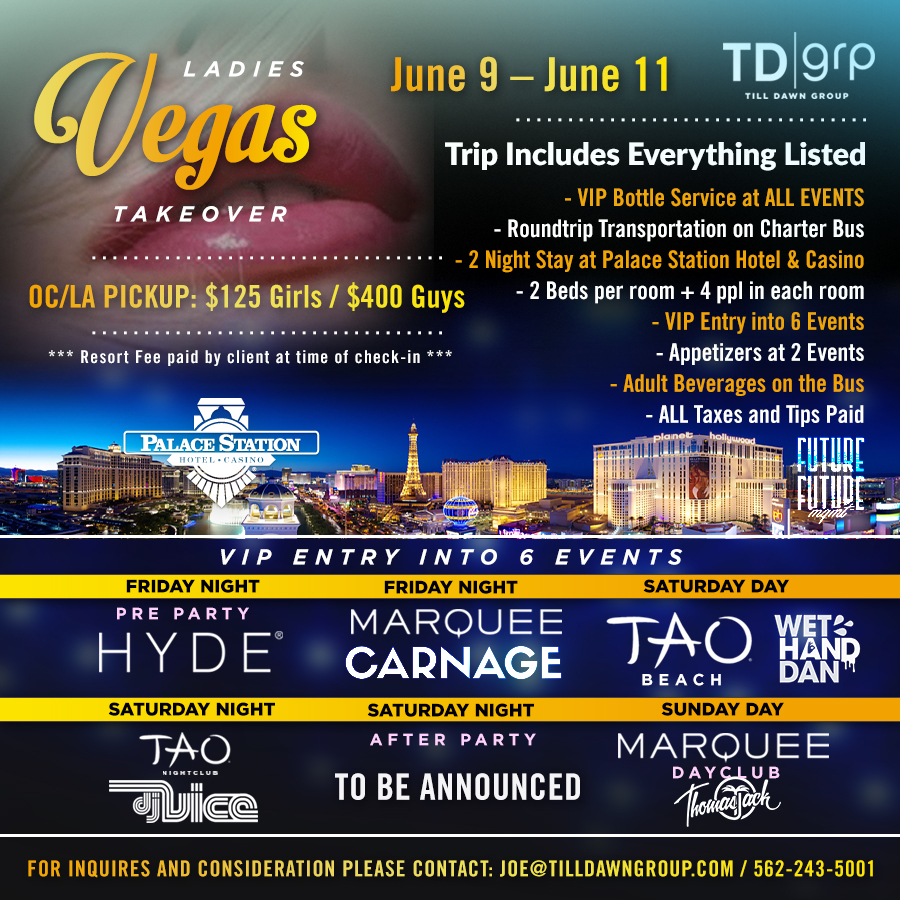 Ladies Vegas Weekend, June 2017
Hotel: Palace Station Hotel
- Check in 6pm | Check out 11am
- 2 Beds per room
- 2 Nights stay & Tax included
*** Resort Fee NOT INCLUDED, charged by hotel at check in and is around $36 after tax, total for the weekend. Includes internet in the room, gym access, and other amenities. This fee is charged directly by every hotel in Las Vegas
Transportation
- Roundtrip Transportation on a Luxury Charter Bus
- Adult Beverages on the Bus
- Movies on the way home
Nightclubs & Day Parties
VIP Entry into the following venues…
Hyde Pre-Party Friday Night (10pm-1130pm)
Marquee Friday Night w/ DJ Carnage (1130pm-2am)
Tao Beach for California Love Pool Party Saturday Day (1130am-4pm)
Tao Saturday Night w/ Vice (1030pm-1am)
Late Night Venue TBD
Marquee Dayclub w/ Thomas Jack (Noon - 4pm)
Other Details...
- Bus Ride to each Event (only there, not returning)
- Table Service and Bottles Provided at Each Venue!
- Appetizers provided at Tao Beach & Marquee Dayclub
- ALL Tips covered for the weekend (at included events, for the bus, etc)
*** Since a large portion of this trip is being paid by the venues, ALL in attendance must attend EVERY Event… Everyone must adhere to the times above, and people are free to go elsewhere after that… IF anyone decides to not attend the events, they will be responsible to pay an additional $100 each, to cover their cost of their trip.
*** We also need everyone to take photos and use the appropriate "@" and "#" throughout the weekend. This is a marketing trip for the venues and they want to see us posting photos all weekend. Failure to do so will result in not being invited to attend future trips.
*** The bus will leave on Friday at 11am from Location TBD in Los Angeles, and then at Noon from Location TBD in Orange County and will leave Las Vegas at 4pm on Sunday afternoon after Marquee Dayclub, and then drop off in OC and then in LA