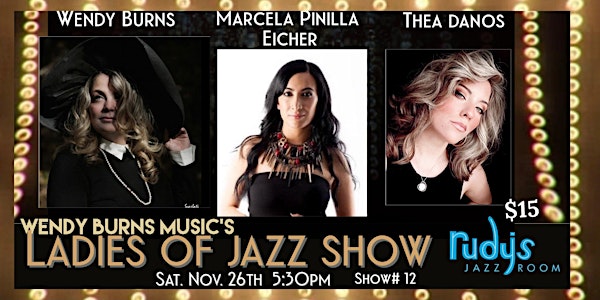 Ladies of Jazz
Ladies of Jazz
When and where
Location
Rudy's Jazz Room 809 Gleaves Street Nashville, TN 37203
About this event
Featuring an exciting lineup of talent, Rudy's Jazz Room's "Ladies of Jazz" showcase presents three of Nashville's favorite female vocalists collaborating together, displaying a variety of original and distinct vocal talents and backed by the well noted and extreme talents of some of Nashville's best musicians.
Wendy Burns
2022 Inducted member Academy of Local Musicians Hall of Fame - Nashville
Flute playing jazz vocalist Wendy Burns of Nashville TN has studied and performed songs from the 1940's Jazz Big Band era since the age of 9 years old. She has been described as having a unique voice that fits the era. She has performed at the Grand Ole Opry and has sessioned and performed with many of the Nashville classic country greats. With a deep passion for jazz standards, and as a hopeless romantic, Wendy believes there's beauty in staying true to the melodies as they were written. Her set list includes songs from the "Great American Songbook", jazz standards, and a number of her fabulous original pieces that reminisce of cherished jazz classics you've never heard. Wendy's influences are Judy Garland, Doris Day, Frank Sinatra, Tommy Dorsey, The Andrew Sisters, and Helen Forrest, to name a few. You will also hear some of her original tunes in vaudeville fashion featuring "Grover" her ukulele.
"She expertly delivers jazz vocals in traditional speakeasy style and displays her exceptional talent on flute as well. She does an excellent job, a true entertainer, she holds her audience and has them laughing with her patter between songs." - Gary Cobb, Nashville Tn
"When singing the classics, I've always tried to sing the melodies as close to the original version as possible. I feel you can get closest to the composer's feelings by doing that and by staying within it that realm. To think that someone in a time long ago did their best to put their feelings and words of love on a sheet of paper so that generations ahead would hear it just as it was written is a golden key to a door of a time before. Maybe I'm just a hopeless romantic and madly in love with the idea of living back in that time." - Wendy Burns
Thea Danos
Thea Danos, a Nashville native often referred to as an "old soul", has a nostalgic style that transports you to a time of martinis and vinyl records. She specializes in jazz and Brazilian bossa nova, inspired by the Latin rhythms and serine landscapes of South America. She has spent extensive time in Brazil working with international musicians, and perfecting her Portuguese singing. Her musical influences include Ella Fitzgerald, Frank Sinatra, Sergio Mendes, Antonio Carlos Jobim, Louis Prima, and João Gilberto. The modern twist she puts on classic jazz songs has captured audiences of all ages. She has toured the world as a backing vocalist, produced beautiful collaborations with a South American orchestra, and can be heard on countless recording sessions. Thea has a Grace and presence that is captivating and a voice that is set apart.
Sit back, grab a cocktail, and get ready to travel back to the coolest decade of all time, the 1960s, with Thea.
Marcela Pinillia Eicher
Marcela Pinilla is a Latin/Jazz singer whose musical journey has taken her around the world. She has had the pleasure of performing in many languages and in many countries
Marcela's first full-length album, PASSION shows a blend of Latin music influenced by jazz, blues and soul the album showcases the artist's limitless versatility. PASSION features collaborations with several musicians including Elsten Torres, saxophonist Kirk Whalum, and bassist Victor Wooten.
Today, she calls Nashville, Tennessee home, where she has been nominated 3 times by the Nashville Industry Music Awards as best Jazz Vocalist. Marcela's current projects include a duo project with her husband Isaac Eicher whom also is part of the Marcela Pinilla Band, Latin Jazz band Giovanni Rodriguez & 12 manos & the Music City Latin Orchestra in addition to her work as a teaching artist for Disney with the Tennessee Performing Arts Center and the Country Music Hall of Fame.
The Gentleman
Jimmy Sullivan - Bass
Melvin Macias – Piano
Wes Little – Drums
Geoff Pfeifer - Sax
"It is an honor And a blessing to work with such incredible musicians and to be able to call them friends. Please join us and experience the their awesomeness". -Wendy Burns

This show is 21 and over only. All sales are final and we unfortunately cannot offer any refunds. Additional tickets may be available at the door on the day of the show even if it is sold out online.
Please try to arrive 15 minutes prior to the show start time. If you do not arrive within 45 minutes after the show start time on your ticket your seat may be resold to other patrons at the door. If you arrive after 45 minutes from the start time of the show and your ticket has been resold, although we cannot guarantee it, we will try our best to make space for you to attend the show.