Brunch & After Party Every Saturdays @Flava's Restaurant and Lounge, RSVP 347-352-8218, Listen to hot 97 Massive B every Sundays for free P
About this event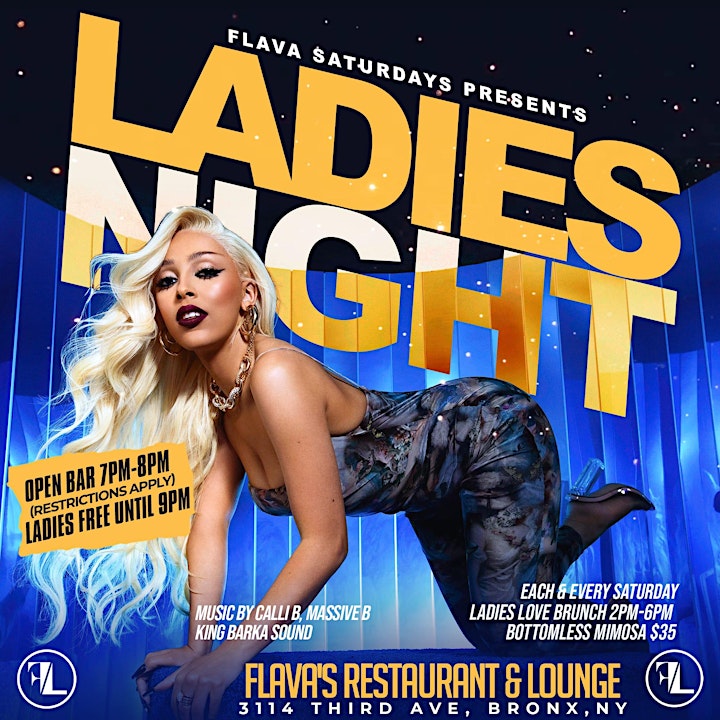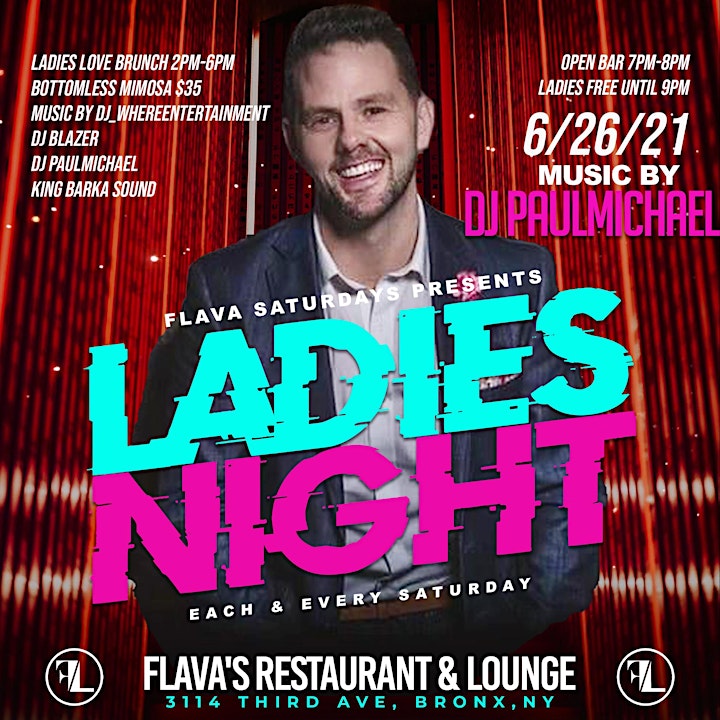 Flava's Restaurant and Lounge 3114 Third Ave, Bronx, New York
RSVP text to 347-352-8218 to be a part of the most talked-about experience!
Music by NYC Top DJs - Playing the best hits from 90's - 2021
Brunch from 2 pm - 7 pm followed by Open Bar From 7 pm- 8 pm, open bar is for ladies the only with purchase of an entree
Everyone free on the 1st floor, Paid entrance on 2nd Floor after 8 pm
For groups of 4 or more, we recommend making a deposit to lock in your section. The deposit goes towards your balance.
Dress Code: No Uggs, No sweatsuits, No Timberland Boots, No hoodies or Baggy Clothes; security has the right to deny entry. Pics will be posted on https://flavasrestaurant.com which is launching soon.
$35 Prefix Brunch with bottom-less Mimosa
Night Time Vibes 8 pm to 3 am
Bottle Premium Prices Are As Followed
Must Text to Confirm seating time and reservation from 2 pm - 8 pm 347-352-8218
Pre-Sold @ Flava
DUE TO COVID PRICES ARE SUBJECT TO CHANGE :
2 Champagne Moet Imperial $600 (Presold)
2 D'usse $400 (Presold)
2 1942 $1000 (Presold)
2 Cîroc for $200 (Presold)
2 Champagne Belaire Rose for $200 (Presold)
2 Patron for $360 (Presold)
2 Hennessy for $300 (Presold)
PITCHER SPECIALS:
$ 40 Rum Punch Pitcher
$65 Patron
$55 Hennessy Pitcher
$50 Long Island Pitcher