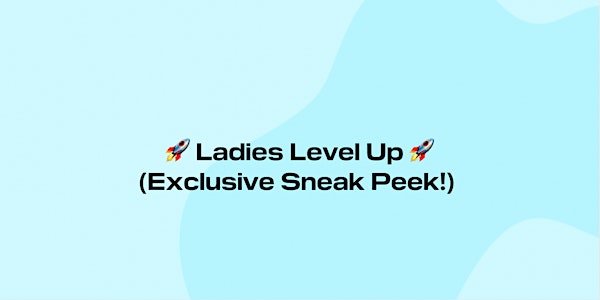 Ladies Level Up (Exclusive Sneak Peek!)
Welcome to the next chapter of Ladies Get Paid.
About this event
**This will be recorded**
First and most importantly, thank you for being part of Ladies Get Paid. You've been here as we've weathered lots of storms: from getting sued by men's rights activists (still can't believe that happened!), to the pandemic, to just simply trying to survive as a 2-person startup with no funding...but we have exciting news! Ladies Get Paid is LEVELING UP. Big time.
We've been working hard behind the scenes to create a new all-in-one platform (called Circle), that will replace our Slack group. Circle is a waaay better alternative that's more easily searchable and straightforward, plus it has a customizable newsfeed to keep better track of what's going on. And we can host events and our video library directly in there. Oh, and it's free.
We want you to have the first look.
On Friday, September 17th at 1p ET, we're hosting a private walkthrough of Circle to show you what it's all about and to hear your ideas on how we can make it even more useful for you. Ladies Get Paid couldn't exist without you and your support is - as always - incredibly appreciated. We love you and can't wait to get started!