Watch along for special streaming experience for our 10th year anniversary of Ladies First Breakfast fundraiser and help us raise $50,000!
About this event
This year we're celebrating the 10th year anniversary of our annual Ladies First Breakfast and we want YOU to get involved!
We are rallying people from all over the globe to support breast cancer patients and survivors. There are numerous challenges being faced by these women while going through breast cancer treatments. It could range from loosing their jobs to defaulting on their rents or unable to pay for some of their utility bills.
We need your help now more than ever. This event will help celebrate all women of color who have have been affected by breast cancer regardless of race, color, religion, nationality or ethnicity. Breast cancer does not discriminate. We are all in this together. Donate now to help save a life.
Ladies First is a family-oriented event that provides support for African women that have been directly or indirectly impacted by breast cancer. This year, we are hosting a 4-hour virtual telethon to raise $50,000 for our sisters in need.
Participating is easy and encouraged. Just follow the steps below:
Register for a free ticket to watch the telethon.
Attend the event and enjoy all the activities we have planned.
Give with your heart and donate to our cause by calling in or texting our toll free number. We will have call centers set up with special guests ready to answer your call and help you pledge to save a woman's life.
Your donation and support will help AWCAA continue to serve the uninsured, underinsured, underprivileged and the underserved members of the African Immigrant communities.
Any donation you will make a difference:
$25 will help grow our Emergency Assistance Fund for cancer patients who need it most
$50 will provide an upgraded mammogram from 2D to 3D and/or ensure that one patient has transportation for treatment
$250 will provide groceries for patients that are unable to work during treatment
$500 will provide a biopsy for an uninsured woman or help pay utility bills for patients and survivors that were affected by COVID
Your support helps us save lives. We hope to celebrate with you this year at the 10th Annual Ladies First Breakfast!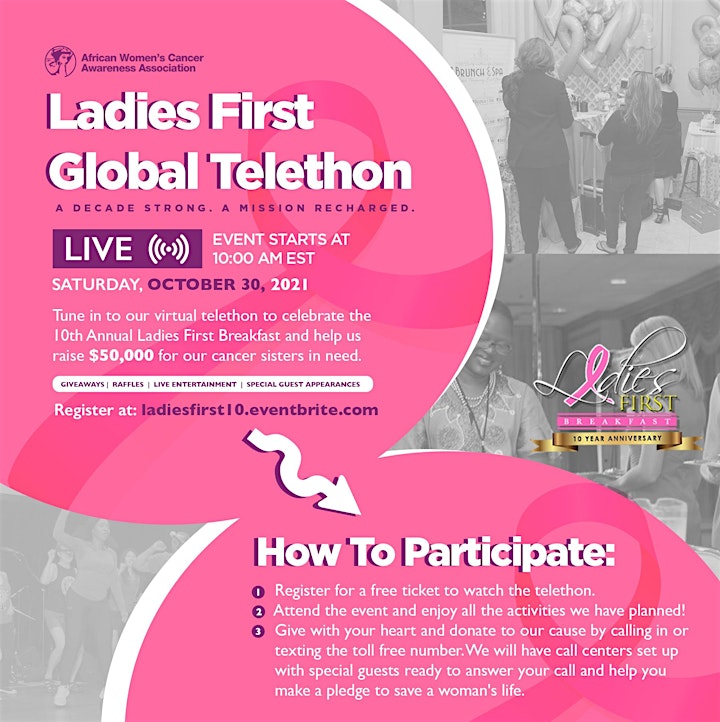 Organizer of Ladies First 10th Year Anniversary Global Telethon
The African Women's Cancer Awareness Association (AWCAA) is a 501(c) 3 nonprofit organization. AWCAA was established in 2004 by a coalition of African immigrant women health professionals in order to address disparities in awareness, prevention and access to healthcare for African immigrant communities that face cancer. The group has grown to encompass healthcare professionals, entrepreneurs and concerned individuals dedicated to eliminating these disparities within the Washington metropolitan area, the continent of Africa. For donations, please visit AWCAA's paypal: ify.awcaa@yahoo.com