Description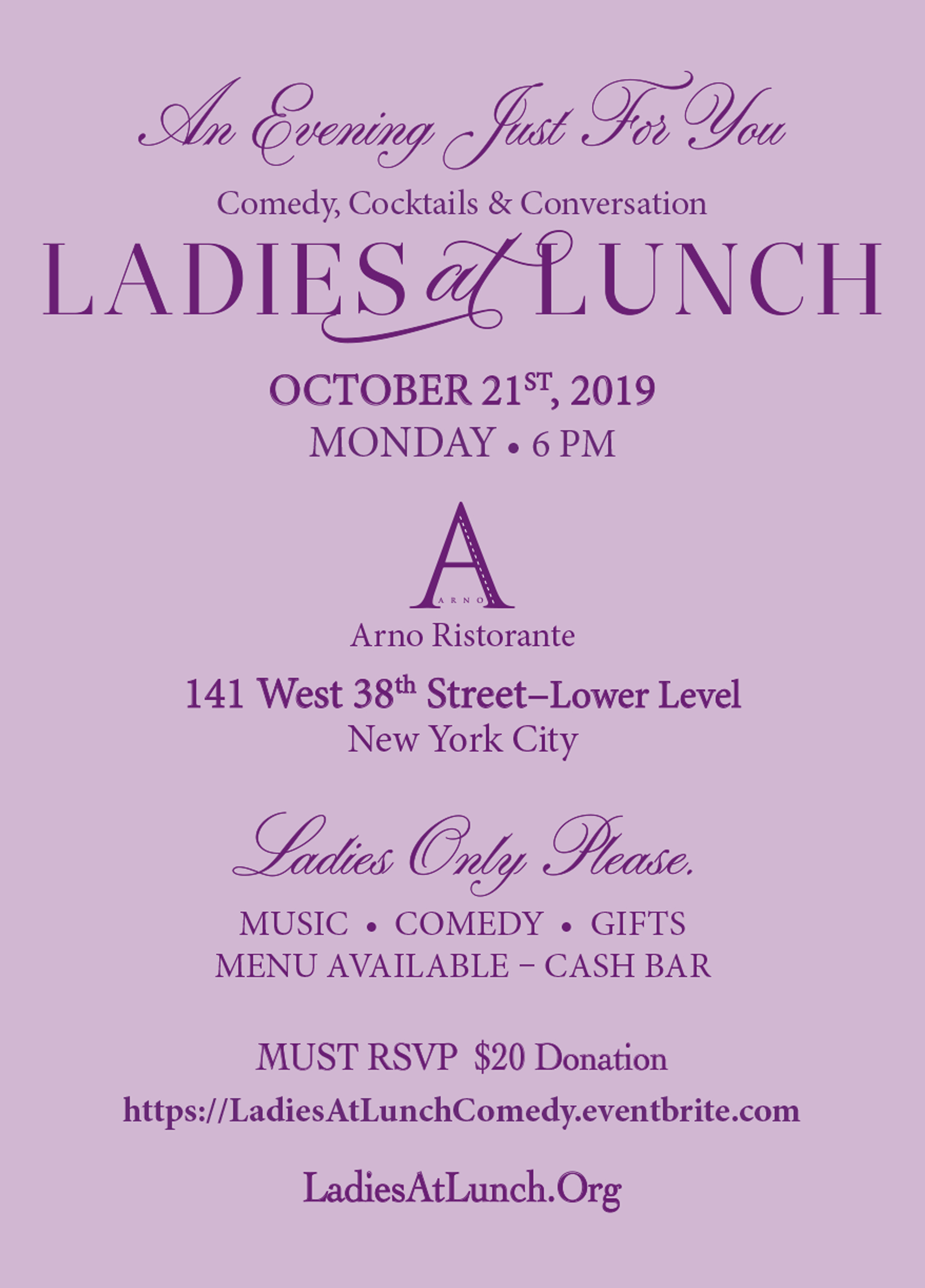 Come Out For A Night of Laughter! All female comedians that will have you in stiches *Award Winning Talents*
Rhonda Hansome"
Winner of Back Stage Bistro, Saturday Night Live, Pretty Woman, Broadway Comedy Club
Leighann Lord, Ph.D.
Winner of the 2019 Humanist Arts Award VeryFunnyLady.com
is a veteran stand-up comedian and the author of Dict Jokes and Real Women Do It Standing Up.
Sean Hill
Is from the "Show Me" state and is considered one of the Midwest's newest funny ladies. Founder of Sean Hill Entertainment; an umbrella that houses all of Sean's talents of creative writing, visual arts skills and good looks. She's laid back and hilarious animated delivery in the lost art form of storytelling. Onika McLean
Diva of comedy and Brittany Brave was named an Emerging Talent by TBS Networks!

Arno Ristorante has fine Italian food - Full bar & dinner menu available
In recognition of domestic violence awareness month, Ladies At Lunch is hosting a night of comedy. "Comedy, Cocktails & Conversation" will include a cast of all-female comedians with a panel discussion. A women's gathering designed to encourage open dialogue about domestic violence (DV)

Ladies At Lunch is a not-for-profit organization raising awareness about sexual assault, domestic violence, and gender-based violence. This is our twelfth year of outreach on this important/critical subject.

An Evening Just For You A FUN NIGHT with Comedy- LADIES ONLY PLEASE
LadiesAtLunch.org