About this Event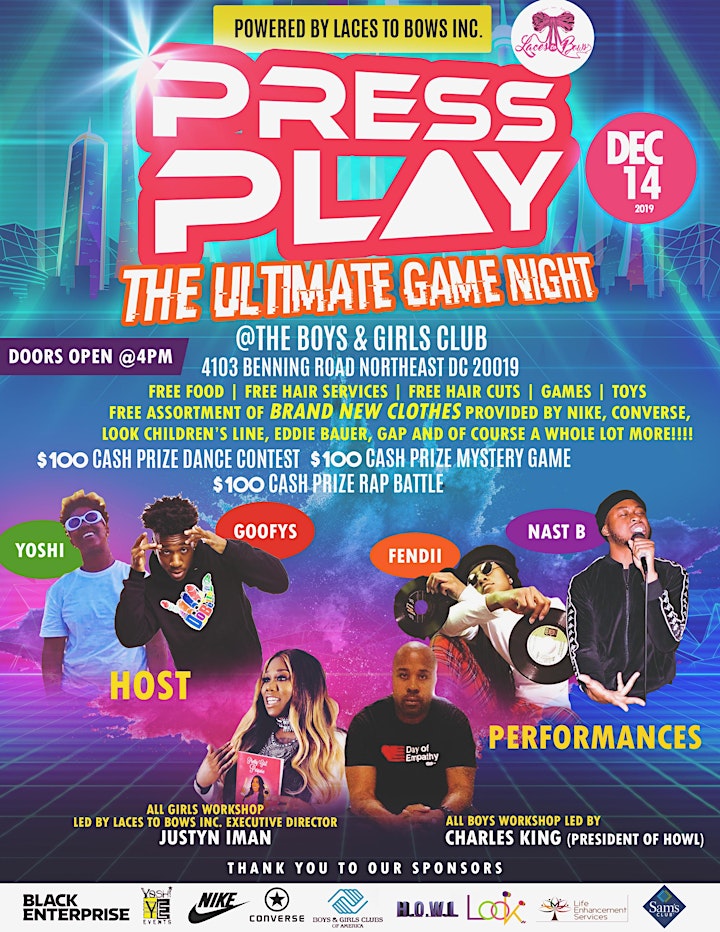 Laces to Bows Inc. is an unconventional organization that provides social and emotional development through mentoring and support to provide knowledge, motivation, and inspiration to Washington, DC area middle and high school students, while providing the necessary tools for them to function as productive adults in society..
On December 14,2019 at 4:00PM we will be hosting one of the biggest holiday events of this year in Washington D.C. At The Boys and girls club On 4103 Benning Road Northeast D.C. 20019
Free Food, Free Hair Services, Free Hair Cuts, Games, Toys, Free Assortment Of Brand New Clothes Provided By NIKE, Converse, Look Children's Line, Eddie Bauer, Gap And Of Course A WHOLE LOT MORE!!!!
$100 Cash Prize Dance Contest
$100 Cash Prize Rap Battle
$100 Cash Prize Mystery Game
We will have games on top of games on top of games on top of...well you get the picture!
So this is what you need to do to get on the list RSVP AS SOON AS POSSIBLE THEN TELL ALL OF YOUR FRIENDS TO DO THE SAME CHRISTMAS WILL BE LIT THIS YEAR!
You must be on time we are going to need team leaders and most of our games have cash prizes!!!
Email LacesToBows@yahoo.com to reserve your time if you are interested in any free services such as Hair? Hair Cuts? Nails? Please include your full name age and grade.
If you are interested in volunteering please click the volunteer tab and if you are a interested nonprofit, or/and business looking to share information about your business and how you can better benefit our youth click the youth information/employer table tab!
See you soon! Can't wait to PRESS PLAY WITH ALL OF YOU AND EXPERIENCE THE ULTIMATE GAME NIGHT!!!!!
REMEBER TO BE ON TIME! I know those NIKE hoodies are going to go fast lol!