Actions and Detail Panel
LABOUR DAY MINISTERS CONFERENCE 2017
Mon, May 1, 2017, 10:00 AM – 4:30 PM WAT
Event Information
Location
Mimaya Events Centre
15B Kudirat Abiola Way
(Near Ojota Bus Stop) Oregun
Ikeja, Lagos
Description
CONTENTS:
1. ABOUT THE CONFERENCE
2. CONFERENCE FLYER LISTING ALL MINISTERS
3. MEET YOUR HOST - A BRIEF PROFILE OF PASTOR DELE OYELERU
ABOUT THE CONFERENCE
It's that time of year again; when we gather to celebrate the men and women who labour in the Master's Vineyard.

Join other Kingdom Labourers as we get together on Labour Day to appreciate the call on our lives.
INVITED: Leaders in all areas of Christian Ministry - Pastors, Bishops, General Overseers, Choir Directors, Missions Directors, Church Administrators, Drama Directors, Evangelists, NGO Directors and all the other leadership roles that we can't mention here.
We will be worshipping, refreshing, networking and sharing perspectives.
The Networking Breakfast starts at 8am prompt and dovetails into the Main Conference from 9:45am.
Look forward to seeing you here!
CONFERENCE FLYER LISTING ALL MINISTERS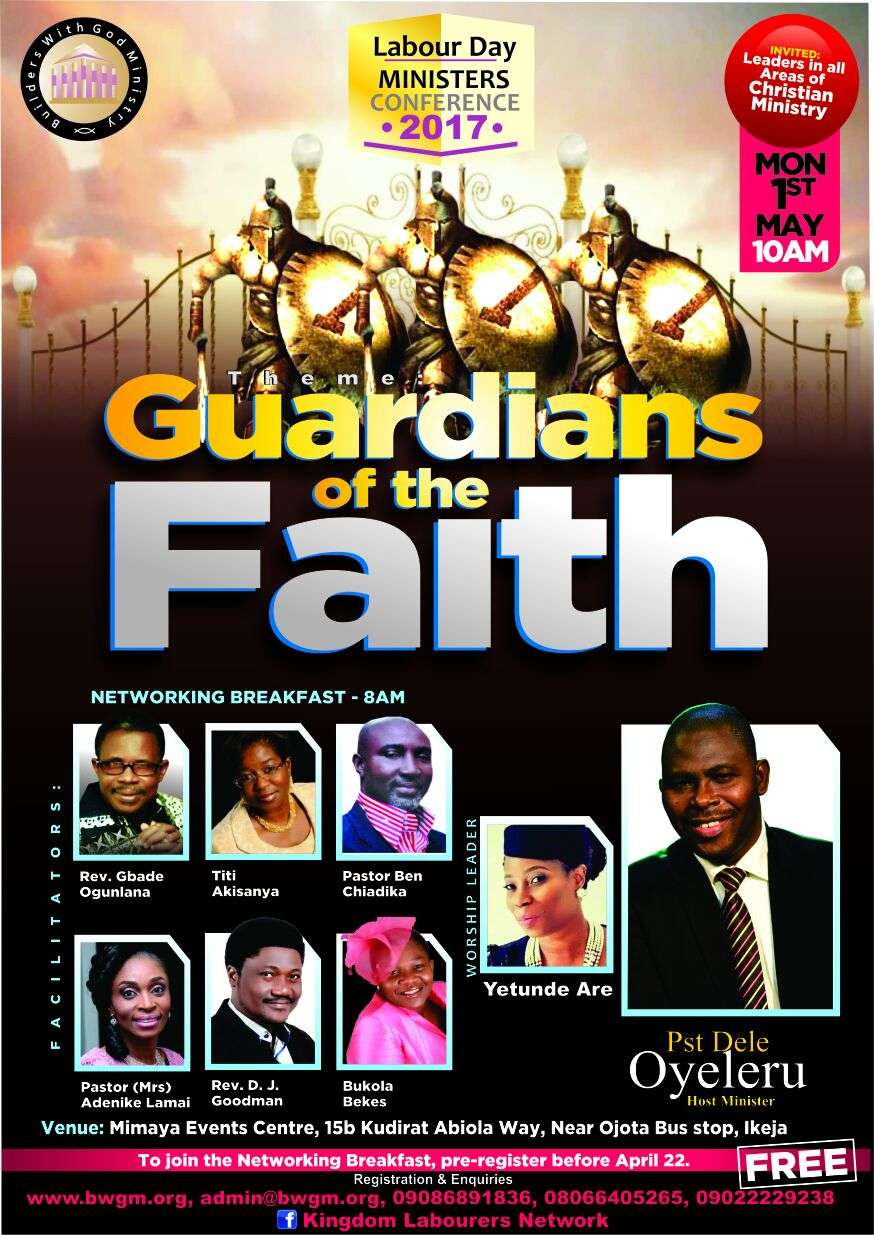 3. MEET YOUR HOST - A BRIEF PROFILE OF PASTOR DELE OYELERU
Church Leadership Development & Support
Pastor Dele Oyeleru is a gifted prophetic teacher, minister and counsellor.
Privileged for over a decade, to lead ministrations at multi-day, multi-church, Ministers Conferences across East & Central Africa (Uganda, Congo, Kenya, Tanzania, Rwanda) and Nigeria (Enugu, Abuja, Port Harcourt, Lagos).
Over 20 years travelling across Africa and the Middle East (often in partnership with other organisations and churches), establishing and supporting ministries.
Hosts and Ministers at the Kingdom Labourers Conferences and the Labour Day Ministers Conference.
Media Ministry
Since 1991, one of the host ministers on 'Voice Of Restoration' a prophetic teaching program that has enjoyed preference on SABC, Adonai, Kenya TV and various Nigerian TV and Radio channels.
Hosts and ministers on 'College-On-Air' a BWGM TV Production which has aired on Silverbird Television and Kingdom Africa and is currently available on BWGM's website and YouTube Channels.
Missions
Working out a specific long term burden for the Fulani people by partnering with Christian leaders in Baruten LGA, Kwara State, Nigeria to promote and establish the gospel among the Fulanis and the local Barubas.
His vision is to strengthen this foothold as a launch pad to spread the gospel across the Fulani Population of West Africa
Social Responsibility:
Currently leading implementation of a Fulani Literacy Programme in Baruten Local Government alongside local Christian leaders. This is a key part of the work among the Fulani and Baruba people of Kwara State,
Youth Ministry:
Continues to find time within his busy itinerary to minister to youth whom he believes are the heart of any transformation in the church or the world.
When able, he speaks at The Builder's Youth Forum and the Life Skills Workshop, both Youth Programmes of the Builders With God Ministry.
Carries a strong passion for enabling excellence among the youth which caused him to envision and lead execution of TBYF Awards for Excellence for Lagos State Secondary Schools. At the 10th edition in 2010, over 300 awards were given to outstanding senior secondary school students from every education district in the state. This was organized in partnership with the Lagos State Ministry of Education to support the State Government's commitment towards improving educational standards.
Pastor Dele is married to Omolola Dele-Oyeleru and they make their home in Lagos, Nigeria.
Date and Time
Location
Mimaya Events Centre
15B Kudirat Abiola Way
(Near Ojota Bus Stop) Oregun
Ikeja, Lagos