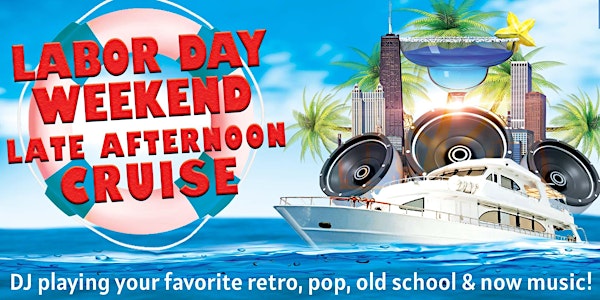 Labor Day Weekend Late Afternoon Cruise on Saturday, September 2nd
Enjoy a 3-story, luxury yacht with full bar, dance floor & one of Chicago's best DJs performing live! Relax on a cruise for Labor Day Wknd!
By ChicagoCruiseEvents.com
Date and time
Saturday, September 2 · 4:30 - 7pm CDT
Location
Anita Dee II Boarding at Dusable Harbor (See map and directions at bottom of page for exact location) 200 North Breakwater Access Chicago, IL 60601
About this event
2 hours 30 minutes

Mobile eTicket
Celebrate Labor Day Weekend On the Water
Amazing Skyline Views | Music | Cocktails Available For Purchase
We have multiple cruises every weekend, you can find our full schedule at www.ChicagoCruiseEvents.com.
SNAPSHOT OF CRUISE EVENT:
While cruising, you'll enjoy spectacular views of Chicago's iconic landmarks and skyline from Lake Michigan. Take advantage of Chicago's beautiful lakefront and come aboard the cruise!
Aboard the cruise, you'll enjoy everything below:
Amazing views (perfect for Instagram) of the Chicago skyline, Chicago's iconic landmarks, the harbor and more
One of Chicago's hottest DJs making sure you enjoy every minute
3 floors of fun with 2 of them being indoor and climate-controlled
Fully stocked bars serving up your favorite drinks
Dance floor ready for you to take a spin
Photo Contest on Facebook and Instagram
Note: These cruises are for adults only (all guests must be 21+ to board with a valid government ID). Cruises are on rain/shine. Dress code requirements will be enforced. There are NO refunds if you miss the boarding time or are not let on board by security for any reason.
EVENT DETAILS & CUSTOMER SERVICE INFO:
These events are PRIVATE EVENTS hosted by ChicagoCruiseEvents.com. Please do NOT call the Anita Dee for any questions as they will NOT have any of our event information.
BOARDING INFO (PLEASE READ)
Boarding will begin 45 minutes prior to scheduled cruise time.
*Important:   Ticketed Passengers MUST be boarded 10 min before departure time!  Standby boarding starts 10 min before the departure time.  Late ticketed passengers will be placed at the end of the standby line.  There are no refunds if you miss the boarding time indicated above. As soon as boarding is complete, the gate will close and the crew will start preparing for departure. No one else will be permitted to board. Please be on time, as the boat will leave without you!
Please have your printed Eventbrite QR Code and your valid 21+ ID ready as you enter the boarding line.
👉 We HIGHLY recommend not driving to the event. We strongly recommend taking public transportation or ride share. Details below.👈.
Got Other Questions? Please read our Frequently Asked Questions (FAQs) section below. If you have any other questions, please e-mail: Info@ChicagoCruiseEvents.com or Call: 312-500-0389.
👉IMPORTANT EVENT REMINDERS:
All guests must adhere to the dress code requirements, zero tolerance policies, parking info and Covid policies listed below.
THERE IS NO PARKING AT DUSABLE HARBOR. Use the map below which details parking options in the area. Give yourself plenty of time to park off site and get to the harbor/boat by the scheduled boarding time. We HIGHLY recommend taking public transportation (taxi, Uber, Lyft, etc) to the event. The closest parking lot is a 25 min walk to the boat. We've listed parking lot options below in the event you need to drive. Be sure to allow time to park in one of these off-site parking lot options and arrive at the harbor on-time for boarding and departure.
ENTRY ON BOARD THE YACHT IS STRICTLY DENIED for any person intoxicated with alcohol or narcotics or in possession of weapons, alcohol, tobacco, e-cigarettes or narcotics; this includes marijuana. It is illegal to possess marijuana, in any quantity, on the boat. The boats are regulated by the United States Coast Guard and individuals in possession of Marijuana or other narcotics are subject to arrest.
FIGHTING, THREATS OR AGGRESSIVE BEHAVIOR: There is a zero tolerance policy before, during or after cruises for any individual(s) fighting or exhibiting aggressive and violent behavior. Individuals will be detained by security and turned over to the Chicago Police Department to be arrested immediately upon returning to dock. Individuals will be blacklisted and denied entry to any future event and no refunds will be issued.
COVID: Anita Dee Yacht Charters will enforce the current federal, state or city of Chicago Covid protocols that exist the day of the event. Facemasks are encouraged for the indoor portions of the boat, but not required.
DRESS CODE: A Semi-Formal Dress code strictly enforced. Please see below for additional dress code info.
❌No athletic attire, jogging pants, baseball hats/sports hats
❌No neck tattoos, facial tattoos, gang tattoos or gang representation of any type
❌No provocative or revealing clothing. No undergarments should be visible
✅ Dress appropriately! You are coming on a nice cruise!
REASONS TO BUY EARLY: In addition to getting tickets at a lower price, those who purchase early will also receive free tickets and/or deeply discounted tickets to future events.
FREE STUFF: Your tickets also include over $200 in Freebies* including: $10 of FREE Bitcoin from Coinbase, $10 in FREE food from Ritual and more! Click HERE for more info. *All offers valid for first time users only and subject to change without notice.
PHOTO CONTEST: Enter to win by using #312Cruises in your posts on Instagram or Facebook! Our panel of judges will go through the pictures and winners will be contacted afterward! Prizes include tickets to tasting festivals, cocktail cruises on Lake Michigan and more!
👉Other Frequently Asked Questions (FAQ):
What is the address? 200 N Breakwater Access, Chicago, IL 60601. Click here for more information.
Is there food on the boat? No, please eat before coming to the event.
Is there a bar on the boat? Yes, there is a full bar on the boat.
Can I bring my own food and drinks? Absolutely no outside food or beverage is allowed. Bags will be checked.
How much is parking? Where do I park? The closest parking lot is Millennium Parking Lot. The parking lots below are about a 20 - 25 minute walk. Please be sure to inform your guests to allow ample time to travel and parking prior to the event! We do NOT recommend driving to the event. Please take public transportation. Click here to see nearby parking lots or view below.
How do I redeem my voucher (ex. Groupon) for a date? Please download your voucher and follow the step by step redemption instructions or Click here. Please contact the daily deal site for any assistance on getting your voucher # if you can't locate it.
What kind of music will be played? We will play a variety of music including, but not limited to Retro, Pop, Old School, & Now Music.
Can I get a refund? Unfortunately, all tickets are non-refundable after purchase.
Can I reschedule (including emergencies)? Unfortunately, all tickets are final as soon as you reserve a date. A spot is automatically reserved for you and can't be rescheduled.
Can I give my ticket to someone else even if my name is on it? Yes! If you have an Eventbrite ticket, you can give that to anyone regardless of the name on the ticket. We need an unused ticket with a barcode to scan.
It's raining outside. Can I reschedule? Cruises are on rain / shine and cannot be rescheduled. There is also an interior deck on the boat. There is no need to call us to ask if the event is cancelled. We will send an e-mail out if the event gets cancelled.
Does the boat have a bathroom? Yes, the boat has a bathroom.
Is the boat handicap accessible?  It depends on which boat you are booked on.
The Anita Dee II is handicap accessible if it is a manual wheelchair (only first floor is handicap accessible).  The boat crew can help store the chair in one of the closets once the person is on board. The aft (back) deck of the lowest level is all windows with good views. 
The Anita Dee I is NOT handicap accessible.
Can I book the entire boat? Yes, please e-mail us for more info.
Do you need your ID? Yes. All guests need a government issued ID to board and all guests must be 21+.
Where are my Eventbrite tickets? I can't find them. Please click here.
Who can I contact with further questions? For the fastest response please email Info@ChicagoCruiseEvents.com. You can also call us at 312-500-0389.
👉DIRECTIONS
The Anita Dee is docked at DuSable Harbor on the South side of the Chicago River at Lake Shore Drive. Since the Harbor has no real physical address, GPS and online directions are unreliable. Use the maps along with the directions below to get to the boat! THERE IS NO PARKING ALLOWED AT DUSABLE HARBOR. We've listed parking lot options in the area below. Be sure to allow time to park in one of these off-site parking lot options and arrive at the harbor on time for boarding and departure.
Dropped Off
If getting dropped off by taxi, instead of telling the driver an address, tell them to drop off where lower Randolph Street meets the lakefront, DuSable Harbor, or Columbia Yacht Club.
Lower Randolph Street, east to the lakefront. Drop off at DuSable Harbor cul-de-sac
Walk down to the lake front path and turn left/walk north along the lakefront.
Our yachts will be straight ahead at the end of the lakefront path where it ends at the Chicago River.
Walking
From the Loop
Take any stairway down to the Riverwalk on the south side of the Chicago River.
Walk east toward the lake (From Michigan Ave. Bridge- 10 min walk).
The south side of the Riverwalk ends at our boats just east of the Lake Shore Drive Bridge
From Navy Pier
Walk west on Illinois to Lower Lake Shore Drive, the first street on your left.
Cross Lower Lake Shore Drive to the west side of the street and turn left.
Once you cross over the Chicago River, look for the staircase on your right to walk down to Riverwalk
Turn left to go through tunnel on Riverwalk
Once you exit tunnel, you'll see both yachts to your left on the River.
From Millennium Park
Head east on Monroe and cross over to the east side of Lake Shore Drive.
Turn left or walk north on the lakefront path.
Once you pass Columbia Yacht Club, keep walking north for 4-5 mins- Path ends at Chicago River and our Yachts.
Driving (NO PARKING AVAILABLE in DuSable Harbor Parking Lot)
From the West
Head east toward the lake on Lower Randolph Street from Michigan Ave. or Columbus Drive. (If coming from Michigan Ave., stay to the left to access lower Randolph St., do not go to the upper level!)
Take Randolph Street East all the way till it ends at the lake
From the North Via Lake Shore Drive
Take Randolph St. exit off of Lake Shore Drive.
Turn left at bottom of Randolph St. exit ramp.
Take Randolph Street East all the way till it ends at the lake
From the South Via Lake Shore Drive
Exit to Randolph/Wacker Dr. off of Lake Shore Drive. Stay in middle lane of ramp.
At bottom of ramp, turn right.
Take Randolph Street East all the way till it ends at the lake
Parking Lots Nearby: please note we have no affiliation with the parking lots below, please confirm availability in advance!
Millennium Park Garage - 5 S. Columbus - (312) 616-0600
ABM Parking Services - 400 N McClurg - (855) 234-0260
ABM Parking Services - 323 E. Wacker - (312) 268-8116
LAZ Parking - 350 E. Monroe - (312) 616-0600
Navy Pier Lots - 600 E Grand - (312) 595-5072
Parking apps:
Rules, Regulations & Disclaimers: All guests must be 21+ with a valid government issued ID that will be checked by security prior to boarding the boat. A valid ticket with scannable QR code is required by all guests to board. It is recommended to print a paper ticket to prevent any technology complications which would prevent your ticket from displaying on your phone. There is no guest list at the boat, each ticket must be scanned. Security reserves the right to inspect all bags and persons. Absolutely no outside food or beverage may be brought on the boat. Guests who are deemed intoxicated (or otherwise unfit) upon arrival, will be denied entry and no refunds will be given. We want all guests to enjoy themselves on the cruise, but please note you will be on the boat for an extended amount of time and our number one priority is the safety of all guests. The boat will depart the dock as soon as boarding is completed. Once the boat begins its cast off procedure, for the safety of all guests, absolutely no late arrivals will be allowed within the security fence to board. If you are late, you will be left at the harbor without a refund. In the event of dangerous weather conditions, security situations, mechanical issues with the locks, the boat, etc., the boat may not cruise, but the party will still go on at the dock. In the event of rain, or other inclement weather, the party will continue on the enclosed portion of the boat. Any ticketing/technical issues will be handled by Eventbrite.com. Please contact them directly at https://www.eventbrite.com/contact-us/. Sorry – no refunds or price adjustments. The Eventbrite system does not allow us to restrict people who are underage from buying tickets. If you are not 21 and purchase a ticket, you will not be allowed on board. Cruise length will vary based upon multiple factors, including, but not limited to: boarding time, lock operations, boat traffic, weather, special events such as fireworks, emergency situations, etc. The DJ's aboard the boat will play a variety of music, at their discretion, with the goal of making a fun cruise for the entire crowd. The music's volume level will be set to an acceptable level intended to please all guests and may be regulated/limited by safety regulations set forth by the captain. For further Terms and Conditions of this event and ticket purchase please see "Ticket Purchase and Event Terms and Conditions" in checkout before purchasing these tickets; which shall also be binding and shall be incorporated by reference as though fully stated herein.