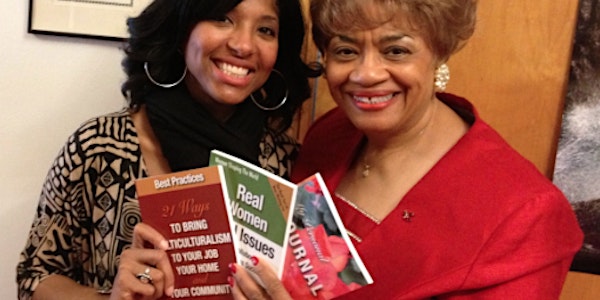 Labor Day Special: Three Great Books By Carole Copeland Thomas
Description
Please Indicate The Book Titles When You Complete Your Order Form.
A = 21 Ways B = Real Women C = Personal Journal
Indicate Book A, Book B and/or Book C When You Complete Your Order.
Three Great Books At Fabulously Low Prices
Book A
21 Ways to Bring Multiculturalism To Your Job You Home and Your Community
With over 29 years of experience as a speaker, trainer, and global thought leader, Carole Copeland Thomas shares her years of experience with those who are serious about practicing diversity throughout the world.

Straightforward, honest, and practical, 21 Ways To Bring Multiculturalism To Your Job Your Home and Your Community gives you clear ideas on how to proactively manage diversity from training suggestions to social media strategies to travel opportunities.

No more guesswork! This book shows you how to open new channels of information so that you can practice multiculturalism and diversity wherever you go.
Book B
Real Women Real Issues
Real Women, Real Issues: Positive Collaborations for Business Success is a unique collaboration between four dynamic women coming together from many years of varied experience and from their mastermind group experience. Out of that experience came the concept of communicating with other women on the importance of maintaining quality personal, professional and business relationships with other people who promote positive living.
Book C
Personal Jounal
My Personal Journal is step by step instructional guide to daily journal writing, including 60 pre-designed forms to begin the process. Based on the 40 volumes of journals Carole has written since the death of her teenage son in 1997, this book is designed to help you develop a solid routine of empowering your life through regular entries of your life's journey.

Scientific data now proves that regular journaling (writing therapy) can improve your mind, body and spirit by documenting the joys, sorrows, hopes and aspirations of your life. This book will help transform your thoughts and emotions into credible action steps for now and in your future.
Social Psychologist Dr. James Pennebacker is a leading expert on the power of journaling. Wikipedia notes that "over the course of his career, Pennebaker has studied the nature of physical symptoms, health consequences of secrets, expressive writing, and natural language, and has received grants from the National Science Foundation, The National Institutes of Health, the US Army Research Institute, and other federal agencies for studies in language, emotional and social dynamics."

So there mounting evidence that regular journal writing POSITIVELY impacts your mind, body and spirit! Daily stories of things that happen in your life each day are worth jotting down in a notebook to keep forever.

Buy one, two or buy all three!
Spread the knowledge with your friends, family and colleagues. Get your books today!
-Carole Copeland Thomas
(508) 947-5755
carole@mssconnect.com
www.tellcarole.com
www.mssconnect.com