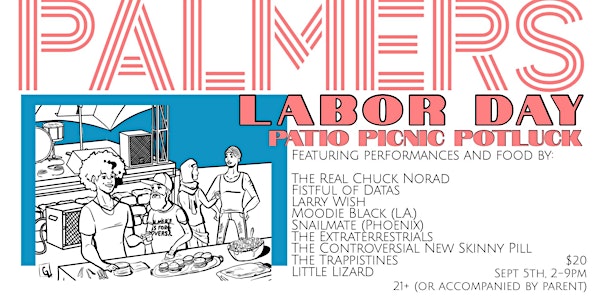 LABOR DAY PATIO PICNIC POTLUCK! With The Real Chuck Norad, Moodie Black...
We're celebrating Labor Day with Great Live Music and a Potluck! Every band is bringing a dish or two for a unique show experience!
When and where
Location
Palmer's Bar 500 Cedar Avenue Minneapolis, MN 55454
Refund Policy
Contact the organizer to request a refund.
Eventbrite's fee is nonrefundable.
About this event
THE LINE UP: The Real Chuck Norad, Fistful of Datas, Larry Wish, Moodie Black (Los Angeles) , Snailmate (Phoenix, AZ), Extraterrestrials, The Controversal New Skinny Pill, The Trappestines and Little Lizard!
8:15pm~THE REAL CHUCK NORAD is a Minneapolis based musical group providing a soundtrack to a dystopian future we deserve. We try on the music of bands we like because it's fun. We also like playing songs for the future that we write on our spaceship. Chris Hepola, Josh Granowski, Albert Perez, Tim Kirchhoff, Matty Harris, Nathan Berry trombone/trumpet, Paul Perez, Jenna Wyse
7:15~ FISTFUL OF DATAS are a super fun 90's tribute band!
6:30~LARRY WISH has been composing proggy bedroom pop music since 2007. With over fifty albums, including releases on labels such as Orange Milk, Moon Glyph, & Bumpy, his songs often explore daily observations, reflections, interactions, and trying to understand love and life without analyzing either to death. By combining elements of jazz and classical music, Larry Wish creates a musical universe that blurs the lines between harmony and dissonance. In a live performance, he may whimsically mime a one person band of hyper-orchestral music, sing karaoke-styled songs which showcase his dramatic, low-register singing, or play intimate piano tunes delivered through a wide emotional lens. With the inclusion of a live band, a new dimension of sound and vision is added through the interpretation of well-seasoned players.
5:45~ MOODIE BLACK Known as pioneers of the new era noise rap scene Moodie Black has snuggly nestled themselves into alt rap lore. Over a decade strong Moodie Black has earned a reputation of being harshly uncompromising while showcasing their affinity for mood and atmosphere.
5:00~SNAILMATE is the Phoenix-based musical duo composed of lyricist, singer and synth-wizard Kalen Lander and drummer and backup vocalist Bentley Monet. Together, the two create music that fuses synthpunk, grindcore pop, and nerd rap for an unpredictable and explosive sound. Formed in 2015, the band is known for their frenetic and impressive live shows. Performing over a thousand shows, Snailmate has cultivated a fervent fanbase that aims to be inclusive with the band priding their shows as a safe space for all genders and people of all sexualities.
4:15~EXTRATERRESTRIALS is the latest project of Orion Treon (Phantom Tails/Plastic Chord) along with Sara Wolf on keys, Monica LaPlante on bass and Austin Cecil on Drums. Think dynamic written rock songs with a new wave edge.
3:30~THE CONTROVERSAL NEW SKINNY PILL is a band in Minneapolis, that does non-drowsy, hypnagogic, psychedelic social pop. Utilizing lo-fi straight-to-tape recording strategies, band lead Skyler Nowinski (Rupert Angeleyes, Loud Sun, Joey Joey Michaels) creates warm and woozy, wah-wah drenched, relentlessly rhythmic party songs and weirdo pop grooves joined by Mariel Olivera (XOXOTech, IE) on synths, Dan Dukich (Daniel Bonespur) on bass, Alana Horton (Alone-A, Tony Peachka, Bella Yaga) on drums, and Sergio Hernandez (Phantom Tails) on auxiliary percussion.
2:45~TRAPPESTINES~On a Halloween evening a few years ago, friends Corey Lawson and Aaron Baum met at Lawson's apartment in the Whittier neighborhood of South Minneapolis to peruse Baum's catalog of unused instrumentals. Having met while frequenting events at the popular Minneapolis recording studio/event space, The Sound Gallery, the two musicians discovered a shared fondness for all things Pop. From the obscure to the mainstream, the simple to the emotionally complex, the pair found a kinship through infectious hooks and dance-able rhythms. Aaron's credits include playing with Night Moves and Pornono. Corey fronted and composed for his DIY bedroom pop project MUNQS. After many starts and pauses due to the demands of life, the duo persevered. Creating, recreating, and re-imagining a sound that is uniquely their own. Joined by Lawson's long time collaborator, guitarist Mathew Vannelli, and drummer Jared Isabella, The Trappistines are ready to make you feel all sorts of ways
2:00~LITTLE LIZARD is Minneapolis funk punk duo that wants you to get down to their cold-blooded groove. Brassy and offbeat the duo, consisting of multi-instrumentalists Lizz D. and Shea Daniel, combine trombone funk and bass punk to create their own style of instrumental music. Minimalist in nature Little Lizard packs a punch with in-your-face melodies and cutting basslines over drum machine beats. Varying their sound with synthesizers, vocal samples, and theremin Little Lizard will make you regret quitting band class in school.
IF WEATHER IS DUMB THE SHOW MOVES INDOORS. Visit our website for details on our Covid Policy before purchasing tickets
DOORS 1PM SHOWTIME 2PM-9PM