LABI 2018 Workers' Comp Seminar

Thursday, September 27, 2018 at 8:00 AM

-

Friday, September 28, 2018 at 12:00 PM (CDT)
Event Details
Online registration for this event has ended. Walk-in registrations are welcome. 
Seminar Overview
LABI's 2018 Workers' Comp Seminar will provide a wide range of topical presentations to keep you up-to-date with the latest changes in the workers' compensation industry. This event will showcase an education agenda consisting of guest speakers covering a variety of substantive topics. 
We mean business with the 2018 WC Seminar... take a look at our featured topics:
- Review of the comp environment, along with a discussion of the potential for change in the law and rules, when and how;
- Best practices for claims management;
- Analysis of the Arrant decision, its implications for the comp system;
- What the courts think constitutes an "accident" under the comp statute;
- Challenges medical professionals face when trying to return employees to work;
- New decisions in comp cases over the past year, what they mean;
- Injuries to the arm, hand and shoulder and how they are best treated;
and much more!
Reserve your spot today!
Continuing Education Credits
Continuing Legal Education Credits (CLE) 9.5 hrs.
Continuing Insurance Education Credits and Property Casualty Credits (CE) 10 hrs.
*This program may qualify for other continuing education credits; check with your professional organization. 
Registration Information
Early Bird Registration until September 10th:  Members $350  / Non-Members $420 
Registration after September 10th:  Members $400 / Non-Members $470
Registration fee includes the 2018 LABI Workers' Compensation Desk Book, a requirement for the seminar.
*Cancellations made 7 days or more in advance of the event date will receive a 100% refund.
Sponsorship Opportunities
Please contact Elena Lacour at 225-215-6647 or elenal@labi.org. 
Hotel Information
To make reservations, please call 1-866-261-7777
Room Rate: $119 + tax
Group Code: RLABI18
L'Auberge Casino & Hotel room cutoff date is September 10, 2018 - HOTEL ROOM BLOCK IS FULL - Guest rooms may be available without the group discount.
LABI Workers Compensation Seminar Agenda
Thursday, September 27, 2018
   8:30 a.m.     Registration and Continental Breakfast
   9:00 a.m.     FMLA, ADA and WC – Comp claims can have implications for employers beyond the costs of time missed from work and medical expenses. Serious and potentially costly issues may surface involving the Family & Medical Leave Act, the Americans Disability Act, and Louisiana state law prohibiting retaliation for filing a job-related injury claim. An attorney will explain how to assure compliance with these laws and create a preventive maintenance plan of action.
                        Fred Preis - Breazeale, Sachse & Wilson
   9:40 a.m.     Parsing the Arrant Decision – Where does the Louisiana Supreme Court's decision in Calvin Arrant v Wayne Acree PLS, Inc. really leave us? Is the decision subject to more than one interpretation? Does it require law or rule changes, and if so, what changes? Two attorneys with differing views will consider this case and its implications for Louisiana's comp system as stakeholders attempt to sort it out.
                        Trey Mustian - Stanga & Mustian
Jeff Napolitano - Juge, Napolitano, Gilbeau, Ruli & Frieman
  10:35 a.m.     BREAK
 10:45 a.m.     Jurisprudential Update – What new WC court decisions were issued in Louisiana over the past year and what will they mean for the comp system? Two attorneys will summarize the cases and explain their effects.
Wayne Fontana and Jennifer Lewis - Roedel, Parsons, Koch, Blache, Balhoff & McCollister
 Noon      LUNCH
   1:00 p.m.      The Definitive Accident – The Legislature redefined "accident" under comp three decades ago. But did that new definition really change anything? An attorney will consider this question and discuss its implications for the comp system.
Scott Cowart - Taylor, Wellons, Politz & Duhe
 1:50 p.m.      Next Steps for Louisiana's WC System – A panel of representatives from among the comp system's stakeholders will assemble for a frank conversation about the current dynamics within the system, where they see developments going in the near term and where they would prefer they go.
Charles Davoli – Davoli Law Firm
Denis Juge - Juge, Napolitano, Gilbeau, Ruli & Frieman
Michael Morris - Louisiana Homebuilders Self Insurance Fund
   3:20 p.m.      BREAK
  3:30 p.m.      Best Practices – What should employers do if one of their employees is injured on the job? What should they be doing while their injured employee is recovering? How should a comp claim be handled to avoid court? What should be done to situate the case for defense if a court challenge occurs? Two attorneys will make their case for how employers and those administering a claim can best handle their respective roles.
Patrick A. Johnson - Allen & Gooch
Patrick Robinson - Allen & Gooch
   5:00 p.m.      ADJOURN TO ALLEN & GOOCH COCKTAIL RECEPTION
Friday, September 28, 2018
   8:00 a.m.      Registration and Continental Breakfast
  9:00 a.m.      From Clavicles to Fingertips – Injuries to a worker's arm are not uncommon in comp. Some are serious, others minor, but problematic nonetheless. Which injuries present the greatest challenges for physicians? What surgeries and/or treatments are appropriate? An orthopedist will walk through these and other issues related to an injury to the arm.
Dr. Blane Sessions - Louisiana Hand to Shoulder Center
10:15 a.m.      BREAK
 10:25 a.m.      Obstacles to Return to Work – The goal of WC is to provide the medical care necessary to return injured employees to their jobs. Unfortunately, this is more difficult than it should be. An attorney, nurse case manager and occupational medicine physician will discuss the challenges to a positive outcome and share ideas for improving the odds for restoring injured workers to employment.
                       Monica Bruno - Prime Occupational Medicine
Dr. Luke Lee - Prime Occupational Medicine
                       Tommy Ruli - Juge, Napolitano, Gilbeau, Ruli & Frieman
         Noon      ADJOURN
Sponsored by: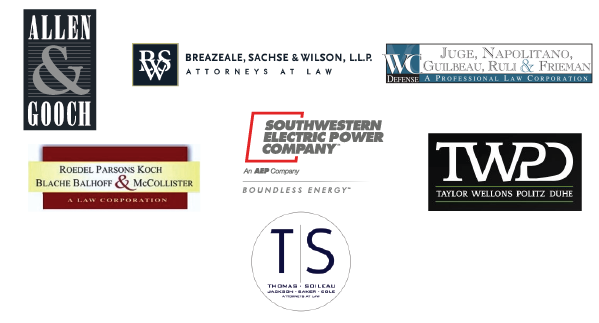 When & Where

L'Auberge Casino & Hotel Baton Rouge
777 L'Auberge Avenue
Baton Rouge, LA 70820


Thursday, September 27, 2018 at 8:00 AM

-

Friday, September 28, 2018 at 12:00 PM (CDT)
Add to my calendar
Organiser
What is LABI?
The Louisiana Association of Business and Industry (LABI):
is the largest and most effective business lobbying group in Louisiana;
was formed over forty years ago by business leaders from all over the state;
unified the state's business community into a strong, well-financed, properly staffed organization;
speaks for business and industry, not only during legislative sessions, but year-round;
is a proven force in Louisiana government.