Lab to Launch San Diego

Saturday, December 8, 2012 from 9:30 AM to 3:30 PM (PST)
Event Details
Limited Tickets Available! Sign Up Now!

Lab to Launch

There are other careers out there besides working for large companies or staying in academia. Lab to Launch empowers scientists by introducing them to business skills and available resources to launch their own company. With the rapid growth of virtual services and community labs, never has this been more possible. 
We are witnessing a historical confluence of forces that provide the most fertile ground to date for scientists to break out and set up on their own:
The massive and growing amount of information that is now at our fingertips no matter where we happen to live in the world, thanks to the internet, grows increasing in quality and quantity on a daily basis. No longer do you need to be part of a large company or University department to have access to the information you need to make it work.
The ever expanding complexity of biological research means it is no longer possible for a single company, no matter how large to retain all of the R&D capabilities in house that it needs to develop its products.
The strategic drive within the pharmaceutical industry to outsource all steps along the development pipeline and engage small companies with a deep skill set in a narrow focused area.
The combination of these forces make this a time like no other for the scientist with the will and vision to break out of the 9 – 5 and set up on their own.
Organizers
Assay Depot
Assay Depot is the world's leading provider of outsourced scientific services. The company operates a network of online research exchange and marketplaces that dramatically streamline purchases between scientists and more than 8,000 global research vendors. Assay Depot is changing the way life science research is done. To learn more about Assay Depot's free public scientific research exchange, visit http://www.assaydepot.com
Biotech Acumen
Biotech Acumen develops training programs for the biotech industry. Its program Biotech B-School offers programs in finance, marketing, entrepreneurship and supply chain specificlaly designed for scientists wanting to transition into the business world. The program aims to help scientists build careers in and outside of science. It is delivered through a combination of online multimedia classes, live workshops and mentorship. Its aim is to help scientists discover and thrive in a broad range of career paths.  
Oxbridge Biotech Roundtable
The Oxbridge Biotechnology Roundtable (OBR) is a student-led, intercampus forum first established in Oxford in 2011 to foster a conversation between academics and industry professionals in the health care and life sciences industry. OBR's mission is to create a global network of academic innovators from across disciplines, connecting them with each other and the industry resources necessary to move their ideas forward – acting as a seed-bed for the next generation of biotech entrepreneurs. OBR's continued success is based on our three arms: Educational events, our student consultancy Oxbridge Roundtable Solutions (ORS) and our online communications arm, the Roundtable Review (RR). 
Sponsors
Comprendia Bioscience Consulting Group

Founded in 2008 by Mary Canady. We have brought together a highly diverse "virtual" staff of Ph.D.-level scientists, experienced marketers, seasoned writers, and talented designers. Although our backgrounds are varied, we all have experience understanding and reaching your target audience: life science researchers. In addition, we are highly experienced in forming teams that work together to meet objectives and deadlines. By working with us on a per-project basis, you'll be able to develop polished materials without the expense of having a full time marketing group. In addition, we work closely with several publishers and bioscience marketing partners, ensuring you access to the lowest prices and other advantages. 
There are many benefits in working with professionals who understand both science and business. Building upon our understanding of bioscience products and researchers, we will quickly identify issues that your business must address in order to grow. There are many marketing channels to choose from, and we know from experience which are cost effective, allowing you to get the most out of your marketing budget. In addition to our expertise, we are passionate about working at the interface between science and business, and our goal is to help small biotechnology companies realize their full potential. 
BSKB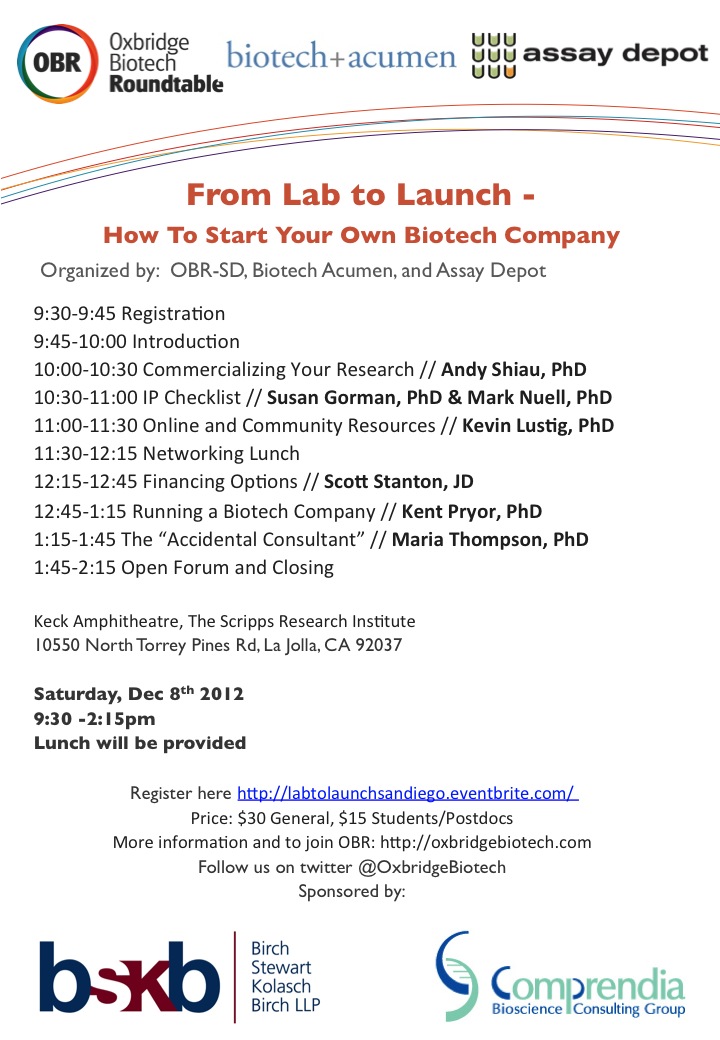 When & Where

Keck Amphitheatre | Beckman Center for Chemical Sciences | The Scripps Research Institute
10550 N Torrey Pines Rd
San Diego, CA 92037


Saturday, December 8, 2012 from 9:30 AM to 3:30 PM (PST)
Add to my calendar