Description
LAB Talks | Satya. Work Your Best Life
A Free Monthly Event Curated By LAB for Business In Partnership With Hennepin Made + Parallel Café
Join us for LAB Talks – Satya. Work Your Best Life. Work/Life integration has never been more fulfilling. You just need the right tools to activate your best life. It starts with a thoughtfully articulated vision, and is accompanied by meaningful prompts, putting technology to work for you. You can find conscious alignment, finding where your professional, personal and spiritual lives all intersect.


You strive to do work that fills your heart and your savings.
You want to contribute to those around you, in big and small ways.
You drive to take charge of your days, not have your days take charge of you.
You desire to do good with good people.
You are intentional about your time spent in and out of the office.
You are ready to Work your Best Life.


See? You can have it all! You just need the right tools and mindset to make it happen. So, let's kick off the day with Erin Newkirk, an inspiring, award-winning innovator with rich leadership in tech, consumer packaged goods and healthcare; spanning start-ups to growth companies to billion dollar brands, to navigate how to craft your Best Day, manifest your mantra, and then learn a few feel-good prompts that you will actually want to incorporate into your day to make it all happen.


About the Practice:
It's Satya. The Sanskrit word for truth. As in all things Sanskrit, the real definition is rich with subtext, meaning, and touches on virtue. As in being truthful in one's thought, speech and action. When put into practice, Satya is at the heart of working your best life. Doing good with good people.
Whether you own a thriving business, work on someone else's business, or are starting a business from scratch, life is too short not to know, own, and speak your truth.
About Erin:
Erin's career as an entrepreneur begin in 2005, when she co-founded Red Stamp, a correspondence platform on a mission to make relationships stronger, one tweet/test/post/card at a time. With over 2 million users and 10 million cards sent, Red Stamp was best known for its award-winning app and was acquired in 2013 by Taylor Corporation, one of the largest privately held companies in the United States. She served as CEO until 2016.
Erin's next big entrepreneurial adventure was to help launch the award-winning Bright Health, where as Chief Marketing Officer she collaborated with health insurance veterans to craft a people-first mission, vision and values within the health insurance landscape to drive top recruitment of any new health plan in the marketplace.
Currently, you'll find Erin crafting culinary-first experiences that effortlessly connect locals to the best of what is available in their growing region as Chief Marketing Officer for Local Crate.
Full consumer work includes award-winning brand management at General Mills and Kaplan. Erin received her MBA in Marketing + Operations from Indiana University Kelley School of Business, a BA in Journalism from Drake University, and earned a Certificate of French Studies from the Université Paris at Sorbonne.
Say hello @ erinnewkirk.com.
First Come First Serve
LAB Talks + Behind The Scenes tour of Hennepin Made
Behind the Scenes tour of HENNEPIN MADE following each LAB Talk to the first 10 to sign up! Tour tickets are available when reserving your LAB Talks tickets on Eventbrite. Select ticket option "LAB Talks + Behind The Scenes Hennepin Made Tour" to attend both the LAB Talks + exclusive tour. Hurry! These go fast.
Event Details
8:15- 8:30am Holden Room doors open. Check-in and check out the styled PEG BOARD, grab coffee provided by Parallel, post an IG pic + grab a seat
8:45am: Introduction of speakers
8:50 – 9:30am: LAB Talk with Q+A
9:30 – 10:00am: Additional time for connecting and coffee
9:45 -10:15am: Behind the scenes tour of Hennepin Made for eligible ticket holders
Location
The Holden Room
145 Holden Street
Minneapolis MN 55405
Additional Perks
- Complimentary coffee from Parallel Café, inspiration to jumpstart your passion from those who are making it real. The perfect place to meet co-workers, clients, business partners and friends IRL each month.
- Exclusive discounts, offers and contest giveaways to LAB Talks attendees.
Event Sponsors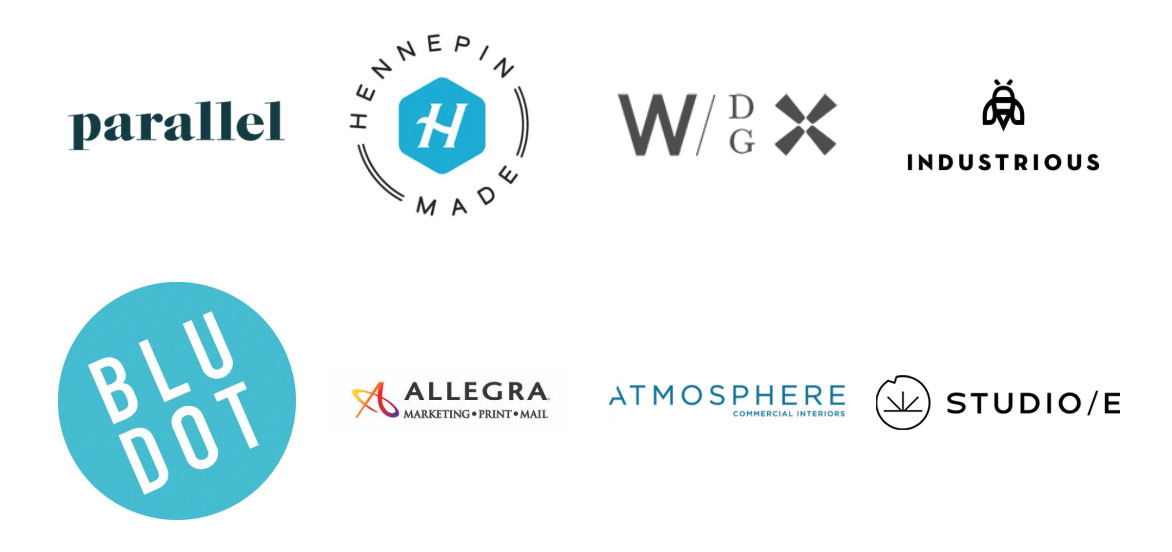 About LAB Talks
Education and collaboration are the foundation of any LAB event - We are taking these elements to another level and offering a monthly event to inspire, learn, and connect people to businesses and resources. Meet LAB Talks.
Each month we will set the stage to hear from those in our community and their compelling stories and insight. A panel of passion pursuers will share their stories that offer different perspectives on making things happen IRL. Be surrounded by other like-minded individuals and take advantage of this energy to jumpstart your day - and your own passion. Join us every month to be inspired, learn from others, stay curious and gain access to resources, tools and strategies to help you make things happen. Learn. Indulge. Apply. Repeat. BONUS: You will leave fueled from conversation as well as the complimentary coffee from Parallel Cafe!
About LAB For Business
LAB for Business offers business workshops that focus on the key components of a successful business, led by industry experts hosted by LAB. We provide resources, tools & strategy to apply to your business. The LAB instructors are industry professionals and will share their expert advice, one-on-one education, and resources to help you gain more knowledge & confidence in different areas of business. Whether you are a business owner, independent contractor, or working with a larger corporation, these workshops will offer the foundations for success and the knowledge & skills to grow & succeed.
We strongly believe in the power of collaboration, and our goal is to make LAB a place for people to connect and grow together. In addition to gaining insight in many areas of business, you will also meet others with a similar mindset with a yearning to connect, grow & succeed. Visit labforbusiness.com to learn more.