Description
LAB Talks | Dispelling Influencer Marketing Myths
Moderated by Christine Scherping with Bruno Bornsztein (Influencer Kit), Bjork Ostrom (Pinch of Yum), Emily Hirsch (Fit Foodie Finds) and Meghan Yancy
A Free Monthly Event Curated By LAB for Business In Partnership With Hennepin Made + Parallel Café
Join us for LAB Talks – Dispelling Influencer Marketing Myths, the first in a series focused on sharing perspectives on what Influencer Marketing really means. Gain insight from influencers, brands and agencies and be a part of a candid conversation about the challenges, successes and impact of Influencer Marketing.
Navigating this relevant topic is the passionate marketing maven Christine Scherping of Friend of a Friend, a boutique influencer marketing agency. Experienced with improving brand visibility and integrated marketing, Christine is at the top of our list when it comes to collaborating with key retail and consumer packaged goods clients while having her finger on the pulse of the social landscape.
Sharing their perspectives and experience in the ever-evolving Influencer Marketing scene, we are honored to introduce the panel:
Bruno Bornsztein, an all-around web entrepreneur whose DIY/home improvement/design blog, Curbly was cutting edge as it was trailblazing user-generated content meets social network for those interested in home design/improvement and DIY. Innately innovative and problem solving, Bruno is getting ready to the introduce the world of bloggers and brands to Influence Kit, a digital toolkit giving you the power to show and track your real influence.
Bjork Ostrom, is the Chief Tech Consultant-Business Advisor-Taste Tester at Pinch of Yum, the popular food and recipe blog which he co-founded with his wife Lindsay. What started as a hobby grew into full-fledged business. Bjork has become the master at building passions into successful businesses as they have launched three additional "sister" sites – Food Blogger Pro, WP Tasty and Nutrifox and it seems like this is just the beginning.
Emily Richter, Chief Operating Officer of Fit Foodie Finds, a fast-growing media company with an emphasis on promoting a healthy and balanced lifestyle. With corporate and agency marketing experience, Emily turned her side-hustle into full-time as now 1/3 of Team Fit Foodie focusing on business operations, sponsorships and brand collaborations.
Meghan Joy Yancy is a self-proclaimed "hippie and holistic" mom of 6 and founder of the popular blog, MeghanJoyYancy.com. Inspired to explore social platforms while writing her first book, Meghan successfully created a community of encouragement, love and joy through her blog, social presence and collaborations.
Step away from your daily to-list, grab a coffee and be inspired. You won't regret it.
First Come First Serve
LAB Talks + Behind The Scenes tour of Hennepin Made
Behind the Scenes tour of HENNEPIN MADE following each LAB Talk to the first 10 to sign up! Tour tickets are available when reserving your LAB Talks tickets on Eventbrite. Select ticket option "LAB Talks + Behind The Scenes Hennepin Made Tour" to attend both the LAB Talks + exclusive tour. Hurry! These go fast.
Event Details
8:15- 8:30am Holden Room doors open. Check-in and check out the styled PEG BOARD, grab coffee provided by Parallel, post an IG pic + grab a seat
8:45am: Introduction of speakers
8:50 – 9:30am: LAB Talk with Q+A
9:30 – 10:00am: Additional time for connecting and coffee
9:45 -10:15am: Behind the scenes tour of Hennepin Made for eligible ticket holders
Location
The Holden Room
145 Holden Street
Minneapolis MN 55405
Additional Perks
- Complimentary coffee from Parallel Café, inspiration to jumpstart your passion from those who are making it real. The perfect place to meet co-workers, clients, business partners and friends IRL each month.
- Exclusive discounts, offers and contest giveaways to LAB Talks attendees.
Event Sponsors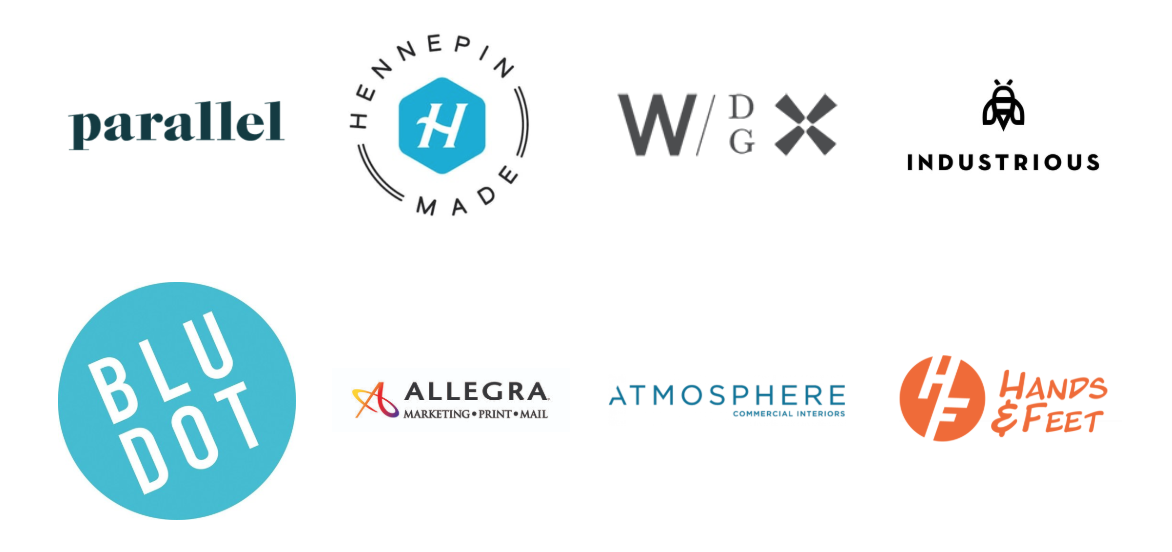 About LAB Talks
Education and collaboration are the foundation of any LAB event - We are taking these elements to another level and offering a monthly event to inspire, learn, and connect people to businesses and resources. Meet LAB Talks.
Each month we will set the stage to hear from those in our community and their compelling stories and insight. A panel of passion pursuers will share their stories that offer different perspectives on making things happen IRL. Be surrounded by other like-minded individuals and take advantage of this energy to jumpstart your day - and your own passion. Join us every month to be inspired, learn from others, stay curious and gain access to resources, tools and strategies to help you make things happen. Learn. Indulge. Apply. Repeat. BONUS: You will leave fueled from conversation as well as the complimentary coffee from Parallel Cafe!
About LAB For Business
LAB for Business offers business workshops that focus on the key components of a successful business, led by industry experts hosted by LAB. We provide resources, tools & strategy to apply to your business. The LAB instructors are industry professionals and will share their expert advice, one-on-one education, and resources to help you gain more knowledge & confidence in different areas of business. Whether you are a business owner, independent contractor, or working with a larger corporation, these workshops will offer the foundations for success and the knowledge & skills to grow & succeed.
We strongly believe in the power of collaboration, and our goal is to make LAB a place for people to connect and grow together. In addition to gaining insight in many areas of business, you will also meet others with a similar mindset with a yearning to connect, grow & succeed. Visit labforbusiness.com to learn more.