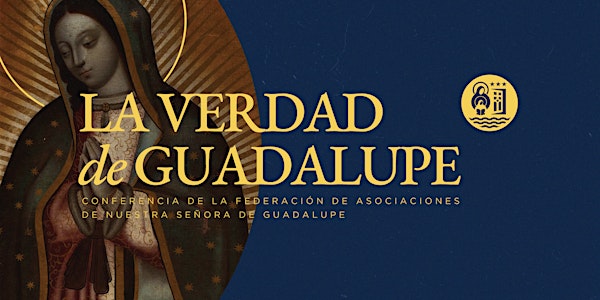 La Verdad de Guadalupe
Conferencia Anual de la Federación de Asociaciones de Nuestra Señora de Guadalupe
When and where
Location
Sacred Heart Major Seminary 2701 Chicago Blvd Detroit, MI 48206
About this event
La Verdad de Guadalupe
El propósito de esta conferencia es resaltar la verdad y los hechos sobre la Virgen de Guadalupe, su mensaje de evangelización, así como esparcir la verdadera devoción que nos lleva a predicar el Evangelio y dar gloria a Dios. Nuestro presentador, Monseñor Eduardo Chávez, es el postulador de la causa de canonización de San Juan Diego, así como cofundador del Instituto de Estudios Superiores Guadalupanos y canónigo de la Basílica de Guadalupe.
Programa:
8:30 – Bienvenida y Registro
9:00 – Desayuno
9:30 – 1er tema
10:30 – Descanso
10:45 – Cantos y Alabanzas
11:00 – 2do tema
12:00 – Comida
1:00 – Rifas
1:15 – 3er tema
2:15 – Descanso
2:30 – Hora Santa
3:00 – Misa – presidida por el Obispo Cepeda
Conference Cost: $30 
Para cualquier pregunta, favor de contactar a Gabriela Sakmar en el correo electrónico sakmar.gabriela@aod.org
The truth of Our Lady of Guadalupe
The purpose of this Conference is to highlight the truth and facts about Our Lady of Guadalupe, her message of evangelization, as well as to spread a true devotion that leads to preach the Gospel and give glory to God. Our speaker, Msgr. Eduardo Chavez is the postulator for the cause of canonization of St. Juan Diego, the co-founder of the Institute of Higher Studies of Our Lady of Guadalupe and canon of the Basilica of Guadalupe.
 Conference Schedule:
8:30 - Welcome and Registration
9:00 - Breakfast
9:30 - First Topic
10:30 – Break
10:45 – Songs, Praise and Worship
11:00 – Second Topic
12:00 – Food
1:00 – Raffle
1:15 – Third Topic
2:15 – Break
2:30 – Holy Hour
3:00 – Mass presided by Bishop Cepeda
Conference Cost: $30
For any questions, please contact Gabriela Sakmar at sakmar.gabriela@aod.org