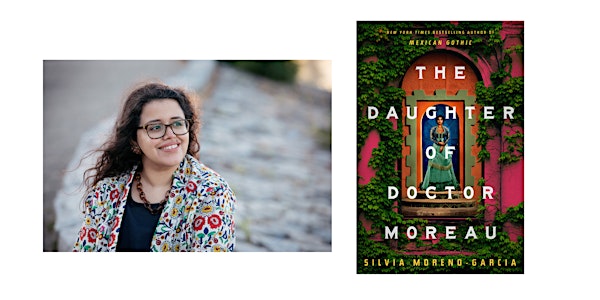 L.A. Times September Book Club: Silvia Moreno-Garcia
On Sept. 27 bestselling novelist Silvia Moreno-Garcia joins our book club to discuss "The Daughter of Doctor Moreau."
About this event
Join us in September for an L.A. Times Book Club evening with bestselling novelist Silvia Moreno-Garcia! During this virtual book club event, Moreno-Garcia will discuss her new science fiction thriller, "The Daughter of Doctor Moreau" with Times editor Steve Padilla. Set against the backdrop of nineteenth-century Mexico, "The Daughter of Doctor Moreau" is a historical page turner and a bold science fiction journey.
Born in Mexico and now living in Vancouver, Canada, Moreno-Garcia has been evolving across genres for years, moving with ease among fantasy, mystery, science fiction, horror and noir stories. President Obama included her novel, "Velvet Was the Night," a recent L.A. Times Book Prize finalist, on his 2022 summer reading list. She also is the author of "Mexican Gothic," and "Gods of Jade and Shadow."
Praise for the book: "The fictions of Silvia Moreno-Garcia abound in shapeshifters. And they are central to her latest novel, 'The Daughter of Doctor Moreau,' which reframes the classic H.G. Wells story of terrifying human-animal hybrids as a thrilling and romantic anticolonial adventure set in the Yucatán Peninsula," says reviewer Paula L. Woods.
"If you read her work as deeply as it deserves to be read — beyond its page-turning thrills… you'll see that what lies beneath is even more astonishing: a perspective on Mexican history as broad and inclusive as any you're likely to see in fiction — never mind a bestseller list."
Virtual Event Details:
When: Sept. 27 at 6 p.m. PT.
Where: This free virtual event will live stream on YouTube, Facebook and Twitter. Watch links will be provided the week of the event.
Get the book: As a special offer for book club readers, a limited number of copies of "The Daughter of Doctor Moreau," with signed bookplates, are available as an add-on item. You can also purchase a copy of "Velvet was the Night." Our bookselling partner for this event is Skylight Books.
Q&A: What would you like to ask the author? Share your questions when you RSVP, or email to bookclub@latimes.com.