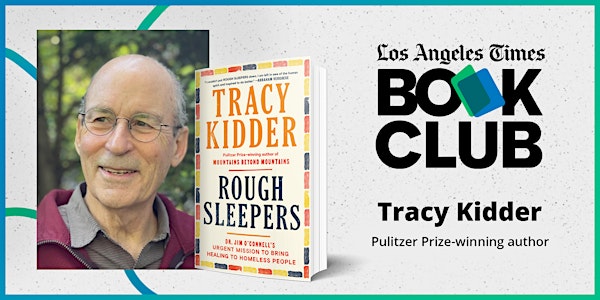 L.A. Times January Book Club: Tracy Kidder discusses 'Rough Sleepers'
Jan. 26 Tracy Kidder joins the L.A. Times Book Club virtually
Refund Policy
Contact the organizer to request a refund.
About this event
Pulitzer Prize-winning author Tracy Kidder joins book club readers Jan. 26 to discuss his new book, "Rough Sleepers," with Times columnist Steve Lopez.
The bestselling author of "Mountains Beyond Mountains," Kidder returns with a deeply researched exploration of the nation's homeless crisis and the systematic failures behind it.
Kidder spent more than five years riding with Dr. Jim O'Connell and the Boston street team that navigates the city in a van at night, providing medical care, wellness checks, socks and soup to the city's unhoused population.
"This is a compassionate report from the front lines of one of America's most intractable social problems," says Publisher's Weekly.
Kidder notes that the book's title, "Rough Sleepers," borrows a nineteenth century British term for people who live on the streets.
Tracy Kidder has won the Pulitzer Prize, the National Book Award, the Robert F. Kennedy Award and many other literary prizes for his work. His 2003 book, "Mountains Beyond Mountains," chronicled the work of Dr. Paul Farmer in Haiti. His other books include "Strength in What Remains," "Home Town," "Old Friends," "Among Schoolchildren," "House" and "The Soul of a New Machine."
Steve Lopez has been a Los Angeles Times columnist since 2001 and is a four-time Pulitzer finalist for commentary who has written extensively about housing and rising homelessness in Los Angeles. He is the author of three novels and a bestselling non-fiction book, "The Soloist," the subject of a Dream Works movie. His new book, "Independence Day," was published in November.
Virtual Event Details:
When: Jan. 26 at 6 p.m. PT
Where: This free virtual book club event will live stream on YouTube and Twitter. Sign up in advance and watch links will be provided the week of the event.
Get the book: Copies of "Rough Sleepers" are available from Skylight Books, our local bookselling partner for this event.
Q&A: What would you like to ask the author? Share your questions when you RSVP, or send an email to bookclub@latimes.com.
Join the book club: Sign up for the L.A. Times Book Club newsletter for the latest events and book news.