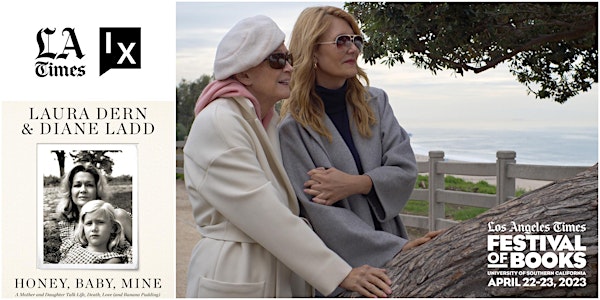 L.A. Times Festival of Books 2023 - Laura Dern & Diane Ladd Ideas Exchange
Ideas Exchange presents Laura Dern and Diane Ladd in conversation with Mary McNamara
Date and time
Saturday, April 22 · 2:30 - 3:30pm PDT
Location
University of Southern California, Bovard Auditorium - University Park Campus, University of Southern California - University Park Campus, Los Angeles, CA, 90089 3551 Trousdale Pkwy Los Angeles, CA 90089
About this event
What happens when we are brave enough to speak our truths to the ones we love the most?
Join award-winning actress and activist Laura Dern and her mother, legendary actress Diane Ladd, for a deeply personal conversation on love, art, ambition, and legacy, inspired by their own heart-to-hearts.
During the pandemic, Laura and Diane began walking and were able to break down the traditional barriers between mothers and daughters. They spoke honestly about the moments in their lives that impacted them deeply, and their new book – HONEY, BABY, MINE – a compilation of their reflections, takes readers on an intimate tour of their lives and revels universal lessons.
This conversation with Laura and Diane and moderated by Mary McNamara will be a celebration of the power of leaving nothing unsaid, and will make you want to call the people you love the most and start talking.
We will have signed books available for this event only, ahead of the publication date 4/25/23, so be sure to grab your book with ticket now!
When: Saturday, April 22, 2:30 PM
Where: This in-person event will be held at the Festival of Books at USC/Bovard Auditorium
Bookseller: Our partner for this event is Skylight Books
There will be no refunds for this event.
Laura Dern is an award-winning actress, producer, creator, and activist. She has received a number of accolades, including an Academy Award, an Emmy, and five Golden Globe Awards. Dern is also a passionate environmentalist.
Diane Ladd is an international award-winning actress, receiving a BAFTA Award, a Golden Globe Award, and Women of the Year award. She is a three-time Oscar and three-time Emmy nominee, having appeared in more than 187 film and television shows. She is a director, writer, producer, and author with degrees in esoteric psychology/nutrition, a lifetime member of the Actors Studio, and on the National Board of Directors for SAG/AFTRA.
Covid Guidelines and Assumption of Risk
If you or anyone within your group has or is experiencing COVID-19 symptoms, we ask you to please stay home to ensure the health and safety of our audience and staff. Face coverings are encouraged for all attendees. By voluntarily attending this event, you acknowledge the following:
Attending the event includes possible exposure to and illness from infectious diseases including but not limited to COVID-19. While particular rules and personal discipline may reduce this risk, the risk of illness does exist; and
You knowingly and freely assume all such risks related to illness and infectious diseases, such as COVID-19, and release Los Angeles Times and its affiliate partners of liability; and You hereby knowingly assume the risk of injury, harm and loss associated with the activity, including any injury, harm and loss caused by the negligence, fault or conduct of any kind on the part of the Released Parties.