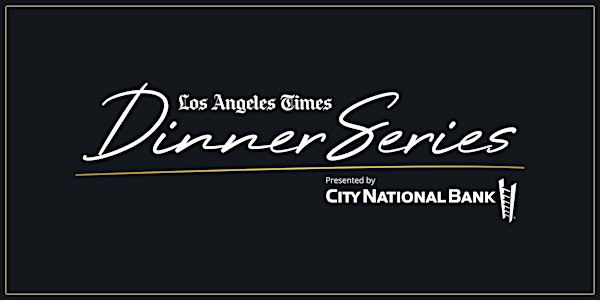 LA Times Dinner Series: Porridge & Puffs x Alta Adams Virtual Dinner
Porridge & Puffs and Alta Adams dinner collaboration & live discussion hosted by LA Times Food columnist Jenn Harris.
About this event
Sales end Friday 9/10 at 10 PM.
Los Angeles Times Dinner Series presented by City National Bank is a one-of-a-kind dining experience. Guests will enjoy exclusive three-course meal collaborations from Southern California's most notable restaurants while joining virtual live conversations between L.A.'s premier chefs, celebrities and the L.A. Times Food team from the comfort of home.
Chefs Minh Phan of Porridge & Puffs and Keith Corbin & Daniel Patterson of Alta Adams collaborate for a soul food meets Asian-inspired comfort food dinner on Saturday, Oct. 10th. Guests will tune in to a live conversation hosted by the LA Times Food team while enjoying the gourmet 3 course meal. LA Times food columnist Jenn Harris will host the dinner guests and chefs, via video chat, for a lively discussion to accompany the meal.
Porridge & Puffs X Alta Adams Dinner Menu:
1st Course: Black Sesame Vichyssoise with cucumber, radish and herbs
2nd Course: Beef oxtail stuffed scallion rice-cassava crepes. Finished with brown butter oxtail jus and cinnamon-basil (aka Thai basil). Served with roasted seasonal vegetables that can be eaten as a side or stuffed inside the crepe.
3rd Course: Brown Butter Mochi topped with calvados roasted pears and vanilla-buttermilk custard.
Note: Some food preparation will be required at home.
Tickets for each dinner event are $160 per person and include a three-course meal with a cocktail pairing provided by BON V!V Spiked Seltzer. Dinners will be available for pick up on the day of the scheduled event. Ticket holders will receive instructions for any preparation required at home and for joining the virtual supper club to dine together, online.
Two ticket minimum per household.
Meal pick up information:
Pick up location: Alta Adams, 5359 W Adams Blvd, Los Angeles, CA 90016
Pick up time will be between 12 pm - 2 pm on Saturday. An exact time will be assigned to you and emailed prior to the date.
To ensure public safety and social distancing, guests will receive detailed instructions and designated time slots outlining when to pick up dinner packages prior to the scheduled online conversation experience with the chefs on Saturday, October 10, 2020.
Guests will re-heat the 3 course prepared meal at home while tuning in to the event at 6:30 PM.
All guests must be 21+. Guests must show I.D. when picking up dinner package at the restaurant. Due to the nature of this event, we are unable to issue refunds. All sales are final.
The Times Dinner Series is presented by City National Bank and Project Angel Food is the series' charity partner.
Questions? Email us at: eventinfo@latimes.com