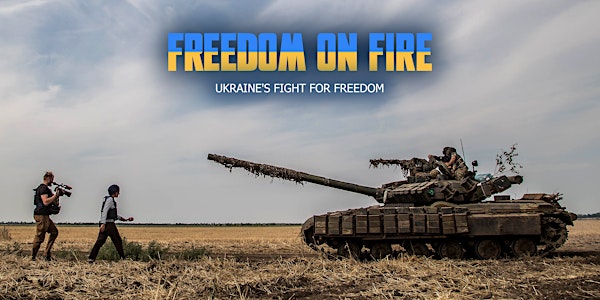 LA Screening of "Freedom on Fire: Ukraine's Fight for Freedom"
Special Los Angeles screening of Evgeny Afineevsky's FREEDOM ON FIRE: UKRAINE'S FIGHT FOR FREEDOM, plus Q+A, reception, and exhibition.
When and where
Location
Museum of Tolerance 9786 Pico Boulevard Los Angeles, CA 90035
About this event
Please join us for a special Los Angeles screening of Oscar-nominated director Evgeny Afineevsky's FREEDOM ON FIRE: UKRAINE'S FIGHT FOR FREEDOM at the Museum of Tolerance on December 8th at 6pm.
The event will include a pre-screening reception with drinks & light bites, an exhibition of posters from Ukrainian artists, and the film screening, followed by a panel & Q+A with director Evgeny Afineevsky, key subjects in the film, and the documentary team. More info below.
6 pm – Reception and Ukrainian Wartime Poster Exhibition
7 pm – FREEDOM ON FIRE Screening
9 pm – Panel and Q+A with Evgeny Afineevsky, filmmakers, and key subjects
ABOUT THE FILM
Crafted from stark footage and exclusive interviews with people displaced by the enduring conflict, FREEDOM ON FIRE: UKRAINE'S FIGHT FOR FREEDOM reveals how the spirit of unity strengthens morale even amid the country's darkest hours. A sweeping look at a humanitarian crisis, the documentary amplifies the views of children, mothers, soldiers, doctors, artists, volunteers, clergymen, and journalists who are transformed while witnessing ceaseless destruction and bloodshed. FREEDOM ON FIRE is a saga of resilience that challenges the international community to oppose tyranny together.
Run-time: 1 hour 54 minutes
"A sweeping picture of brutality and resilience" "Tear-inducing film"
"Evgeny Afineevsky has therefore made a masterful documentary, one that will resonate well with the discourse of the war effort..."
– Anthony Carter, San Francisco Post
"The real strength of "Freedom on Fire" is how it finds those human moments in the middle of devastation." "Film is less a catalogue of horrors than a tribute to the people who look for strength despite those horrors; it continually finds moments of grace, humanity and even beauty that seem almost unfathomable in these circumstances."
"Freedom on Fire is a film that deserves to be widely seen, and as soon as possible, while its account is still absolutely of the moment."
– Jonathan Romney, Screen Daily
"Afineevsky wants to hold the audience's feet to the fire and have them fully absorb the staggering human cost of what Putin's "demilitarisation and denazification" entails."
ABOUT THE EXHIBITION
The charity exhibition UKRAINIAN WARTIME POSTERS is a collection of posters made by 10 Ukrainian artists, graphic artists, collage and lettering authors who continue to work and create art during the war, interpret the truth about the war crimes committed by Russia on the territory of Ukraine after the start of a full scale invasion.
"Through their creative work, the artists show the reflections of the collective grief, despair, unbearable pain, sorrow and, at the same time, the willingness to fight and win. It is a cry for help, a declaration of our indomitable spirit and bravery, with elements of bitter irony and truth about specific events and war crimes."
– Olena Speranska, the exhibition curator, director of the international contemporary art residency, BIRUCHIY, and vice president of the Ukrainian NGO "Contemporary Art Researchers Union"

ABOUT CREATIVE VISIONS
Creative Visions is a nonprofit organization and United Nations NGO (Nongovernmental Organization) that inspires and empowers creative activism worldwide by supporting people who use media and the arts to ignite positive social change, particularly in the areas of human rights, the environment, freedom and democracy, youth and education. The organization was founded 23 years ago by Kathy Eldon, and her daughter Amy, after her son Dan Eldon was killed in Somalia while working as a photojournalist. Since then, the organization has grown to become a global force for creative action.
ABOUT MUSEUM OF TOLERANCE
The Museum of Tolerance-Beit HaShoah, a multimedia museum in Los Angeles, California, United States, is designed to examine racism and prejudice around the world with a strong focus on the history of the Holocaust.
FREE UNDERGROUND PARKING. Please be considerate of the Museum's residential neighbors and make every effort to avoid driving through single-family residential neighborhood streets
Special thanks to Chin Rodger and a generous donor for making this free event possible!