La Raza Centro Legal's 40th Anniversary Celebration

Friday, May 24, 2013 from 6:00 PM to 10:00 PM (PDT)

San Francisco, United States
Who's Going
Loading your connections...
Event Details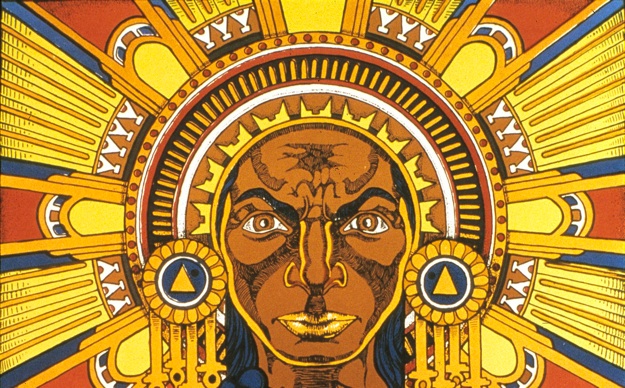 Art by Xavier Viramontes
40th ANNIVERSARY 
¡CELEBRATING 40 YEARS OF ADVOCACY!
CELEBRANDO 40 AÑOS DE LUCHA!
 Join us in celebrating 40 years of legal services and advocacy for civil rights and immigrant justice!
FRIDAY MAY 24, 2013
6:00 P.M.
GALLERIA
 SAN FRANCISCO DESIGN CENTER
101 HENRY ADAMS STREET
San Francisco 


Live Music By Rumbaché!!!!!!!!!!!!!!!!!!!!


Keynote Address
Arturo J. González, Morrison & Foerster   
Community Leader Award
 The Hon. Mark Talamantes, Marin County Superior Court
Luchadores De La Communidad Award
Previous Executive Directors of La Raza Centro Legal
Al Borvice, Ramiro Castro, Jose Gomez, Mario Salgado, Anamaria Loya
Community Mentor Award  
Immigrant Legal Resource Center (ILRC) 

Remarks By:
Carmen Plaza De Jennings, Hirschfeld Kraemer LLP 
Jose Padilla, California Rural Legal Assitance (CRLA)
Virginia Villegas, Villegas/Carrera, LLP  
Master of Ceremonies
Pilar Niño, Telemundo
We will be celebrating 40 years of service, working for justice, dignity, and civil rights. Established in 1973 La Raza Centro Legal is one of the only nonprofit organizations focused on providing immigration, worker's rights, and senior law legal services and advocacy to the very low-income, monolingual Spanish-speaking and immigrant community. After 40 years of this significant and complex work, La Raza Centro Legal is at the forefront of producing social change and achieving inspiring success that impact individuals, families and entire communities.
For more information please contact our Development Director Alexander Peña at 415-553-3419 or Alex@lrcl.org
Art by Xavier Viramontes
When & Where
101 Henry Adams Street


San Francisco

, 94103


Friday, May 24, 2013 from 6:00 PM to 10:00 PM (PDT)
Add to my calendar
Organizer
La Raza Centro Legal
La Raza Centro Legal
Mission
La Raza Centro Legal is a community-based legal organization dedicated to empowering Latino, immigrant and low-income communities of San Francisco to advocate for their civil and human rights.  We combine legal services and advocacy to build grassroots power and alliances towards creating a movement for a just society.
History of La Raza Centro Legal
La Raza Centro Legal (Centro Legal) is a multicultural community social justice center based in the Mission District of San Francisco. Centro Legal was founded in 1973 by Latino law students to fill a gap in the availability of economically and culturally accessible legal services for the Bay Area's Latino population. It was born out of the civil rights and Chicano movements of the 1960's and 1970's. In its early years, the agency developed an immigration law practice to meet community needs and provided legal defense in some of the important political cases of the time. We later added a workers' rights project and a lawyer referral service in collaboration with a growing community of Latino lawyers. Since our founding, we have established a reputation of credibility in the community: as a source of trustworthy legal advice and referrals, as a place where clients will be treated with dignity and respect, where they will find advocates willing to fight for them and with them.
In our early years, Centro Legal focused on providing high quality legal services.  We began with an active Immigration Law Practice.  Over the years, we expanded our Immigration Law Practice due to the increasing need with the passage of the Immigration Reform and Control Act, Proposition 187, the Patriot Act, and the more recent anti-immigrant enforcement activities of the federal government.  Along with the immigration practice, we also focus assisting low income immigrants who are eligible becomeUnited Statescitizens. 
While we began with an Immigration Legal practice, we expanded over the years to including employment law, senior law and youth law. Our Employment Law practice was founded in 1991, and shortly thereafter we began integrating organizing campaigns with legal efforts to redress abuses of low wage workers by unscrupulous employers. Our Senior Law Program began in 1998 when we adopted them from Mission Legal Defense which closed its doors that year.  Today our Senior Law Program is the only culturally competent free legal services program for Spanish speaking and Latino seniors inSan Francisco.  
Over the years, Centro Legal recognized that it was equally important to challenge the root causes of injustice in our communities.  Thus, we added advocacy efforts to our organization's work.  In the 1990's, Centro Legal joined forces with other civil rights and progressive organizations to fight against a series of conservative ballot initiatives in California, including anti-immigrant Proposition 187 (1994) and anti-affirmative action Proposition 209 (1996).   Throughout, Centro Legal has worked very closely with day laborers and domestic workers in addressing the abuses targeting immigrants. 
Because of our close working relationship with San Francisco's day laborer community, Centro Legal adopted the San Francisco Day Labor Program (DLP) as one of its programs in 2000.  Centro Legal's goal was to make it a worker-run center that combined job development and social services with organizing and leadership development. In 2001, we founded the Women's Collective of the Day Labor Program (Colectiva), which provides an independent space for the social, economic and political empowerment of low incomeLatinaimmigrant women. As the DLP and Colectiva have grown, these programs have moved to a larger agency with more extensive social service programs including shelters. In July 2012 Dolores Street Community Services adopted the DLP and Colectiva as their programs. Centro Legal continues to work with the DLP and Colectiva on wage and hour and discrimination cases as well as advocacy in these areas.