Description
Weekend Packages are now Available for Los Angeles Puppy Pride.
a $87 Estimated Value,ALL YOURS $40 per Ticket and $50 starting Nov 1st.
The Weekend Package comes with:
1 LA Pup Lapel Pin
1 Cellblock 13 Pair of Underwear, Socks, or T-shirt
(Chosen randomly. Be sure to choose the ticket that reflects your size.)
1 Entry to the reserved section at Pup Play Hollywood and Dog Pound with snacks and seating on Patio.
1 reserved seat in the two front rows at the contest, right behind the judges.
(First come, first serve)
1 randomly picked small gifts from two of our 27 amazing sponsors.
1 cockring from Oxballs
1 ticket to all of the events listed below at the 2017 LA Pup Pride festivities.
Thurs Nov 9: Pup Play Hollywood: Woof, A Barkumentary 8pm at Bullet Bar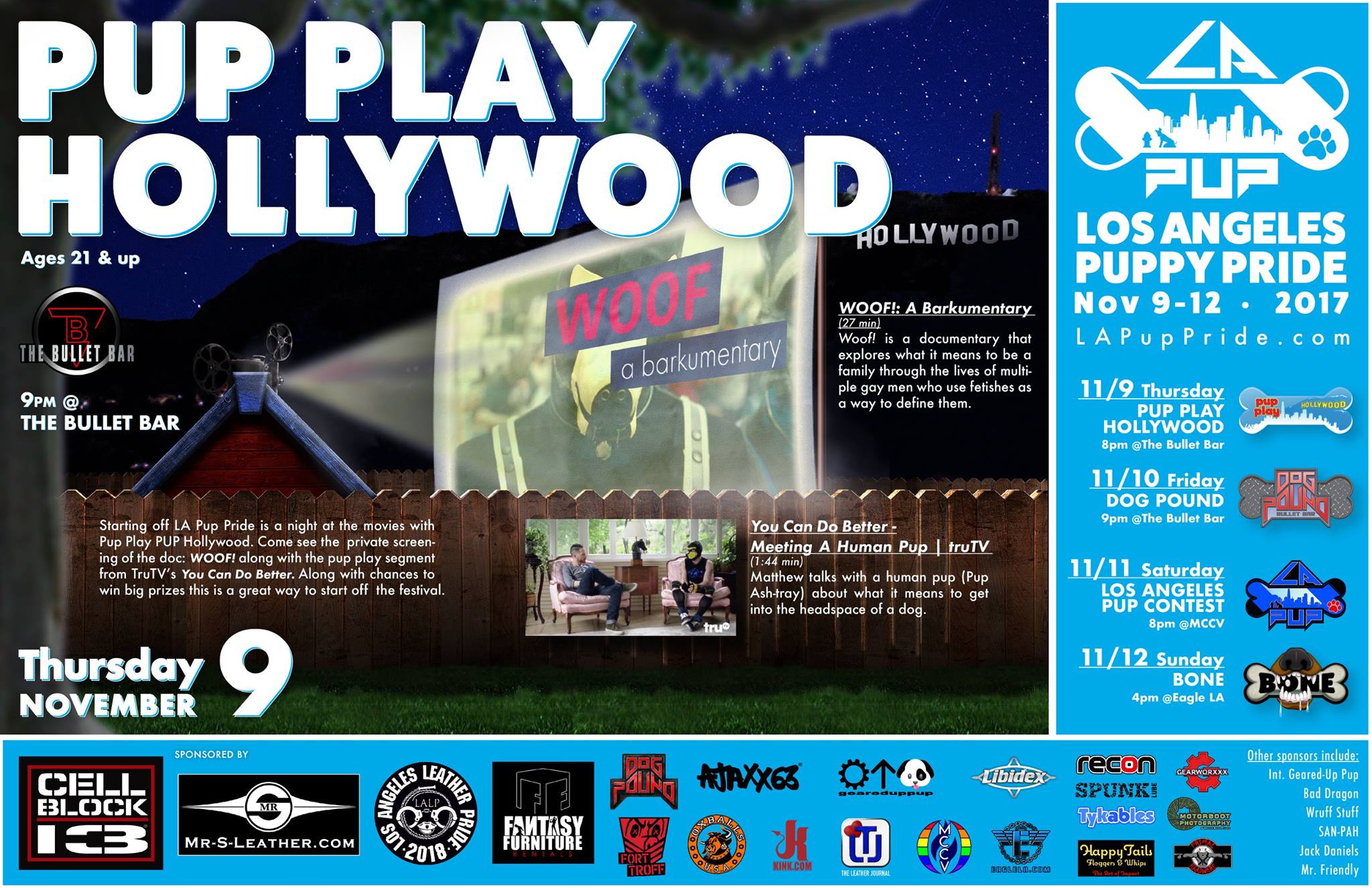 Friday Nov 10: Dog Pound: Bark N Sniff (Meet n Greet) 9pm at Bullet Bar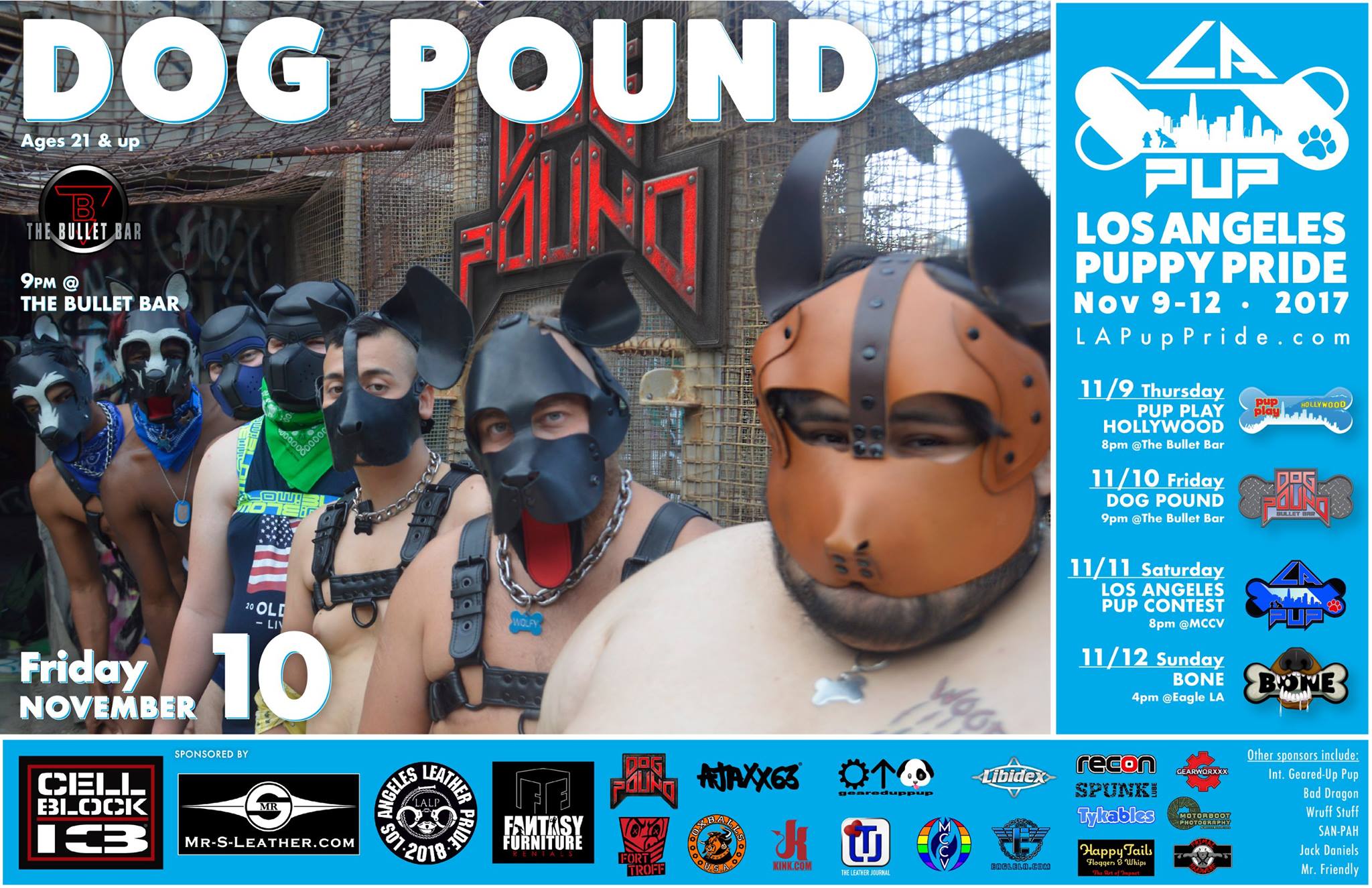 Saturday Nov 11: Los Angeles Pup Contest, 8pm at MCC in the Valley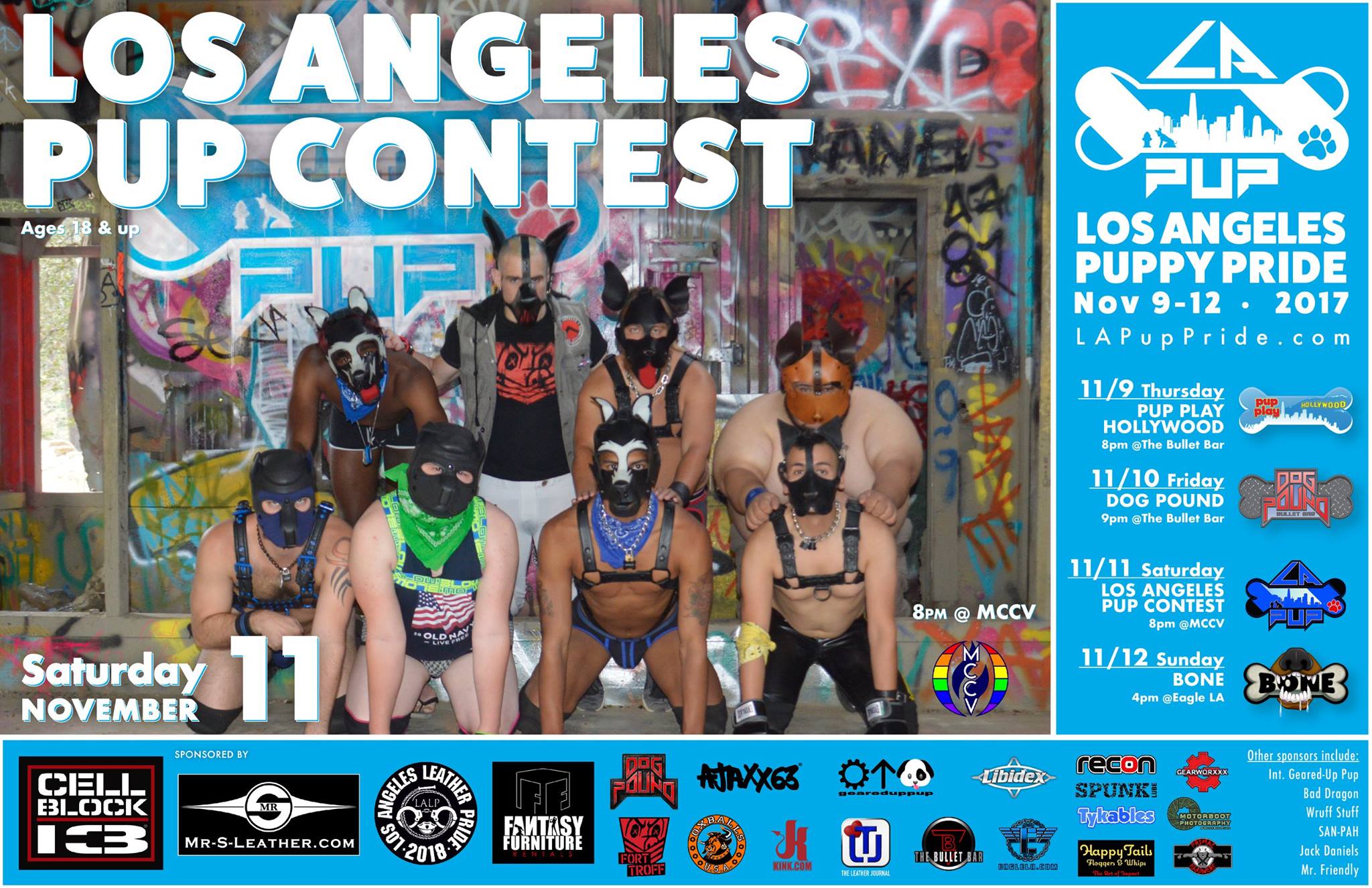 Sunday Nov 12: Bone: The Victory and Closing Party for LA PUP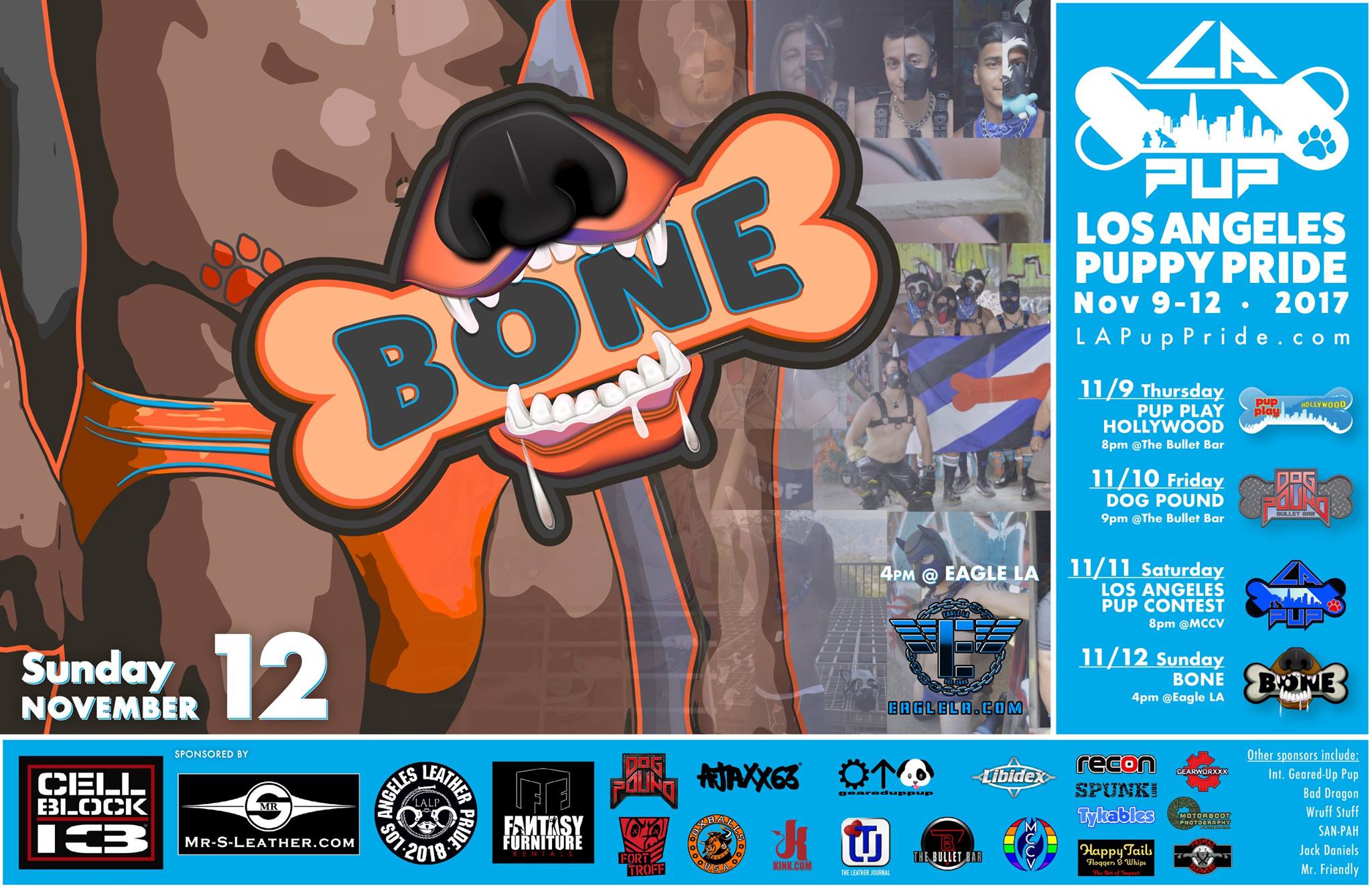 Please note that tickets will be available at the door of each event.
Quite the line up this year for Los Angeles Puppy Pride.
The four day long weekend festival celebrates the pup lifestyle no matter what kind of human pup you are, and our approach to everyone is open arms. If you are curious or interested in this ever growing community, please come check out our events the secnd week of November 9-12
To some being a pup becomes the way they connect to the world.
That is reflected in the eyes of every contestant this year.
The new LA Pup Contest and LA Puppy Pride were created by Matthew Mullins, the current International Geared Up Pup titleholder and his handler and lover, Dan Lovell. The first year, nearly 600 people participated across the four day weekend of events. It was a smash hit, and the Leather Coalition of LA gave the pair the Southland Honors Award for Best Event. The contests first titleholder Pup Zero won the Next Generation Award.
The second year was even larger, and we found Pup Dazzle, who has been a great titleholder and will be finsihing his year at these festivities.
The festivities span from Thursday, November 9 through Sunday, November 12, and will include three locations over the four day celebration.
On Saturday November 11 the contest will end with the new Los Angeles Pup titleholder who continues on to compete in one of the international pup contests.
The four major events are:
Pup Play Hollywood (Nov 9) is a new event this year that examines the media take and look at pup play, we will watch WOOF: A Barkumentary. It is a documentary about the pup scene in New York City. Woof came to us seeking support for their film and we were able to offer them a nice donation towards their goal. We will also see a clip from the show You Can Do Better, a TruTV program that featured co creator of LA Pup Pride, explaining to host Matthew Lakiewhitz, what pup play is, and why we do it. A panel, including some of the judges and some featured in the pieces will examine pup culture and discuss how it is seen through the eyes of the media. This will be a free event at Bullet Bar. Afterwards, we will have the opening gala party This event is 21+
DOG POUND:(NOV 10) Bark and Sniff- (Nov 10) The official meet and greet for the Los Angeles Pup Contest.
This is one for the service pups. It's Veterans Day and we honor our own army of Los Angeles Pup contestants, with the biggest baddest Dog Pound event of the year! It serves as a precursor to the LA Pup Contest, there will be tons of raffle items, and it's the only place you can mosh with the contestants! We also will do the number draw, and the first round of judging. The first round is puppy pit participation, all the puppies that aren't competing can mosh and enjoy the night with your pup brothers, sisters and handlers! Later in the evening, we continue the tradition of roasting the LA Pup titleholder from the previos year, so this year we roast Pup Dazzle! This event is 21+
The cover charge goes to fund more Dog Pound events in the future! Any pup, even pups who have no money, who want to go to this event can always volunteer by emailing Skullbit2014@gmail.com No pup left behind! Dog Pound is usually at the Bullet Bar in North Hollywood every quarter.
LOS ANGELES PUP CONTEST 2017: (Nov 11)
the main event and contest for the 2017 LA Puppy Pride Weekend is the LA Pup Contest.
The Los Angeles Pup contest is for anyone who likes to be a human pup and is open across all genders and types of people. This contest is a feeder contest for all International Puppy themed contests. The contest will start at 8pm. There will be three segments, all three will include all contestants. All contestants will portray a pup play fantasy. All will explain how they would fix or deal with m an important community issue, and they all get to show their pup side of as well too. Pup Dazzle, LA Pup 2017 will give his step down speech, and community awards will be given for The Legendary Pup Award, the Skullbit Award, and afterwards there will be a celebration party after the contest, this events location is at MCC in the Valley. $7 Cover. With an after party at the Bullet Bar in North Hollywood, No Cover Charge. The after party will be 21+.
https://www.facebook.com/events/1651085808469344/
BONE: Closing Party for LA Puppy Pride Weekend A dance party, the raffle at this event is a fundraiser for the LA Pup 2018 travel fund, as well as victory party for our new winner. Located at the Eagle LA
In July, LA PUP PRIDE co-creator Pup Ashtray was interviewed on television. To watch him explain pup play on TruTV's You Can Do Better, follow this link: http://www.trutv.com/shows/you-can-do-better/videos/meeting-a-human-pup.html
To read an article by Pup Ashtray about the basics of pup play, go here: http://www.forttroff.com/blog/tag/matthew-mullins/
To listen to a radio interview with me on the Nigel Pierce show, follow the link:
https://www.facebook.com/PupAshtrayKain/videos/838059959658875/
To read an article about my life as a pup, follow this link:
http://www.pupplay.info/2016/06/09/pup-ashtray-2016-puppy-handler-of-the-year-nominee/
FAQs
Are there ID or minimum age requirements to enter the event?
Every event is 21+ except for the Los Angeles Pup Contest which is 18+. All over 21+ will be given a wristband, everyone will be asked for identification by security on your way in.
What can I bring into the event?
anyuthing but drugs and weaponery of any sort.
How can I contact the organizer with any questions?
contact LAPupContest@gmail.com
What's the refund policy?
refundable in full up to 1 day before the events,
Does this event have real canines in it?
This event is for people into the fetish of puppy play, and has nothing to do with actual bio dogs. All the references to puppies, pups, dogs, or any other type of animal are related to Animal roleplay lifestyles, in which all animals involved are human at their core. No animals were harmed in the process of this contest, and the Contest producers are against any physical abuse towards animals or people.