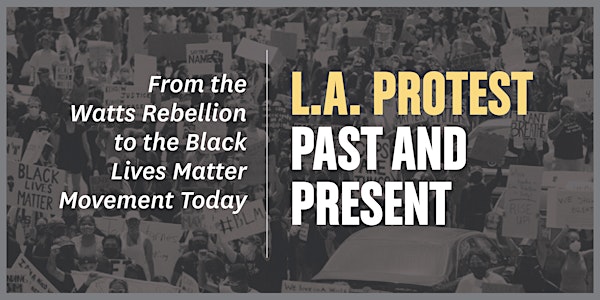 L.A. Protest, Past and Present
L.A. Protest Past & Present: From the Watts Rebellion to the Black Lives Matter Movement Today
About this event
The first big uprising against police violence in L.A. came in 1965 in Watts. Today's BLM protests are broader and more promising, but the challenges are no less daunting. Stories and perspectives from the authors of Set the Night on Fire (Mike Davis and Jon Wiener); N•gga Theory (Jody David Armour); and Bearing Witness While Black (Allissa V. Richardson), moderated by USC Annenberg professor and polymath Josh Kun.
This event is part of a series presented by the USC Annenberg Norman Lear Center's Hollywood, Health & Society program in partnership with the Writers Guild of America, East and West. Viewers get a 50% discount on Set the Night on Fire with this code.
_______
SPEAKERS:
MIKE DAVIS, co-author of the new book Set the Night on Fire: L.A. in the Sixties, is author of the L.A. classic, City of Quartz, as well as Late Victorian Holocausts, Buda's Wagon and Planet of Slums. He is the recipient of a MacArthur Fellowship and the Lannan Literary Award.
JON WIENER, co-author with Davis of Set the Night on Fire, is a longtime contributing editor at the Nation and host and producer of Start Making Sense, the magazine's weekly podcast. An emeritus professor of U.S. history at UC Irvine, his books include Gimme Some Truth: The John Lennon FBI Files and How We Forgot the Cold War: A Historical Journey across America.
ALLISSA V. RICHARDSON studies how marginalized communities use mobile and social media to produce innovative journalism, especially in times of crisis. An assistant professor at USC Annenberg, she is author of Bearing Witness While Black: African Americans, Smartphones and the New Protest #Journalism, about mobile journalist-activists who have documented the BLM movement using only their smartphones and Twitter.
JODY DAVID ARMOUR is the Roy P. Crocker Professor of Law at the University of Southern California. His book Negrophobia and Reasonable Racism: The Hidden Costs of Being Black in America addresses core BLM concerns: racial profiling police brutality and mass incarceration. His new book, N*gga Theory: Race, Language, Unequal Justice, and the Law, will be published in August.
JOSH KUN (Moderator) is an author, scholar, curator and journalist. Kun is director of the USC Annenberg School of Communication, where he is a professor of communication and journalism and holds Annenberg's endowed chair in cross-cultural communication. A MacArthur Fellow and the winner of a Berlin Prize and an American Book Award, Kun directs the Popular Music Project at Annenberg's Norman Lear Center.
With a special appearance by NORMAN LEAR.