Sales Have Ended
Ticket sales have ended
Thank you!Looking forward to seeing you in LA~
Sales Have Ended
Ticket sales have ended
Thank you!Looking forward to seeing you in LA~
About this Event
Wear your best popcorn bucket crown for a chance to win a copy of the Complete Drive-in autographed by Joe R Lansdale hisownself. We'll be picking two winners (1 online and 1 at the premiere in LA on 2/16)
Submit your photos on twitter to @squeeprojects or on fb at www.facebook.com/HailThePopcornKing with #allhailthepopcornking for the online contest.
LA Premiere Screening of All Hail The Popcorn King,: The Joe R. Lansdale Documentay with Special Guest Performer, Kasey Lansdale
Hosted by Filmmaker Hansi Oppenheimer and Moderated by Bill Thill.
"Documentary films about authors are few and far between. That's chiefly because the act of putting pen to paper or fingers to keyboard isn't anyone's idea of high drama.
Not so with New York-based documentarian and self-professed fangirl Hansi Oppenheimer's All Hail the Popcorn King, a tribute to and examination of Joe Lansdale, the Lone Star State's "writer of the purple rage."
Marc Savlov, The Austin Chronicle
"Lansdale shares stories from his life and career in Nacogdoches, Texas while a wide range of artists and fans, including Joe Hill, Mick Garris, Brian Keene, Bruce Campbell, Don Coscarelli, and more, share what they love the most about the man and his work.All Hail the Popcorn King paints a vivid picture of iconoclastic creator Joe R Lansdale, who isn't just a talented writer, but seems to be a genuinely good person, to boot. The interviews included here are in such a down-to-earth, conversational manner that you can't help but just get drawn in by his charisma and sense of humor. I can't imagine watching this and not being compelled to go grab the first book you can find and dive right in. Hell, I've read a fair chunk of his work and this made me want to go back and reread everything while scouring bookshop shelves for the ones I haven't found yet."
Paul Brian McCoy, Psycho Drive-In
"Oppenheimer followed Lansdale, camera in hand, while he shared some moments of his life. It makes you feel as if you were the one having a conversation with him. This closeness makes you feel the extent of his love for all types of storytelling."
Adrienne Tyler, 1428Elm.com
"Lansdale talks like he writes, and you don't want to look away. He's a storyteller, and that lends itself to a documentary. Hansi Oppenheimer makes the film a visual feast to go along with the verbal one, just as rich in walking us back through time. Vintage footage of drive-in movies and intermission concession ads create a feeling of nostalgia that works well with Lansdale's rememberings."
Lynn Zubernis, Fangasm, When academics go to Hollywood!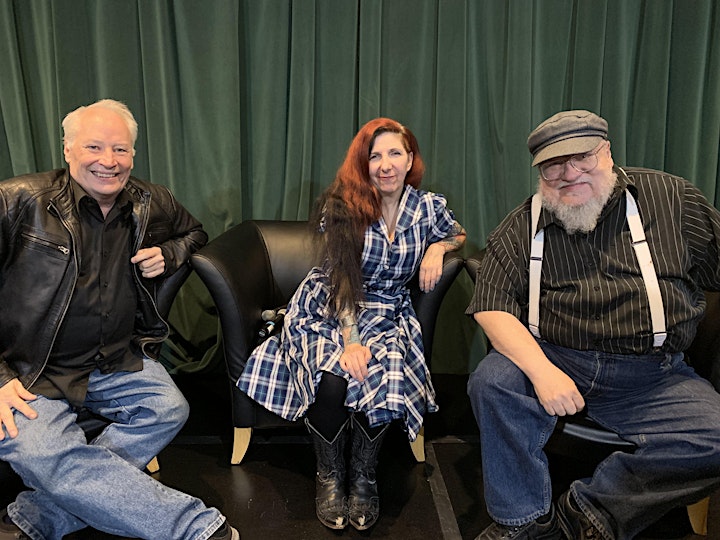 All Hail The Popcorn King screening at Lansdale-Palooza hosted by George R.R. Martin. Post screening Q & A with (L) Joe R. Lansdale, Filmmaker, Hansi Oppenheimer and George R.R. Martin at the Jean Cocteau Cinema in Santa Fe 10/5/19