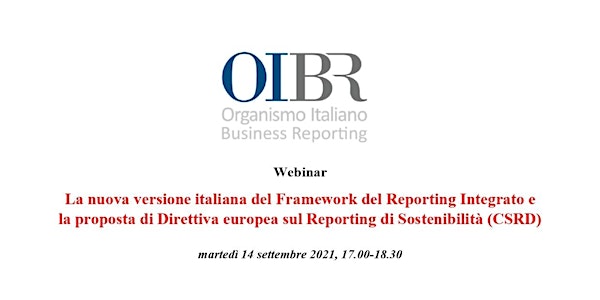 La nuova versione italiana dell'IR e la proposta di Direttiva europea CSRD
La nuova versione italiana del Framework del Reporting Integrato e la proposta di Direttiva europea sul Reporting di Sostenibilità (CSRD)
About this event
In occasione dell'uscita della nuova versione del Framework Internazionale del Reporting Integrato, la Fondazione O.I.B.R., che ne ha curato la rinnovata traduzione italiana, organizza un Webinar volto ad esaminare le innovazioni introdotte in tale Framework e a valutare il suo ruolo alla luce sia della proposta di Direttiva europea sul reporting di sostenibilità - che dovrebbe essere approvata agli inizi del 2022 con riguardo a tutte le imprese con più di 250 dipendenti -, sia degli elaborandi standard europei EFRAG per il reporting di sostenibilità, sia ancora della bozza del documento IASB sul "Management Commentary" (Relazione sulla gestione). Una qualificata Tavola rotonda discuterà le implicazioni, le sfide e anche le difficoltà per le aziende italiane a fronte di questa rapidissima rivoluzione nello scenario internazionale del reporting di sostenibilità.
17.00-17.15 Alessandro Lai, Presidente, Fondazione O.I.B.R.
Janine Guillot, CEO, Value Reporting Foundation
17.15-17.30 Lino Cinquini, Presidente, Comitato Scientifico, Fondazione O.I.B.R., e Scuola Superiore Sant'Anna di Pisa
La versione italiana del nuovo Framework del Reporting Integrato e la CSRD
17.30-17.45 Laura Girella, Segretariato Tecnico, PTF-ESRS, EFRAG; Senior Technical and Research Manager, Value Reporting Foundation (VRF); e Università di Modena e Reggio Emilia
Il nuovo IR Framework a fronte dei sustainability reporting standard di EFRAG, della bozza di "Management Commentary Practice Statement" dello IASB, e degli standard VRF-SASB
17.45-18.25 Tavola rotonda su "Il nuovo scenario del reporting per le imprese italiane: sostenibilità, creazione di valore e multi-capitalismo"
Moderatore: Marco Frey, Presidente, Global Compact Italia, e Consiglio di Indirizzo, Fondazione O.I.B.R.
- Giulia Genuardi, Head of Sustainability Planning, Performance Management and Human Rights, ENEL
- Maria Luisa Parmigiani, Presidente CSR Manager Network, e Presidente, Consiglio di Indirizzo, Fondazione O.I.B.R.
- Giuseppe Zammarchi, Head of Group Sustainability and Foundations, Unicredit
18.25-18.30 Considerazioni di sintesi
Stefano Zambon, Segretario Generale, Fondazione O.I.B.R.; IR Council; e Università di Ferrara