Description
The Mexican Cultural Institute is excited to announce its 2018 Music Series, La Música de México. The 2018 Music Series is a connected and comprehensive program of concerts, conferences, and recitals with some of Mexico and the US's most renowned composers, musicians, and academics.
Curated by Mexican musician and composer Carlos Sánchez-Gutiérrez (professor at the Eastman School of Music), the program will host an event on the first Thursday of every month from February to December of 2018. Events will span genres from traditional to contemporary.
More information on individual events will be available closer to the event. To RSVP, select the date of the event you would like to attend.
Full Series Calendar
February 1, 2018 - Lecture and recital with contemporary composer Dr. Francisco Castillo Trigueros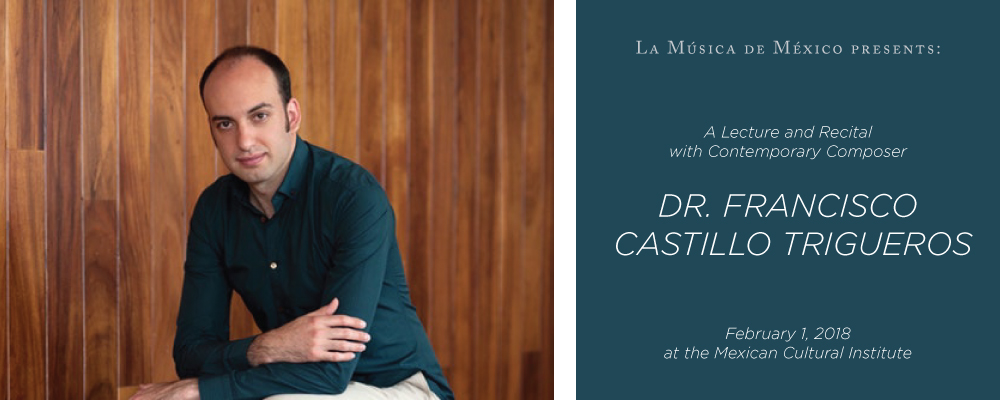 As part of its 2018 Music Series, La Música de México, the Mexican Cultural Institute is proud to present Dr. Francisco Castillo Trigueros. A composer of contemporary chamber, orchestral and electronic music from Mexico City, Dr. Trigueros will present a lecture on and recital of his recent work. Focusing on Electroacoustic Music, Sound Art, and Film, the presentation will include his "Canciones desde Xilitla", a film/audio reflexion on the surreal sculpture gardens built in the Mexican Huasteca by Edward James.
Learn more and watch a video here!
March 1, 2018 - Recital of contemporary Mexican music for guitar with Dr. Dieter Hennings & University of Kentucky Guitar Quartet
April 5, 2018 - Conference "The fox trot and the Mexican canción: modernity tradition and foreign invasion" by musicologist Dr. Leonora Saavedra
May 3, 2018 - Recital of music from Mexico and Italy by soprano Daniela D'Ingiullo and pianist Dr. Roberto Hidalgo
June 7, 2018 - Conference and recital on the traditional Sones of Jalisco with artist and ethnomusicologist Cornelio García
July 5, 2018 - Conference on traditional music in Mexico with composer and producer Annette Fradera
August 2, 2018 - Conference and recital with singer-songwriter Alfredo Sánchez
September 6, 2018 - Conference with musicologist Dr. Ana Alonso Minutti
October 4, 2018 - Recital of chamber music by composer Dr. Carlos Sanchez-Gutierrez and friends
November 1, 2018 - Recital of chamber music with violinist Saul Bitran and pianist Sally Pinkas
December 6, 2018 - Recital of Julián Carillo's String Quartets with musicologist Dr. Alejandro Madrid and Momenta String Quartet