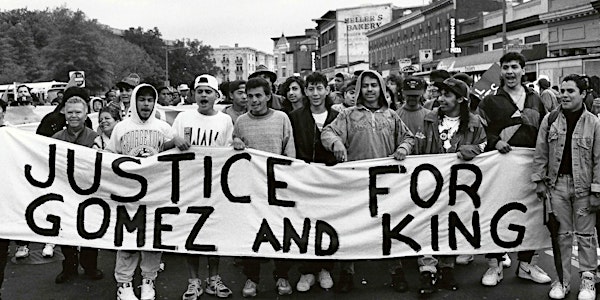 LA MANPLESA Film Screening + Discussion - ENCUENTROS: ENCOUNTERS
The Goethe-Institut welcomes you to attend the screening of LA MANPLESA + Discussion
When and where
Location
Goethe-Institut Los Angeles Project Space 1901 W. 7th St. Suite AB Los Angeles, CA 90057
About this event
Please Join us on Friday, October 14th, 2022 @ 6:00 PM for the screening of the documentary film LA MANPLESA + Discussion.
Admission is free. Admission is free. Masks required. Light Refreshments provided
Screening followed by a discussion with Quique Avilés - producer / memory keeper, Sami Miranda - memory keeper, Ellie Walton - director
LA MANPLESA
USA, 2021, 52 Minutes, digital projection. In English with Spanish subtitles.  Director: Ellie Walton, Producer/memory keeper: Quique Avilés, Memory keeper: Sami Miranda
On May 5th, 1991, people took to the streets of Washington D.C.'s Mount Pleasant neighborhood to protest the police shooting of Daniel Gomez, a young man from El Salvador. Through testimony, song, poetry, and street theatre, La Manplesa: An Uprising Remembered weaves together the collective memory of one of D.C.'s first barrios, and dives into the roots of the '91 rebellion. As people across the world take to the streets to demand an end to police brutality, the film honors the largely untold stories that have come before us, and explores how artists prompt us to remember what we still have to fight for.
Ellie Walton is a D.C. documentary filmmaker committed to honoring stories of everyday revolutionaries. Through a blend of observational and cinematic storytelling, Ellie co-creates documentaries through deep collaboration, authenticity, and visual poetry. She is an ongoing collaborator with D.C. based production companies, Meridian Hill Pictures and Unchained Stories. Her award-winning feature films include WALK WITH ME (2012), FLY BY LIGHT (2015), and BRAVE GIRLS (2018).
PARKING: Free Parking is available at Metro/Retail parking structure located at
676 S. Westlake Ave., Los Angeles, CA 90057
Public transport is possible with the red line to MacArthur Park/Westlake stop. Using carpool or ride-share options are appreciated.
PRESENTED WITHIN THE CONTEXT OF ENCUENTROS: ENCOUNTERS
Serving the Pico-Union, Westlake, and Koreatown communities, Homies Unidos presents trauma-informed and culturally competent art, education, and leadership development activities tied to social justice advocacy programs. For their project, the Goethe-Institut Project space serves as a venue for "Encuentros-Encounters," offering an intergenerational and cross-cultural dialogue around pressing social issues.
At the heart of the ENCUENTROS exhibition is the series LLAMAME POR MI NOMBRE, curated by local contemporary artist Kiara Aileen Machado, and includes her own works, as well as the works created by the participants from Homies Unidos' youth programs. The exhibition focuses on the layered complexities of identity that are shaped by our geographical surroundings and cultivated through community. Machado states "Despite all the atrocities we continue to endure, I want to express the beauty of our culture, highlighting the continuing resilience and the will to survive. Public events will include artist talks, film screenings, musical performances, and educational workshops focusing on intracommunal solidarity and arts production.
ABOUT THE ARTISTS |
Kiara Aileen Machado is a contemporary artist born in Lynwood who depicts and explores the structures and liberation of identity, femininity, and culture in her work. She obtained her bachelor's degree in painting and drawing from California State University Long Beach. Her artwork has been seen in museums across the United States, including the South Gate Museum (California), Buckham Gallery (Michigan), Dupont Underground (Washington DC), John & Geraldine Lilley Museum (Nevada), Stamp Gallery (Maryland), Frederic Jameson Gallery (North Carolina), and recently at Band of Vices (California) as part of the 'In the Paint' art initiative headed by the Los Angeles Lakers to identify and support contemporary LA-based artists. She has recently exhibited work internationally in Frankfurt, Berlin, and Paris.
The exhibition can be viewed during events and at the following times:
During Office Hours: August 19th, 2022 - September 16th, 2022
Mondays–Thursdays: 10:00 am – 5:00 pm
Fridays: 10:00 am – 3:00 pm
ENCUENTROS is part of the Neighborhood Interpretive Center, a hyperlocal initiative of cultural programs that focus on and uplift the MacArthur Park/Westlake neighborhood and surrounding areas.