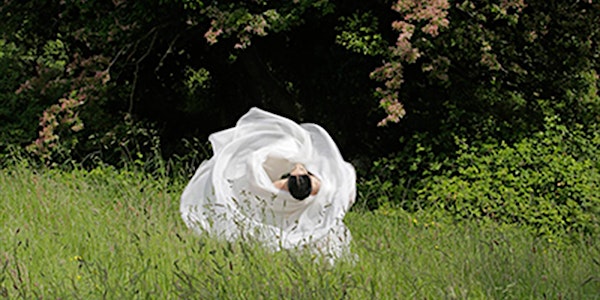 La MaMa presents: WILDFLOWERS, a feminine genesis: WORKSHOP
When and where
Location
LaMaMa Great Jones Studios 47 Great Jones Street New York, NY 10003
Refund Policy
Contact the organizer to request a refund.
Description
LaMaMa PRESENTS: WILDFLOWERS, a feminine genesis WORKSHOP

by Maureen Fleming Company
Access your creative inspiration and learn to move in new and transformative ways. Maureen Fleming, acclaimed New York City choreographer and performance artist, creates surreal movement poetry that gives birth to a new vision of the body.
In this workshop, Maureen Fleming shares her distinctive approach, adding catharsis and alchemy to the traditional dance techniques of strength, flexibility, and balance. In a disciplined way, Maureen guides you to your deepest creative core, helping you discover and reveal the transcendent that resides in physical form.
You will learn:
FLEMING ELASTXX TM, original exercises that initiate movement and voice from the innermost layer of muscles, promoting efficient movement and increased flexibility
Transformative, mystical imagery to challenge the way you think and help you move past physical form
Massage that incorporates stretching and shiatsu techniques to increase joint flexibility and unlock energy blockages
This deep, regenerative inner work allows for a more complete realization of your personal and creative vision and is geared for butō enthusiasts, actors, dancers, singers, directors, therapists and anyone interested in discovering their movement potential through an efficient and integrated training that becomes a part of daily life.
FLEMING ELASTXX TM
Fleming Elastxx is an element of Fleming Technique, part of Maureen Fleming's daily training and involves a portable elastic exercise device (USA patent pending) for flexibility and strengthening. The exercise device can target specific muscles, such as the psoas muscle. A relaxed and released psoas stabilizes the spine and provides support through the trunk. However, a tight psoas constricts the organs, puts pressure on nerves, interferes with the movement of fluids, and impairs diaphragmatic breathing. The exercise device aids in both lengthening and opening the psoas muscle, by facilitating a gentle pull on the limbs that allows the space between the vertebrae to expand through engagement of the small muscles connecting them.
It also allows the user to easily gauge whether the psoas muscle is being properly stretched through vocal sounds, often during movements that depict certain images, as the psoas muscle is connected to the diaphragm, which are both important components of vocalization. While engaging the exercise device, the user can effortlessly produce vocal sounds, which vary as the psoas muscle changes, and can adjust the engagement of the exercise device accordingly. The goal is to harness the potential of the body's ability to engage muscles simultaneously in full-body and full motion flexibility and strengthening in a daily exercise practice that supports and extends the life of all performance training and regenerates every day movement.
Fleming Elastxx: https://vimeo.com/23090997
MAUREEN FLEMING
Maureen Fleming is renowned for her original form of visual theater. With the discipline of a classicist and the imagination of an iconoclast Fleming connects cultures and art forms in an interdisciplinary celebration of femininity and the universality of the soul's journey. A Fulbright Scholar to Ireland, S. Korea and Colombia, her solo and group works have toured spanning five continents including the Spoleto Festival in Italy, FILO Festival Brazil, Performing America's Tour Colombia, Argentina and Uruguay, the O' Shaughnessy Women of Substance Series in St. Paul, Jacob's Pillow Festival, Emerson Majestic and Institute of Contemporary Art in Boston and NY City Center Fall for Dance Festival. "She appeared to transcend the material world and enter the realm of pure spirit...wondrous choreographic metamorphosis."–The New York Times
After extensive study in Japan with Kazuo Ohno, co-founder of butoh, an avant-garde movement developed in post war Japan, she went on to perform with his son Yoshito Ohno and to tour internationally with performance artist and choreographer Min Tanaka. Fleming continued her training in the United States as a scholarship student under the Cecchetti master Margaret Craske. In 1984 she became an artist-in-residence at La MaMa ETC in New York, and since 1994 has conducted workshops at NYU's Tisch School of the Arts, Brown University, RISD, Seoul Institute of the Arts, and The Juilliard School.

CHRISTOPHER ODO
Christopher Odo has worked as a designer and performer with Maureen Fleming Company in the USA, Asia, Europe and South America. Designs and performances include New York's City Center Fall for Dance Festival, Jacob's Pillow Festival and festivals in Italy, Mexico, Iceland, France, Germany, Russia, and at La MaMa E.T.C., Cleveland Museum, Virginia Museum, Emerson Majestic Theater and Institute for Contemporary Art in Boston among others. Before joining Maureen Fleming Company he performed with butoh artist Min Tanaka in Delphi, danced with Solaris/Lakota, a cross-cultural project with Native American artists in the USA, Africa, France and Sweden. He performed Puck in A Midsummer Night's Dream at the Public Theater and Lincoln Center Institute and danced in the original Tony award production, M. Butterfly.
December 14-16, 2018 - $300
Workshop begins Friday evening at 7:00 PM - ends Sunday at 4:00 PM

Friday 7:00 PM - 9:00 PM, Saturday 12:00 - 4:00 PM, Sunday 12:00 - 4:00 PM.
Phone: 917.575.4969 l Email: maureen.fleming@fulbrightmail.org l www.maureenfleming.com
*INQUIRE ABOUT FLEMING ELASTXX: TEACHER TRAINING CERTIFICATION*