La Lucha de La Cocina

Saturday, August 13, 2016 from 3:30 PM to 10:00 PM (PDT)
Event Details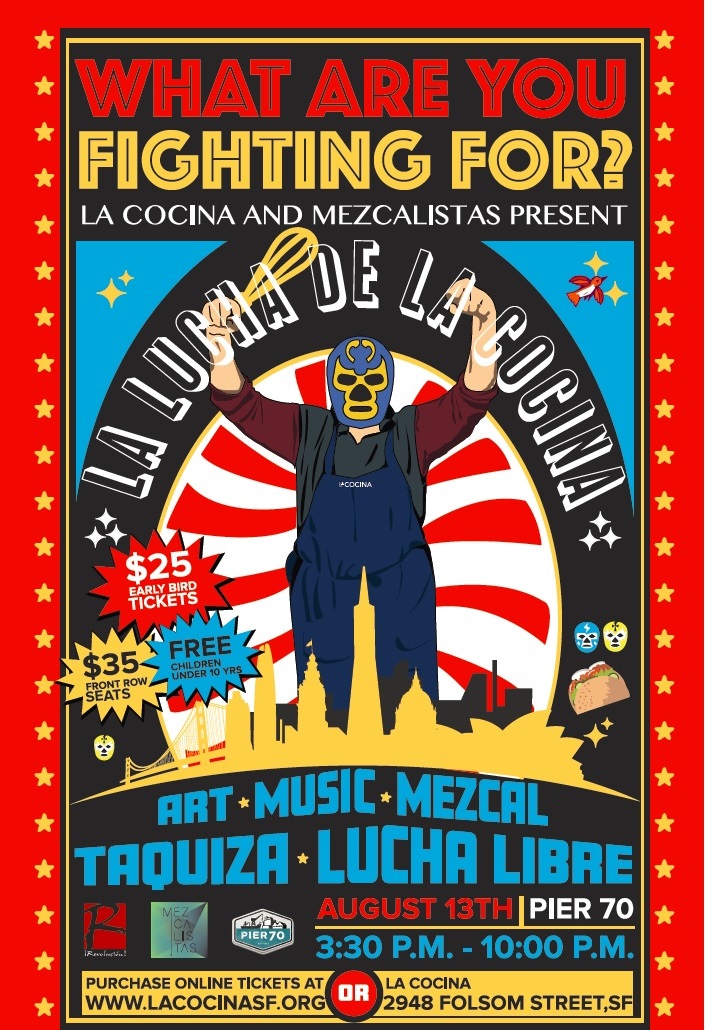 La Cocina and Mezcalistas Presents
a Taquiza & Lucha Libre in Celebration of the Luchadoras of La Cocina 
With the generous support from Pier 70, a Forest City Project
 ON-LINE TICKET SALES END AT 12:30 PM, 8/13
TICKETS WILL BE ON-SALE AT THE DOOR

What are you fighting for?
La Cocina & Mezcalistas, in collaboration with Pro Wrestling Revolution, present a Taquiza & Lucha Libre in honor of the struggle thousands face just to live and secure employment in our city. Luchando the best way we know how, through the healing powers of food and community, we're bringing together our favorite chefs and local non-profits to create a space that mirrors our objectives: a city where opportunity is equal and where entrepreneurs can gain financial security by doing what they love to do, creating an innovative, vibrant and inclusive economic landscape. 
taquiza
noun 
1. a taco party
"the most recognizable Mexican food item is probably the taco. people love them so much that they have parties just to celebrate them. these parties are called taquizas."
 lucha libre
noun 
1. a type of professional wrestling originating in Mexico in 1863, distinguished by masked fighters and steeped in lore 
"wrestlers and fans discuss the main tenets of lucha libre, good vs. evil, and how these are reflected in their own lives."
luchar
verb
1. to struggle, to fight
"the women had a simple dream: to make food, to sell it and to provide for their families. the barriers were high and when they looked around at those in power, sometimes they felt as if they wouldn't suceed. but when they looked inside, they knew the power within them was greater than the oppression that sought to engulf them and that against all odds, they would win. but not without a fight. this was their lucha." 
---
Event Details:
3:30 PM - 5:00 PM Doors Open save your seat, shop and enjoy tacos by La Cocina's Chefs, mezcal tastings, bar and music
5:00 PM - 7:00 PM Lucha Libre Commences
7:00 PM - 10:00 PM After Party with live music, food, drinks and more!
*Limited door sales available the day of the event, only while they last!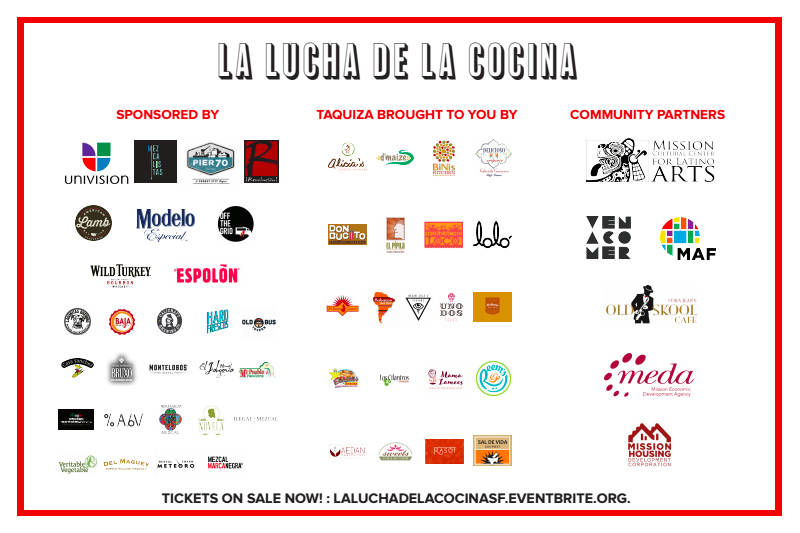 Participating Chef Sponsors:
The Chefs of La Cocina and other partnering Chefs will be serving delicious regional tacos, taco-inspired variations of 'round the world, traditional Mexican antojitos, and more latino foods along with sweet treats from La Cocina's artisanal producers. 
Text lalucha to 21000 to opt in to vote for your fav taco team of chefs
Once opted in, guests will receive a message saying:
Lovin' your tacos at La Lucha de La Cocina? Vote for your favorite team of taco chefs! VOTE FOR lalucha-rudos OR lalucha-tecnicos. At the end of the night, the team with the less votes will reveal their identity in defeat! Make room in your belly to try tacos from both teams of chefs!!!
Aedan Fermented, Chef & Owner Mariko Grady (Japan)
Bini's Kitchen, Chef & OwnerBinita Pradhan (Nepal)
D'Maize, Chef & OwnerZenaida Merlin (El Salvador)
Delicioso Creperie, Chef & Owner Gabriela Guerrero (Mexico City, D.F)
Don Bugito, Chef & Owner Monica Martinez (Mexico City, D.F.)
El Buen Comer, Chef & Owner Isabel Pazos (Mexico City, D.F.)
El Huarache Loco, Chef & Owner Veronica Salazar (Mexico City, D.F.)
El Pipila, Chef & Owner Guadalupe Guerrero (Acambaro, Guanajuato)
Estrellita's Snacks, Chef & Owner Maria del Carmen Flores (El Salvador)
Loló, Chef & Owner Jorge Martíneze (Jalisco)
Los Cilantros, Chef & Owner Dilsa Lugo (Cuernavaca)
Madam Zola's Fortune, The Midway SF (Jamaican)
Mama Lamees, Chef & Owner Lamees Dabhour (Kuwait)
Mi Morena, Chef & Owner Guadalupe Moreno (Mexico City, D.F)
Rasoi, Chef & Owner Heena Patel (India)
Reem's, Chef & Owner Reem Assil (Phili-raised, Arab-inspired)
Sabores del Sur, Chef & Owner Guisell Osorio (Chile)
Sal de Vida Gourmet, Chef & Owner Adriana Lahl (Mexico City, D.F.)
Sweets Collection, Chef & Owner Rosa Rodriguez (Durango)
Tamales Los Mayas, Chef & Owner Alicia Villanueva (Mazatlan, Sinal)
Uno Dos Tacos, Chef & Owner Luis Flores (Guadalajara)
Partner Community Organizations:

With special thanks to our community organizations who are part of the lucha to create a space of inclusivity, vibrancy and equality in San Francisco, La Cocina has the honor to be acompanied by Mission Economic Development Agency, Mission Asset Fund, Mission Development Housing Corporation, Mission Arts Cultural Center, Consulado General of Mexico in SF's 'Ven a Comer' and more!
Music by HOT Radio and Live DJ set! 
---
 Thanks to Our Sponsors and Media Partners for the Generous Support
Community: Forest City
Media: Univision
Spirits: Campari
Ciders: Hard Frescos
Beer Sponsors: Modelo, Lagunitas, Baja Brewing Co. & CaliCraft Brewing Co.
Mezcal Sponsored Tastings: Oaxaca, Brujo, Manta Negra, El Jolgorio
Food Programming: La Cocina's Chef Entrepreneurs 
Ingredient: American Lamb Board
Community: Airbnb
---
 
Produced by La Cocina, Susan Coss of Mezcalistas and Pro Wrestling Revolution
www.lacocinasf.org | @lacocinasf | laluchadelacocinasf.eventbrite.com
---
To learn more about other La Cocina Events, visit:
September 30th at Swedish American Music Hall - www.voicesfromthekitchen.org
November 13th at The Village - www.lacocinaconference.org
For Sponsorship and Marketing Opportunities, contact Jessica Mataka at jessica@lacocinasf.org 
For event inquiries, contact Aniela Valtierra at aniela@lacocinasf.org
When & Where

Pier 70
420 22nd Street
San Francisco, CA 94107


Saturday, August 13, 2016 from 3:30 PM to 10:00 PM (PDT)
Add to my calendar
Organizer
La Cocina is a ground-breaking incubator that cultivates low-income food entrepreneurs as they formalize and grow their businesses. We do this by providing affordable, shared, commercial kitchen space; industry-specific technical assistance and services; and access to market opportunities and capital.
La Cocina works to solve the problems of equity in business ownership; inclusivity in the mainstream American marketplace; barriers to entry for women, people of color and immigrant business owners; and the high cost of entry in the food industry.
In an increasingly expensive economy, La Cocina businesses succeed at a rate that far exceeds the national average, graduating 60+ entrepreneurs, creating hundreds of jobs, and generating $16MM+ in revenue last year. More than 30 of those entrepreneurs have brick-and-mortar restaurants, which includes James Beard winners and nominees, Michelin Guide-featured destinations, and San Francisco Chronicle's "Top 100 Restaurants" of 2019. 

Our vision is that our program participants will become economically self-sufficient and contribute to a vibrant and diverse economy doing what they love to do.