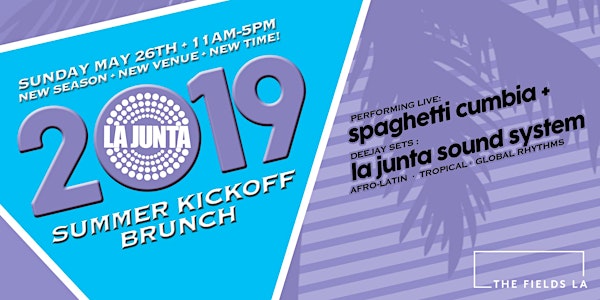 LA JUNTA 2019 SUMMER KICKOFF BRUNCH
When and where
Location
The Fields LA 3939 South Figueroa Street Los Angeles, CA 90037
Description
Announcing...our first summer show of the year!!!
We know many of you have been waiting to see what La Junta's summer event schedule is going to look like, but believe us when we say that no one has been feeling the anticipation more than we have! Now that things are set and we're starting to prepare for show day, it's time to share it with you:
LA JUNTA 2019 SUMMER KICKOFF BRUNCH
Sunday May 26, 2019 | 11am to 5pm
(adjacent to Banc of California Stadium /LA Football Club)
https://www.thefieldsla.com/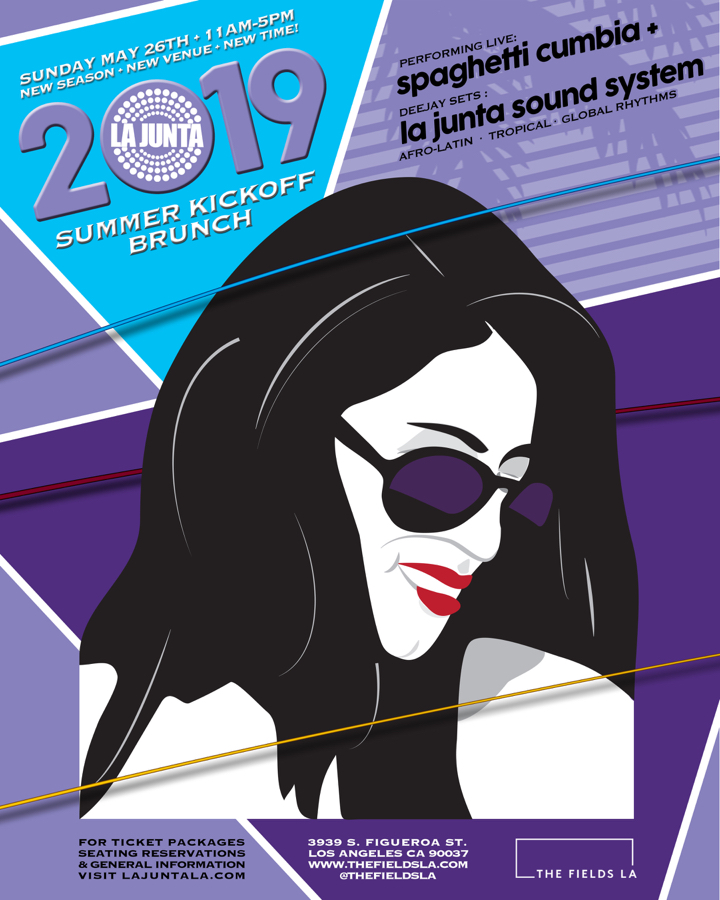 That's right...New season, New venue, New hours! We jumped with excitement at the opportunity to host our signature outdoor gathering at LA's newest hub for community entertainment and we can't wait to be out in the sunshine with you. With the venue also came the option to try a new format for our party and the idea of Sunday Brunch set to La Junta's brand of tropical music and accompanied by a mimosa station and three full bars sounds sublime. Right?!
Not everything has changed though. As always, our resident good guys, La Junta Sound System, rock it from the decks, joined onstage by the fun, guitar riffing, cowbell slinging sounds of LA's Spaghetti Cumbia!! So get ready to text and tag your crew on our event page as we kick off another summer of music, sunshine and friends. La Junta is back!!
$5.00 presale online only and $10 at door (to support live music!)
take advantage of our UNLIMITED options:
Admission + UNLIMITED Mimosas package - $25/person
Admission + UNLIMITED Brunch package - $35/person
Admission + UNLIMITED Mimosas + Brunch package - $50/person
(above packages limited to first come, first served seating only)
WANT RESERVED OUTSIDE PATIO LOUNGE SEATING?
BUY TICKETS HERE - Reservations guarantees you 8 tickets (seating only; does not include food/drink packages) to our event! (All other seating is available on a first come first served basis.)
$10 parking located @ Lot 6 (Corner of Hoover St & W Martin Luther King Jr., Los Angeles, CA 90037
Live in the area? Don't drive take the metro (Expo Park/USC Station)
See you soon at The Fields La!
LA JUNTA (David, Yuki, Prescilla & Glenn)