Description
HER, the app for LGBTQ women is launching our THIRD official Los Angeles event, HER RETRO SUMMER PARTY! With over 1.6 million users live in over 55 countries, HER is the biggest queer app for LGBTQ+ women and folks worldwide.

Coming to you on August 20th, HER is ending your summer by taking you BACK IN TIME down through the decades of your favorite retro tunes!
THE MUSIC BREAKDOWN:
2pm - 3pm: 60's Motown Magic!
3pm - 4pm: 70's Funky Soul
4pm - 5pm: 80's Eclectic Dance Pop!
5pm - 6pm: 90's Throwback Jams!
7pm - 8pm: Early 2000's Hip Hop Beats
9pm - 10pm: Today's House Hits!

BROUGHT TO YOU BY YOUR FAVORITE DJS:
Whitney Day
GoodBoy
DJ Breezy EZ
BRI SAID (Bri Gigér)

WITH AWESOME THEMED STATIONS:
60's & 70's Flower Power Crown making
80's Spin Art record painting & Vinyl cover Photo Booth wall!
90's Flash Tats & Hair Bedazzling!
Our infamous upcoming Queer Events Booth

AND FUN CONTESTS:
Dress as your favorite decade contest! Best dressed from each decade wins an awesome special prize!

PLUS:
WATER BALLOON TOSS to win tickets to Lezathlon Summer Camp 2017!!
QUEER PONG
Beach Balls GALORE!
Your FAVEORITE summer themed vibes!
And an AMAZING Rooftop Hollywood view!!!

WITH:
Ticket Giveaways and Info on your favorite LA queer events:
Milk Milk Lemonade La
Mothership Festival
Queertainment
Lezathlon

This event is An Official After Party for LGBTQ women of The Glitter Run! Use code GLITTER4HER for $20 off when you register for The Glitter Run! PLUS show up to the HER Party covered in glitter and get another discount on your entry inside! Everyone wins!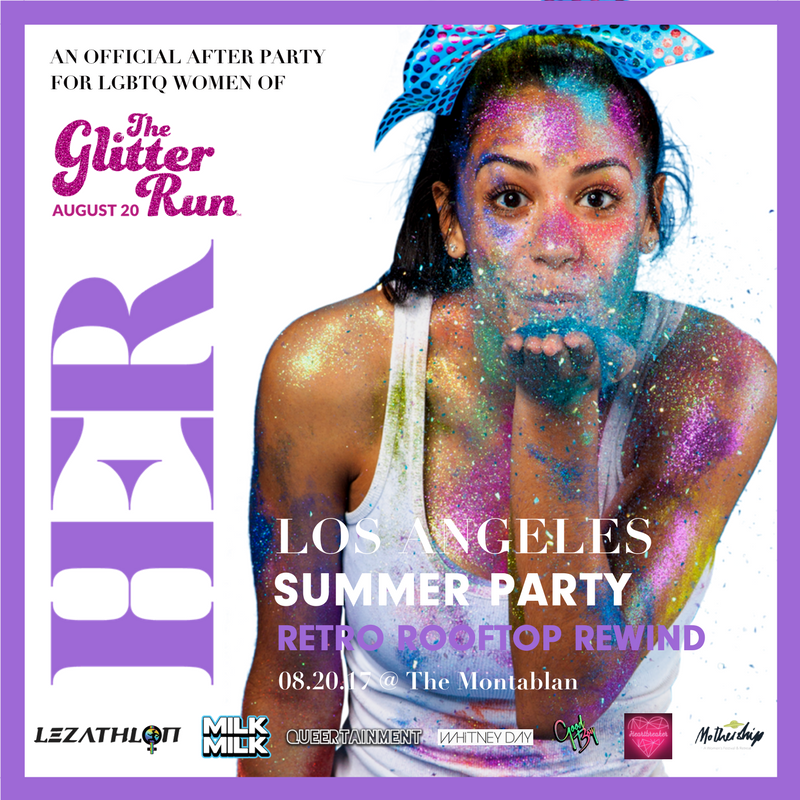 Attending alone? Meet up with HER an hour before the event to kick it with new friends, socialize, and walk into the party with a crew! MORE INFO COMING SOON
TICKET DISCOUNT OFFER:
Repost an image of our flyer or event page, screenshot and send to Anna Goodman (anna@weareher.com) for a special discount code on your ticket!
Ticket Info:
$12 Pre-Sale
$15 BEFORE 4PM at the Door
$20 AFTER 4PM at the Door
$10 QUICK DATES ADDITION**
Quick Dates: A chance to take your dating game offline and into the real world. Mixalot has designed software with the queer community in mind, by offering YOU a chance to meet a variety of singles in a short amount of time. Choose from preferences such as; age, gender identity and sexual inclinations. Come let Mixalot, Lady Luck Events and Her - The App for LGBTQ Women take the pain out of dating.
Select the Quick Dates Ticket option below.
*Tickets = $22, includes entry to event + Quick Dates* This portion of the event will be from 2PM - 4PM only.
THE MAIN SQUEEZE:
Sunday, August 20th
2pm - 9pm
The Montalbon Theatre
1615 Vine St, Los Angeles, CA 90028
See all the profiles of who's attending on the app: https://weareher.com/shared-event/15614
Download the HER app: https://bnc.lt/e89j/pU14Bb2ojv
Questions or comments? Contact Los Angeles City Lead Anna Goodmanat anna@weareher.com

Website - https://weareher.com/
Facebook - Her - The App for LGBTQ Women
Instagram - @hersocialapp (https://www.instagram.com/hersocialapp/)
Tumblr - hersocialapp, (http://hersocialapp.tumblr.com/)
Twitter - @hersocialapp, (https://twitter.com/HerSocialApp?lang=en-gb)
Snapchat - hersocialapp

*This is a lesbian event for women, (or however you wish to define your sexuality or gender). But we are inclusive of the entire LGBTQ+ community. You don't have to be lesbian to be there, just cool with lesbians. Feel free to bring gay/straight male/female friends, family, etc.