LA Garden Council's 9th Annual Gathering of Community Gardens

Saturday, October 3, 2015 from 8:30 AM to 3:00 PM (PDT)
Event Details
YOU'RE INVITED TO JOIN THE...

 9th ANNUAL GATHERING OF COMMUNITY GARDENS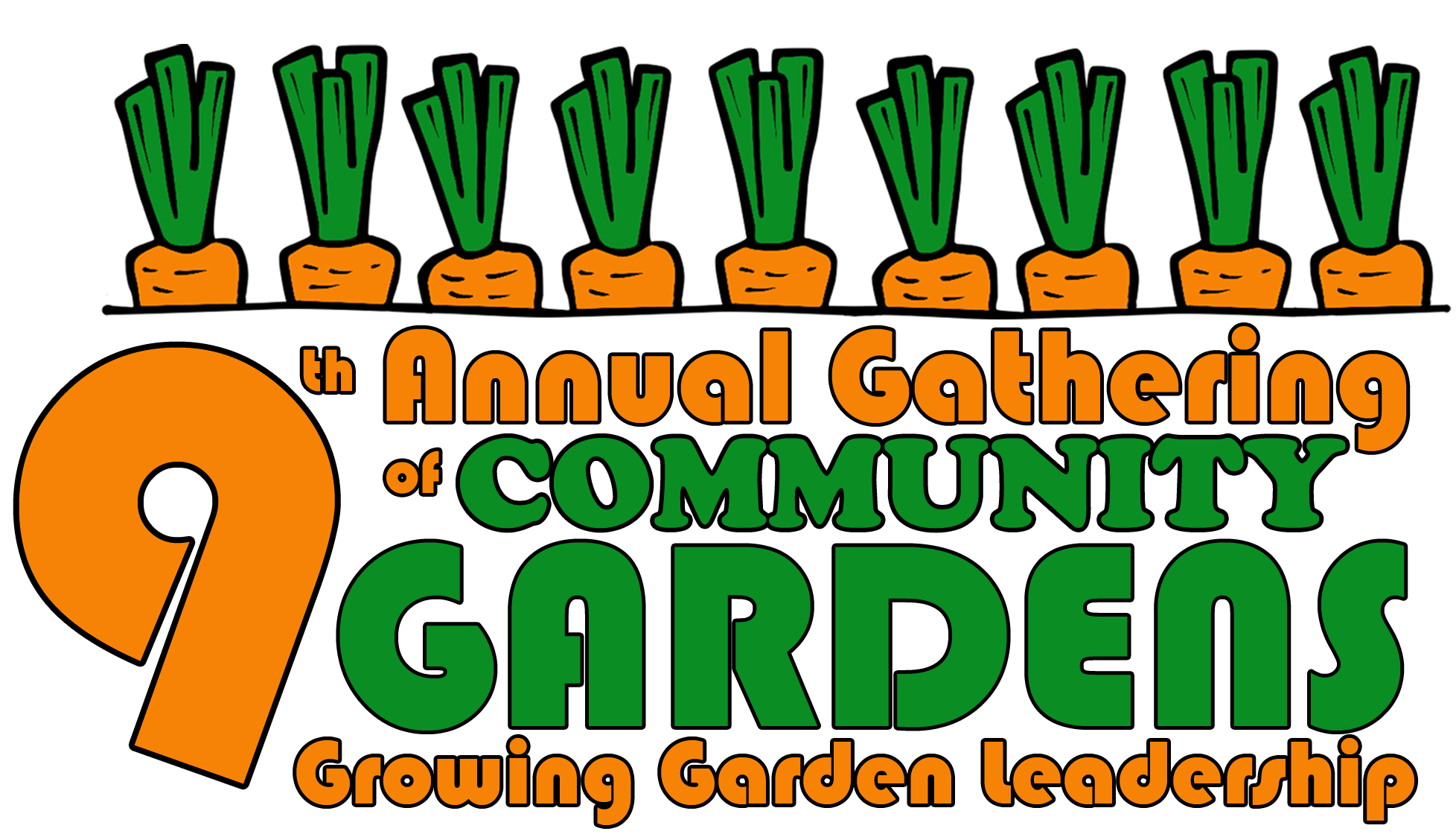 Saturday, October 3, 2015
9:00am – 3:00pm 
Villa Parke Community Center  
(Centro Comunitario Villa Parke)
363 East Villa Street,  Pasadena, CA 91101
as
Los Angeles Community Garden Council  and
Little Green Fingers
with generous support from First5LA.org
present our:
 9th ANNUAL GATHERING OF COMMUNITY GARDENS
An ecological and educational celebration featuring:
12 workshops in both English & Spanish,
networking, exhibits, live demos, giveaways,
and a fresh, healthy lunch!
All ages welome!
 9no ANUAL REUNIÓN DE JARDINES COMUNITARIOS 
Una celebración ecológica y educativa que ofrece:
12 talleres, tanto en Inglés y Español,
redes, exposiciones, demostraciones en vivo, sorteos,
y un almuerzo comunitario 
 fresco y saludable!
!Para todas las edades!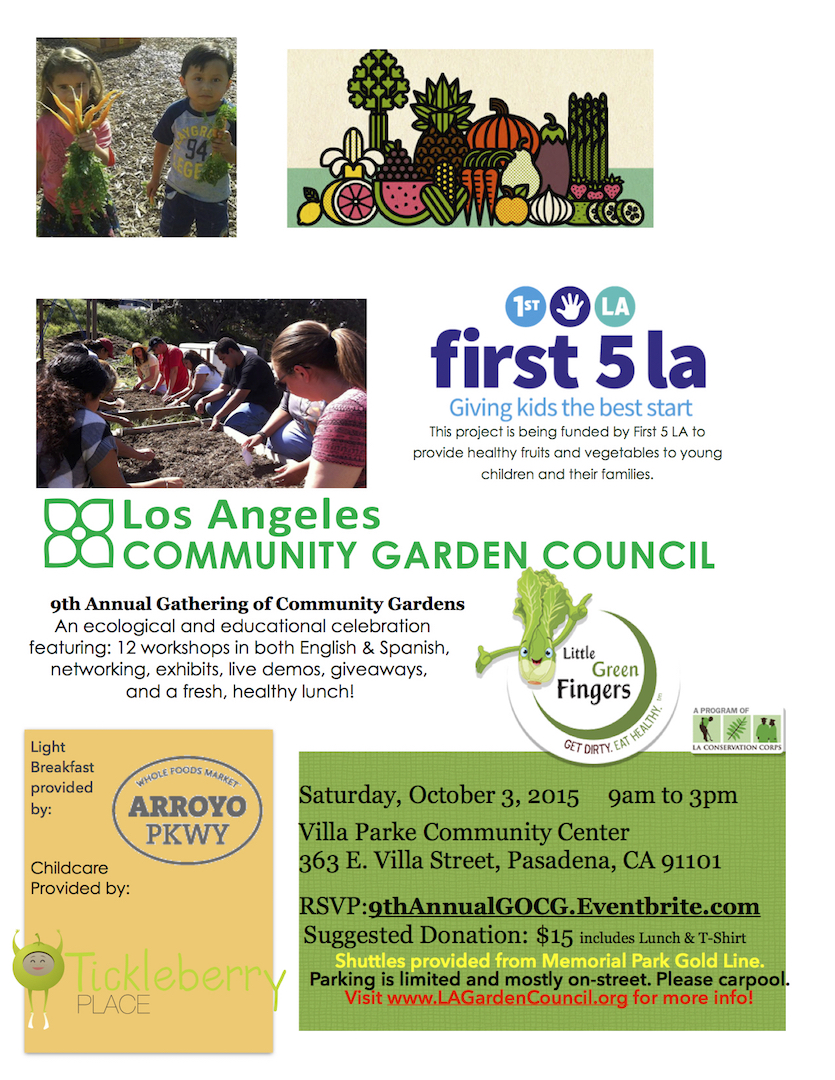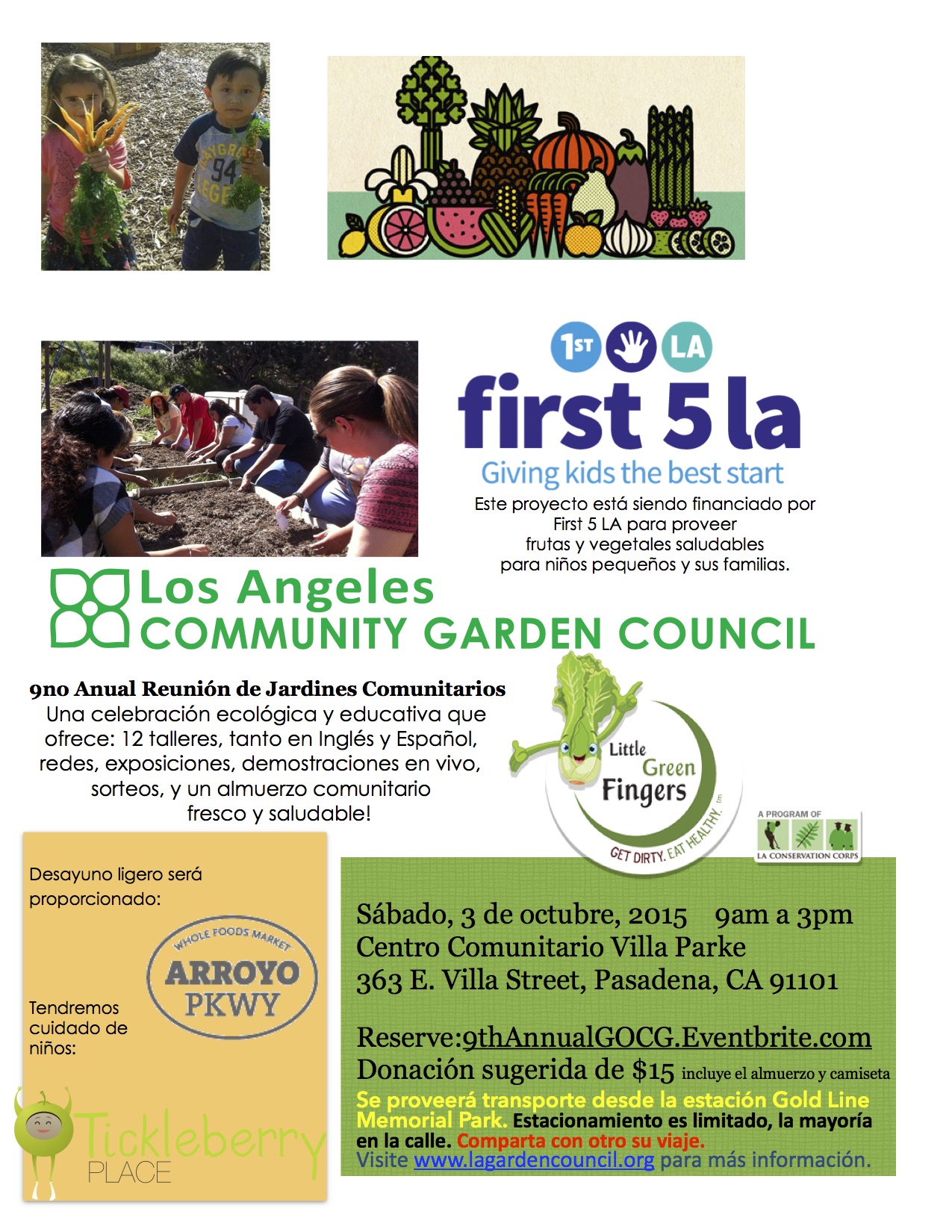 We are pleased to welcome 
our KEYNOTE SPEAKER
COMMISSIONER SUZANNE BOSTWICK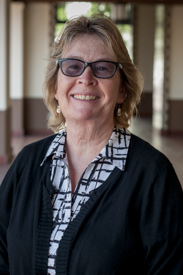 23 years ago Suzanne Bostwick began her County career in health education with the Child Health and Disability Prevention Program working in partnership with multiple County departments and school districts coordinating CHDP trainings and was appointed chair of the Southern Regional Health Eucation Tacsk Force. 
In 2006 she became the Director of the Children's Health Outreach Initiatives Program aslo known as CHOI, a unit under Maternal, Child, and Adolescent Health. This unit administers the outreach and enrollment arm of the Healthy Kids Program contracting with community-based organizations providing outreach, enrollment, utilization and retentions services to families in Los Angeles County. She also acted as the chair of the Progrma Integration Workgroup a subcommittee of the Children's Health Initiatives of Greater Los Angeles. 
Over the past 15 years, Suzanne has worked with community based agencies, school districts, cities, training agencies, and DPSS to help coordinate outreach and enrollment efforts to enroll and assist families in Los Angeles County unable to obtain and retain health coverage benefits.
Suzanne now serves as the Interim Director of MCAH Programs a division in the Los Angeles County Department of Public Health responsible for planning, implementing and evaluating services addressing the health priorities and primary needs of infants, mothers, children and adolescents in Los Angeles County. 
She is now responsible for overseeing programs such as Black Infant Health, Nurse Family Partnership Home Visitation, Child and Adolescent Health, Childhood Lead Poisoning, Comprehensive Perinatal Services Program, a Research, Evaluation and Planning unit and CHOI. 
INCLUDES ADMISSION TO ALL WORKSHOPS, EXHIBITS AND LIVE DEMOS!
JOIN IN AND EXPLORE THESE TOPICS: 
Gardening with Preschoolers 
Tree Care Management using Reclaimed Water
How to Transform A Dying Lawn into a Thriving, Organic Garden
Vertical Gardening
Benefits of Composting
Starting A Community Garden
Keeping Chickens in the City
Garden Finance
Maintaining a Successful Garden: Strong Leadership
Sustainable Urban Farming using Aquaponics and Hydroponics
How to Preserve the Food You Grow with Canning
AND MORE!
Come to Mix and Mingle with our GARDEN-FRIENDLY Exhibitors:
SLOLA - SEED LIBRARY OF LOS ANGELES
AMERICAN HEART ASSOCIATION - TEACHING GARDENS
ROOTS FOR PEACE
B11RESCUE.COM
MASTER GARDENER ASSOCIATION
EL JARDIN DEL LUZ
LOS ANGELES LAND TRUST
LITTLE GREEN FINGERS
BROADCHESTER FARMS
VILLA VERDE GARDENERS
LOS ANGELES CONSERVATION CORPS
MANIFEST GARDEN FOUNDATION
HONEYLOVE
AND
AN INTRODUCTION TO NEW MOBILE APP "CROPDOTS"!

Visit to learn about community services, new products and enjoy free samples!
WE ENCOURAGE YOU TO REGISTER ONLINE NOW
SUGGESTED DONATION: $15
(includes lunch and a T-Shirt!)
DONACIÓN SUGERIDA DE $15
(incluye el amuerzo y camiseta!)
CASH DONATIONS WILL BE ACCEPTED AT THE DOOR 
Check-in begins onsite at 8:30am
Come early for Continental Breakfast provided courtesy of
Whole Foods Arroyo Parkway in Pasadena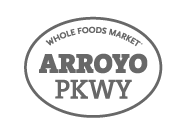 We encourage you to bring your own reusable plate, water bottle and utensils for our
 ZERO WASTE LUNCH provided by URBAN GREEN CUISINE

supported in part by a generous donation from Repurpose Compostables.

Street Parking is Limited. Please Carpool.
Shuttles will be provided by LA Conservation Corp

from Memorial Park Gold Line
Se proveerá transporte desde la estación Gold Line Memorial Park
COMPLIMENTARY CHILDCARE ACTIVITIES PROVIDED BY TICKLEBERRY PLACE!
(FOR CHILDREN 3 YEARS AND OLDER) 

WITH HEALTHY SNACKS FOR KIDS PROVIDED BY GOGO SQUEEZ!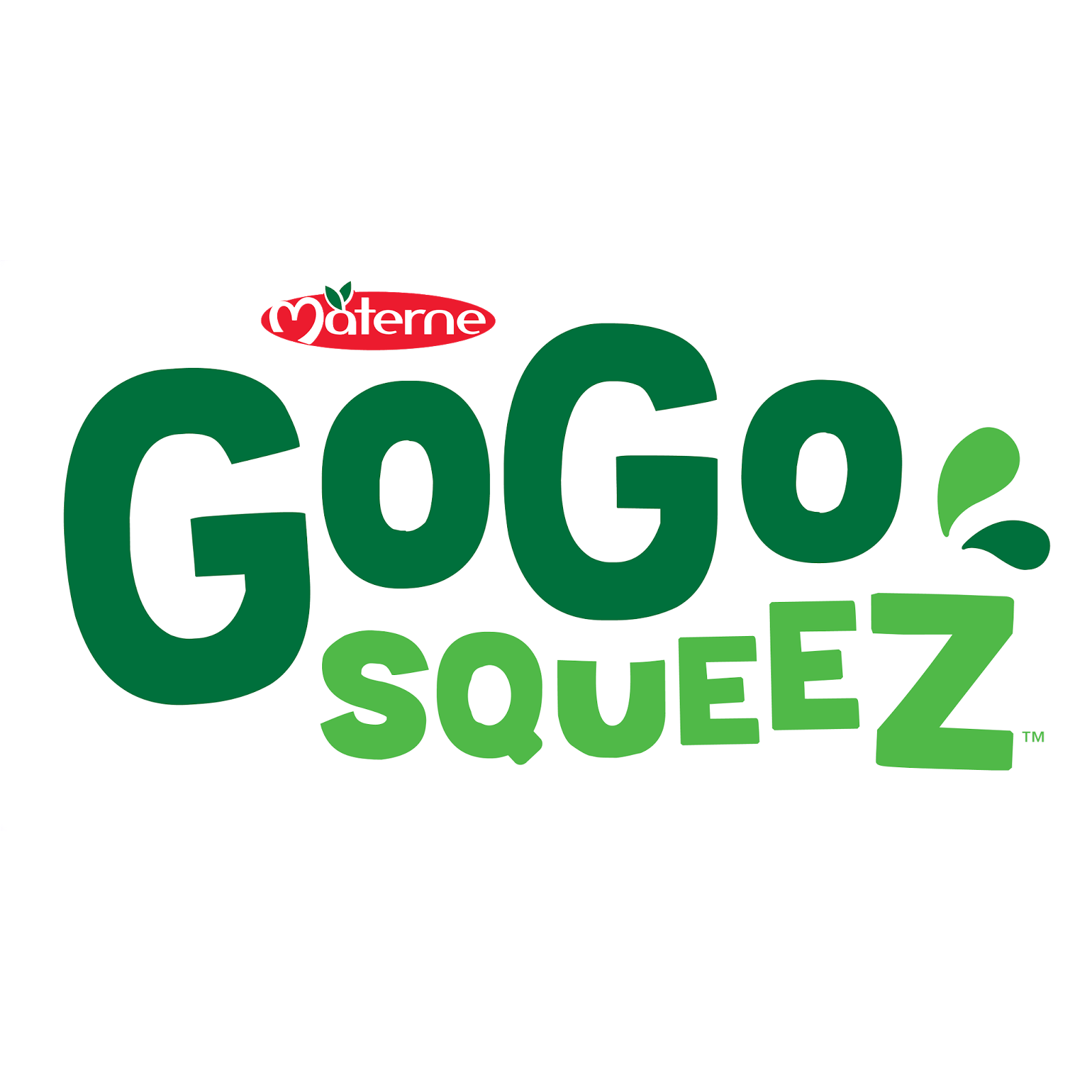 Learn more about Los Angeles Community Garden Council at: www.LAGardenCouncil.org
When & Where

Villa Parke Community Center
363 East Villa Street
Pasadena, CA 91101


Saturday, October 3, 2015 from 8:30 AM to 3:00 PM (PDT)
Add to my calendar
Organizer
Los Angeles Community Garden Council
LA Garden Council's 9th Annual Gathering of Community Gardens