Event Information
Location
W Hollywood Hotel
6250 Hollywood Blvd
Los Angeles, CA 90028
Description
Los Angeles Games Conference
May 8, 2018 | W Hotel Hollywood
On May 8, 2018 join the most influential decision-makers in the digital media industry at Digital Media Wire's Annual LA Games Conference to network, do deals, and share ideas about the future of games and connected entertainment!
As LA's local games event, LA Games Conference brings together LA's dynamic community of developers and game leaders for meaningful networking and meetings at the center of Silicon Beach and Hollywood. The event is held at the iconic W Hollywood and features fireside chats, roundtables, panels and presentations on digital game investment, creation, distribution, marketing and monetization and plenty of networking opportunities with many of the elite in the industry.

2018 LA Games Conference Agenda:
View from the Top: The State of the Game Industry

The X[R] Factor: Creating immersive Experiences for Games & Entertainment
Virtual Currency & Crypto Collide: How Will ICO's and Blockchain Disrupt Gaming & Entertainment?
The Opportunity of eSports for Brands, Agencies & Marketers

Owning an Esports Team

Game & Entertainment Industry Industry Deal-Makers Roundtable
Innovation in Mobile: What Developements Will Fuel Future Growth?
Hollywood & Games
Keynote Conversation with Bernard Kim of Zynga
China and Beyond: The Opportunity in China and APAC's Emerging Markets
Fighting Toxicity in Gaming

The Future of eSports
2018 Speakers Include: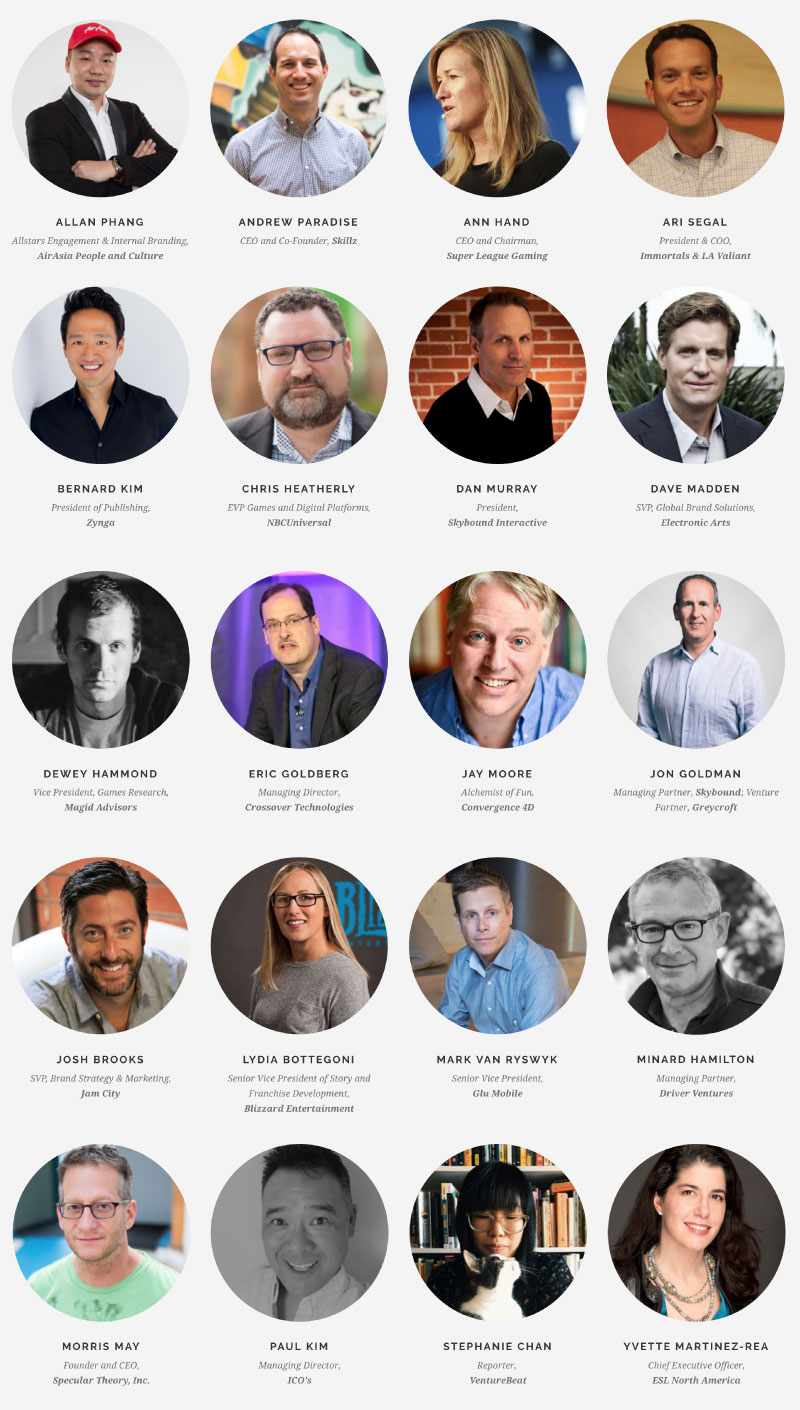 2018 LA Games Conference Speakers:
Shiraz Akmal, Co-Founder and Chief Executive Officer, SPACES Inc.
Lisa Anderson, Vice President, Games, The Walt Disney Company
Josh Austin, VP Worldwide Licensing & Interactive, Paramount Pictures
Sinjin Bain, SVP, Global Head of VR/AR, Method EXP
Gordon Bellamy, Visiting Scholar, University of Southern California
David Bloom, Columnist, Tubefilter
Lydia Bottegoni, Senior Vice President, Story and Franchise Development, Blizzard Entertainment
Bjorn Book-Larsson, VP, Product, HTC Viveport, Board Member, VRChat
Josh Brooks, SVP, Brand Strategy & Marketing, Jam City
Michael Cai, President, Interpret
Dustin Califf, Managing Partner, Tool of North America
Malcolm CasSelle, CIO, OPSkins, President, WAX
Rishi Chadha, Head of Gaming, Twitter
Stephanie Chan, Reporter, Venture Beat
Ben Cohen, Partner, Umbrella Games
Craig Donato, Chief Business Officer, Roblox
Chelsea Faso, Head of Licensing/343 Industries (Halo), Microsoft
Carlos Figueiredo, Director, Community Trust & Safety, Two Hat Security
Michael Frasier, Vice President, Business Development, International, InComm
Javon Frazier, EVP, Strategy & Business Development, Studio71
Isabel Gan, Managing Director, Puji Capital
Eric Goldberg, Managing Director, Crossover Strategies
J Goldberg, Head of Community, Daybreak Game Company
Jon Goldman, Managing Partner, Skybound, Venture Partner, Greycroft
Marientina Gotsis, Associate Professor of Research at the Interactive Media & Games Division, USC School of Cinematic Arts
Eric Gradman, CTO & Mad Inventor, Two Bit Circus
Phil Greenspan, Developer Strategy, Oculus
Deepak Gupta, Chief Revenue Officer, Machine Zone
Minard Hamilton, Managing Partner, Driver Ventures
Dewey Hammond, Vice President, Games Research, Magid Advisors
Ann Hand, CEO and Chairman, Super League Gaming
Chris Heatherly, EVP Games and Digital Platforms, NBCUniversal
Chris Hewish, Executive Vice President, Interactive, Skydance Interactive
Arnold Hur, Chief Growth Officer, KSV eSports
Bernard Kim, President of Publishing, Zynga
Chang Kim, CEO and Founder, Tapas Media
Paul Kim, Managing Partner, ICO's
Richard Lemarchand, Associate Professor in the USC Games program, Associate Chair of the Interactive Media & Games Division, University of Southern California
John Linden, President, Seismic Games
Allen Lu, Business Development, JLIN and CEO, Team VGJ
Dave Madden, SVP, Global Brand Partnerships, EA
Yvette Martinez-Rea, Chief Executive Officer, ESL North America
Morris May, CEO, Specular Theory, Inc.
Wanda Meloni, CEO & Analyst, M2 Insights
Michael Metzger, Partner, Drake Star Partners
Jay Moore, Alchemist of Fun, Convergence 4D
Margaret Moser, Professor, IMGD Department in Cinema, University of Southern California
Dan Murray, President, Skybound Interactive
Robert Nashak, COO, Survios
Jonathan Pan, Esports Instructor, University of California, Irvine
Andrew Paradise, CEO, Skillz
Allan Phang, Allstars Engagement & Internal Branding, AirAsia People and Culture
Rick Phillips, President of Games Publishing & Licensing, FoxNext Games
Justin Pierce, Intellectual Property Division Chair, Venable LLP
Jane Pinckard, Vice-Chair of the IMGD Department in Cinema, University of Southern California
Joanna Popper, Global Head of Virtual Reality for Location Based Entertainment, HP
Nanea Reeves, CEO and Co-Founder, TRIPP
Carter Rogers, Senior Analyst, SuperData Research
Michael Salmon, Game Consultant, Something Fishy Consulting
Ted Schilowitz, Futurist, Paramount Pictures
Ari Segal, President & COO, Immortals & LA Valiant
Tony Sheng, Product Lead, Decentraland
Ned Sherman, Counsel/Director, Manatt Digital
Eunice Shin, Managing Partner, Manatt Digital
Julia Sourikoff, Executive Producer, AR/VR/360, Tool of North America
Louisa Spring, CEO, VARI Parks
Andrew Stalbow, CEO & Co-Founder, Seriously
Mark van Ryswyk, SVP, Glu Mobile
Bruce Vaughn, CEO, Dreamscape Immersive
Margaret Wallace, CEO, KijiCo
Dan Winters, Head of Business Development, Amazon Game Services
Careen Yapp, Senior Vice President of Global Business, Mixed Dimensions
Michael Zhang, CEO, Firefly Games
2018 Sponsors Include: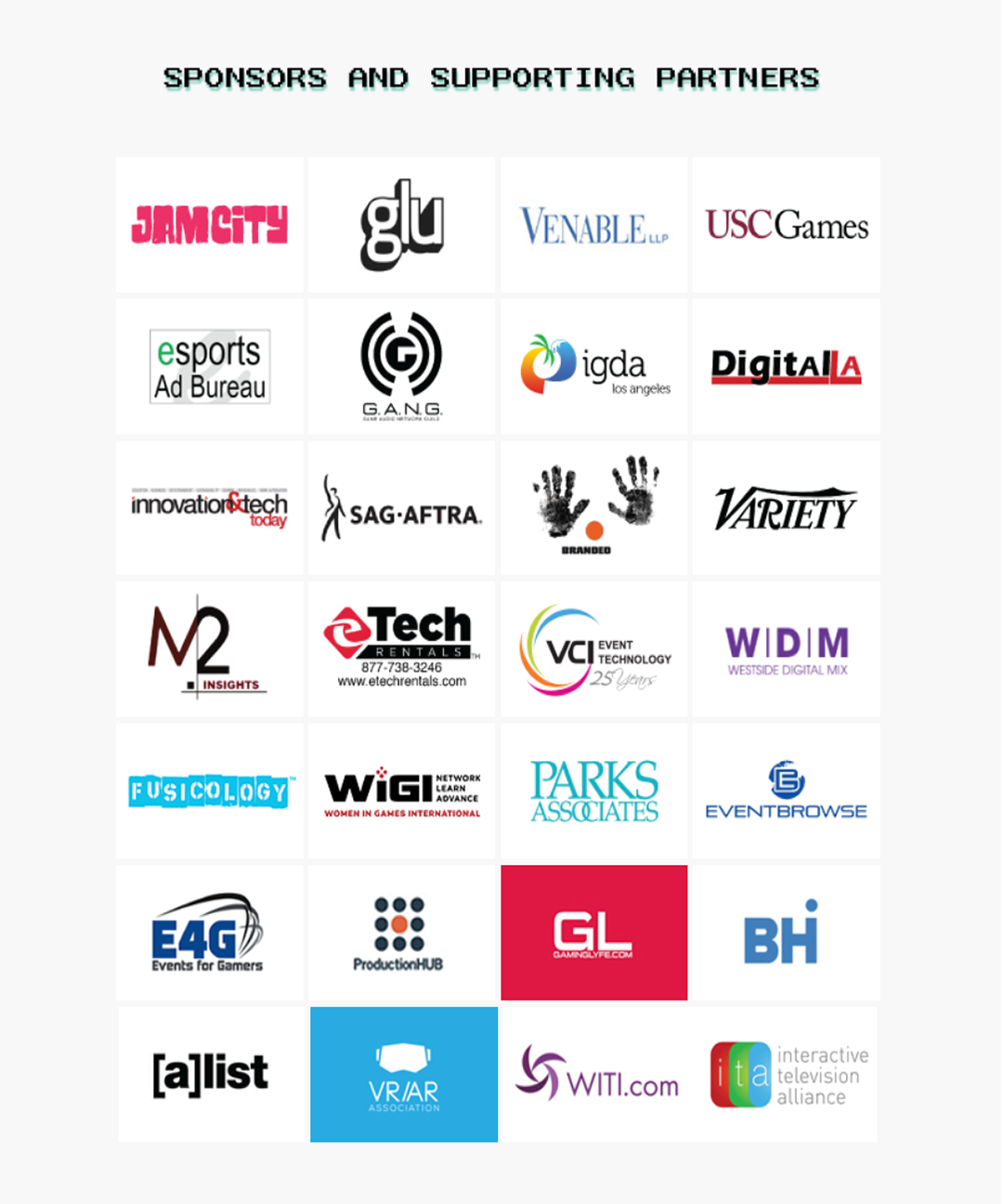 Are you interested in becoming a sponsor?

We offer a number of innovative event sponsorship packages, each one carefully designed to ensure maximum brand exposure and maximum lead generation. Exclusive options can be purchased to customized your package to fit your needs. Please e-mail Tinzar at tinzar@digitalmediawire.com.


FAQs
What's the refund policy?
Refunds are subject to a $100 processing fee, which will be subtracted from your refund total. We must receive your written request for a refund by April 8, 2018. Cancellation requests received after April 8, 2018 are non-refundable.
Do I have to bring my printed ticket to the event?
No. However you may be asked to show a government issued ID or drivers license to verify identity.
Is my registration fee or ticket transferrable?
You may transfer your registration to another person. Please provide written authorization to info@digitalmediawire.com. Confirmed and paid attendees who do not attend or who cancel after the deadline are liable for the entire fee.
How can I contact the organizer with any questions?
For questions, please call or email us at 310-855-0033 or info@digitalmediawire.com
Date and Time
Location
W Hollywood Hotel
6250 Hollywood Blvd
Los Angeles, CA 90028