Location
W Hollywood Hotel
6250 Hollywood Blvd
Los Angeles, CA 90028
Description
On April 19, 2016, join the most influential decision-makers in the digital media industry at Digital Media Wire's Annual LA Games Conference to network, do deals, and share ideas about the future of games and connected entertainment!
As LA's local games event, LA Games Conference brings together LA's dynamic community of developers and game leaders for meaningful networking and meetings at the center of Silicon Beach and Hollywood. The event is held at the iconic W Hollywood and features fireside chats, roundtables, panels and presentations on digital game investment, creation, distribution, marketing and monetization and plenty of networking opportunities with many of the elite in the industry.

2016 LA Games Conference Agenda:
View from the Top: The State of the Game Industry

Virtual and Augmented Reality for Games & Entertainment

Monetizing Games Through Free-to-Play
The Opportunity of eSports for Brands, Agencies & Marketers

Creativity Rules Making Successful Games for Mobile Platforms

Game Industry Leadership Roundtable
Mobile Games: Strategies for Cost-Effective User Acquisition
Hollywood & Games
The Power of Influence: Influencer Marketing & User Acquisition
Winning In China: Finding Success in the Chinese Market
The Video Ecosystem for Games & Game-Related Content

Legal Issues for Games Businesses

The Future of eSports
2016 Keynote Speaker: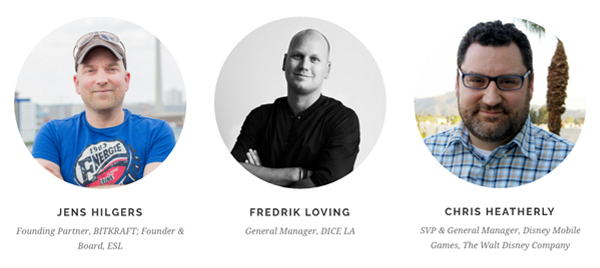 About Jens:
Jens Hilgers is a serial entrepreneur based in Berlin, Germany considered a godfather of the eSports industry. Having organized the first online tournaments and public lan­parties starting 1997 he went out to build business on his vision of competitive multiplayer gaming becoming legitimate sports: eSports.
In 2000 Jens founded Turtle Entertainment/ESL, fully determined on building the worlds' largest online league operator, which he ran as the CEO for the first 10 years and since 2010 headed the Supervisory Board as Chairman. ESL was acquired by Scandinavian MTG Group in 2015.
Jens is an active advisor and investor in eSports and known as one the most experienced and connected executives in the industry. Early 2015 he co­founded DOJO Madness, a company building tools helping esports players to master their game, which he is leading as CEO.
About Fredrik:
Fredrik is the General Manager of the DICE Los Angeles studio and a veteran team member of the critically acclaimed Battlefield franchise. Driven by his passion for videogames and developing high-performance teams, Loving joined the award-winning DICE studio in Stockholm, Sweden in 2007 as the Development Director on the Battlefield franchise. Three years later, Loving assumed the role of Producer on Battlefield 3, one of the most successful titles in Electronic Arts' 30-year history. After the incredible success of Battlefield 3, Loving focused his attention to building and establishing the newly formed DICE studio in Los Angeles. This ever-growing office delivers game-changing live-service content for one of the top gaming brands, Battlefield.

About Chris:
Chris Heatherly is the head of Disney Interactive's mobile and social games business, as well as Disney Club Penguin, the #1 virtual world for kids.
In this role, he oversees all management, operations and business strategy for mobile and social games, as well as operations, franchise and retail management for Club Penguin.
Heatherly previously served as General Manager & Vice President of Toys for Disney Consumer Products (DCP). In this role, he lead the North America toys and electronics line of business and oversaw product innovation and development, drove key licensee and retailer relationships, and lead a team of marketers and product experts.
He joined Disney in 2002 as vice president of Technology & Innovation for DCP. There he launched the company's consumer electronics business.
Heatherly went to DCP from Frog Design, where he was a Chief Strategist, managing the cross-functional strategic consulting practice for the legendary design firm and worked with companies ranging from startups to global brands such as SAP, Dell, Ford, Target, and Nike. Prior to that, he held several positions at Power Computing and Apple.
2016 List of Confirmed Speakers:


List of Confirmed Speakers
Shanti Bergel, SVP, Business & Corporate Development, GREE
Jill Braff, General Manager, Ellen Digital Ventures
Dan Brody, VP, Tencent Games, Western Markets, Tencent
Josh Brooks, SVP, Brand Strategy & Marketing, SGN
Scott Brovsky, Head of Marketing & Community, Multi Labs
Josh Burns, Gaming Industry Consultant
Michael Cai, SVP Research, Video Games & Technology, Interpret
Lina Chen, Co-Founder & CEO, Nix Hydra
Matt Collado, CCO, Littlstar
Larry Cutler, Co-Founder, Baobab Studios
Sunny Dhillon, Principal, Signia Venture Partners
Derek Douglas, Head of Games, Creative Artists Agency
Chris Early, VP of Digital Publishing, Ubisoft
Clinton Foy, Managing Director, CrossCut Ventures
Javon Frazier, EVP, Strategy & Business Development, Studio71, LP
Tracy Fullerton, Director, USC Games
Jim Gatto, Social Media and Games Team Co-Leader, Sheppard Mullin Richter & Hampton LLP
Eric Goldbery, Managing Director, Crossover Technologies
Chris Heatherly, SVP & GM, Disney Mobile Games, The Walt Disney Company
Jens Hilgers, Founding Partner, BITKRAFT; Founder & Board, ESL
Teemu Huuhtanen, Co-Founder & CEO, Next Games
Koh Kim, Head of Business Development, Mobcrush
Andy Kleinman, Founder & CEO, MobLabs
Lawrence Koh, General Manager, Nexon M, Nexon
John Koller, VP Marketing, Playstation
Albert Lai, Co-Founder & CEO, Big Viking Games
Christine Lee, VP, Business, Immersv
Peter Levin, President, Interactive Ventures & Games, Lionsgate Entertainment
Fredrik Loving, General Manager, DICE LA
Dave Madden, SVP Global Brand Solutions, Electronic Arts
Alejandro Manchado, Business Development Lead, Gaming, Google
Michael Metzger, Media & Tech Investment Banker, Houlihan Lokey
Matt Nutt, Vice President & General Manager, Glu
Jonathan Pan, CEO, Team Elemental
Matthew Patrick, Owner & Creator, The Game Theorists
Chris Petrovic, SVP & Head of Corporate Strategy & Development, Kabam
Stan Press, Managing Director, Digital & Gaming, Magid Advisors
Matt Raub, Creative Director, SMOSH Games & EP, The Warp Zone/DEFY Media
Nanea Reeves, President & COO, TextPlus
Steven Schkolne, Founder, 3dSunshine
Adrian Sexton, Interim President & COO, Endemol Beyond USA
Ned Sherman, CEO, Digital Media Wire, Inc.
Jesse Sisgold, COO, Skydance Productions
Kyle Stallock, Lead eSports Strategist (Global), Edelman
Andy Swanson, VP eSports & Events, Twitch
Cat Valdes, CEO, Catrific
Joost van Dreunen, Co-Founder & CEO, SuperData Research
Mike Vorhaus, President, Magid Advisors
Bill Wang, Corporate Vice President & Head of Global Investment, Perfect World
& more to come!
Sponsorships and Exhibition Tables
For any questions regarding sponsorships or exhibition tables, please e-mail Tinzar at tinzar@digitalmediawire.com.


2016 Supporting Partners, Sponsors, and Media Partners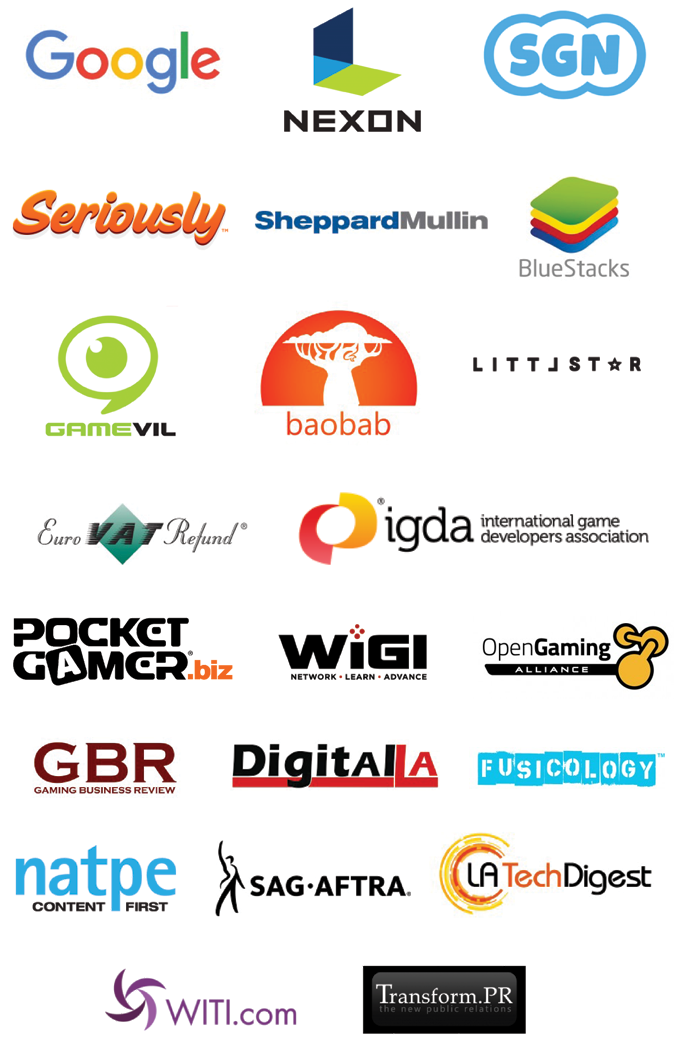 Speaker submissions for 2016 are now open : http://www.dmwmedia.com/submit-speaker
--
REFUND POLICY
Refunds are subject to a $100 processing fee, which will be subtracted from your refund total. We must receive your written request for a refund by March 1, 2016. Cancellations received after March 1, 2016 are non-refundable.
You may transfer your registration to another person by March 30, 2016. Please provide written authorization to info@digitalmediawire.com. Confirmed and paid attendees who do not attend or who cancel after the deadline are liable for the entire fee.