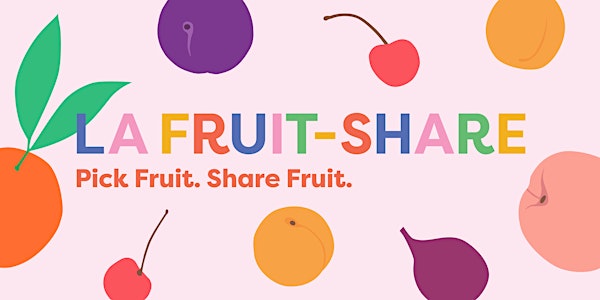 L.A. Fruit-Share
Join Food Forward, Fruitstitute, and SALAD for President for LA's first ever Summer Fruit-Share!
About this event
LA Fruit-Share: A Call To Harvest
**Para Español, haga clic aquí.
You're invited to participate in LA's Fruit-Share on Sunday, July 12th from 8am till 8pm as we harvest and share our own backyard produce. Participants will give and receive, walking the streets of their own neighborhoods, collecting as much fruit as they need/want.
How do I participate?
*Super important: if you choose to share citrus, please remove all leaves, sticks, and stems from the fruit.
1. Register: the location of your fruit by hitting the green register button above! Be sure to include your address, which will show up as a pin on our interactive map day of.
2. Harvest: Pick your backyard fruit. There's no such thing as too much! For a handy, at-home harvesting guide, click here.
3. Box: Box the fruit. Clearly label with your name, fruit variety, and #LAfruitshare.
4. Display & Share: Place the box in an accessible, shady, visible area (stoop, sidewalk or front yard). Make it pretty (there will be a prize for the most charming display). Post a photo, tag #LAfruitshare and @LAfruitshare.
5. Gather: Take a stroll using our interactive map and collect some fruit.
6. Donate: Click here for a list of hunger relief agencies who would love your surplus produce the following day, Monday, July 13th.
For more information and to follow along at home, check out @LAfruitshare on Instagram.
Questions? Contact Alia Haddad, Events & Partnerships Manager at Food Forward, at alia@foodforward.org.
Food Forward (501(c)(3)) collects produce from backyard fruit trees, public orchards, farmers markets, and the downtown Los Angeles Wholesale Produce Market. 100% of the recovered produce is donated to hunger relief agencies across 8 counties in Southern California. The organization has won four consecutive Food Recovery Challenge awards from the U.S. EPA (2015-18) for its work to prevent and reduce food waste.
Julia Sherman is the creator of SALAD for President, an evolving publishing project that draws a meaningful connection between food, art and everyday obsessions. Sherman's cookbook, Salad For President: A Cookbook Inspired by Artists, was published by Abrams Books in Spring '17, and her sophomore title, a treatise on the messy virtues of entertaining, will be released Fall '21. Sherman, and her writing, have been featured in Vogue, New York Times Cooking, Domino, Bon Appétit, and many more. She is the creator of Jus Jus sparkling verjus, a low ABV natural wine.
Fruitstitute is a L.A. based fruit tree care and education service. Founded by local fruit tree specialist Joanna Glovinsky, Fruitstitute is the only home orchard service in L.A county, providing seasonal pruning, maintenance, tree planting & education to backyard growers. Fruitstitute takes the art of growing fruit out of the orchard and into the backyard.