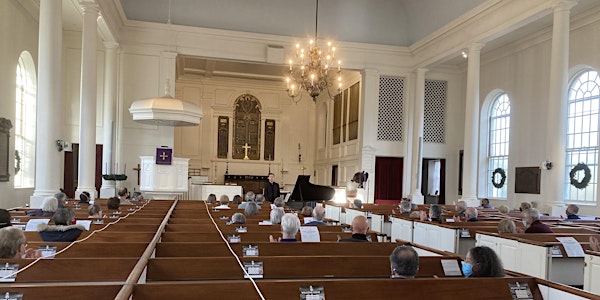 LA FLAMME: Virtual Piano Recital, Paulius Pancekauskas
Stream of concert by Lithuanian pianist Paulius Pancekauskas recorded at St. Paul's Newburyport on Dec. 5. Premiere Jan 9, on demand 9 - 18.
By Ballets Russes Arts Initiative
Date and time
Starts on Sunday, January 9, 2022 · 4pm PST
About this event
Virtual concert performance by Paulius Pancekauskas featuring three centuries of piano music. Recorded live at St. Paul's Church, Newburyport, on December 5, 2021.
The concert traverses three centuries and diverse composers such as Bach and Mozart (18th), Brahms (19th), Scriabin (early 20th), and Remesa (late 20th). The title of the concert comes from Alexander Scriabin's notoriously difficult composition Vers la Flamme, one of the last piano works written before his death in 1915. The music, which builds and crescendos throughout the piece, reflects Scriabin's own idee fixe that a continual accumulation of heat would ultimately cause the destruction of the world in a fiery inferno. The program also features a powerful piece by Lithuanian composer and Franciscan Monk Alvidas Remesa.
Your ticket purchases and donations are shared equitably by BRAI and the pianist.
The streaming premiere of the concert video takes place Jan 9 at 7:00 pm, followed at 8:00 pm by a separate Zoom-based Q&A with Paulius. The video will be available to watch on-demand through Jan 18. Registration remains open through Jan 16.
Presented in partnership with St. Paul's Episcopal Church.
Program
J.S. BACH (1685-1750) arrangement of Concerto in D minor by Alessandro Marcello (1673-1747) , BWV 974 (1715)
W.A.MOZART(1756-1791) Sonata K. 330 (1783)
Johannes BRAHMS (1833-1897) Ballade op.10 no.4 (1854)
Alvidas REMESA (b. 1951) Stygmatas (1990)
Alexander SCRIABIN (1872-1915) Vers la Flamme (1914)
BALLETS RUSSES ARTS INITIATIVE is a Boston-based non-profit cultural organization that fosters international creative exchange in the visual and performing arts and film, and connects communities in the US and Eurasia. BRAI carries out public programs throughout Massachusetts, the East Coast and internationally, and BR360 Member programs in the Boston area. www.ballets-russes.com
Nota Benes:
When you sign up for this virtual concert experience, you will receive an auto-confirmation of the order. However, the viewing and Zoom Q&A links will be sent out 48 hours, 24 hours, and 2 hours before the premiere, on January 9 at 7 pm. The video will remain available to (re)watch through January 18th. However, the Zoom Q&A with the pianist takes place only live, on Jan 9 at 7 pm. Registrations during or after the premiere receive the viewing links immediately.
Paulius Pancekauskas is a pianist from Lithuania who earned his Masters of Music and Artist Diploma from Longy School of Music of Bard College. He made his debut with the Lithuanian State Symphony Orchestra in 2009, and has won or placed in a dozen international competitions in Europe and the US. After moving to the US in 2016, Paulius was granted the Presidential Scholarship and Neil and Jane Pappalardo Scholarship at Longy. Currently, Paulius is an active performer in Massachusetts pursuing his solo performance and teaching career.
About the organizer
A non-profit 501(c)(3) organization fostering creative exchange in the visual and performing arts between the US and the post-Soviet States.
Visit us online: www.ballets-russes.com
Join our list: BRAI Mailing List