Event Information
Refund Policy
Refunds up to 7 days before event
Eventbrite's fee is nonrefundable.
Description
Beloved sister, do you desire to be part of a loving community of conscious women in New York?
"La Femme Rose" is a monthly women's healing circle for women to share the sacredness of our hearts. Together we create a nourishing space for our vulnerable souls to feel safe.
My name is Irina. I have created these sacred circles after experiencing the power of having the loving support of women in my life who have inspired me to become the woman I am today. It is so important for every woman to be able to transform her life while feeling accepted, supported, heard, and understood without judgments.
WHAT TO EXPECT:
Practices and rituals in the traditions of Taoism, Hinduism, and Sacred Feminine that include personal empowerment, sensory exploration, relaxation, guided meditation, connectedness with self and others, mindfulness, breathing exercises, emotional release, aromatherapy, and intuitive movement. We select a different theme for each month based on the moon cycles and the energies that each cycle represents.
Next circle: December 28th, 2019, Harnessing Abundance
Time to tune in to your heart vision for 2020!We have created a container that showers you with community support, love, ritual, free-flow movement, journaling, and joy!

Are you ready to…

• Ground into your vision for 2020 and share it in circle
• Step into clarity and declare your desires
• Connect to your body, voice, truth, and power
• Come together with sisters to feel the power of one woman/one community
• Celebrate the old and bring in the new
• Allow yourself to be cocooned in a bubble of love

It's time to release the stress, the worry, the fear and step into your calling for 2020 with clarity, confidence, support, and love!
Divine Consecrations: Harnessing Abundance women circle is dedicated to the wisdom goddess Kamala, a goddess of a magical lotus. Lotus grows out of muddy waters and produces the most beautiful flower, like the soul coming forth from the Earth to the space of pure consciousness. Kamala's wisdom opens us to gratitude, joy, fulfillment, abundance, beauty, love, and devotion.
Upcoming circles:
01.25.20 New Beginnings
02.22.20 Sacred Love
Other dates: 03.28.20, 04.25.20, 05.30.20, 06.27.20- Theme TBA
Here is what our sisters are saying:
"The Women's Circle event was such a wonderful experience. Irina has such a vibrant energy that by the end of the circle I felt recharged, renewed and energized in my soul. Thank you for everything you do for women to show them who they really are and what they can do with their POWER that they carry within". Enki O.
"I had a personal great experience developing my mind, body & soul during a group session. What a beautiful expression of women!" Tara S.
"I felt like I left my pain there. As if a weight has been lifted." Paula M.
"I have participated in Irina's circle. I was welcomed by her and all the sisters with such love and respect. I was put at ease from the very start and I was a complete mess when I arrived. I was allowed to feel my feelings without any judgment. I left the circle that day feeling supported and understood." Marisol G.
ABOUT ME:
My name is Irina Devi and my life's purpose is to inspire women to step into their true power, to re-claim their self-image, re-connect with joy in their hearts and experience pleasure in their bodies regardless of the programmed false beliefs and past traumas. I know it is possible because I was a woman once with a low self-worth. I was haunted by intimacy fears, perfection standards, and poor self-esteem.
Trained in Taoist and ancient healing arts, aromatherapy, and GROOVE movement, my work has evolved into a unique, holistic, and individualized approach to women's emotional and physical wellbeing during lifespan stages, including pregnancy and menopause. I am a mother of one, holding a Bachelor's Degree in Psychology and presently completing a Master's program for licensing in Family and Couple Therapy. I live and work in Manhattan, New York where I founded my Fragrant Wellness practice. I organize classes, social gatherings, and monthly women circles in New York as well as women's retreats around the world.
"I believe in wellness, purpose, self-love, personal growth, and inspiring others to dive deeper into the wisdom of their own heart, to connect to the body while nourishing the mind to live authentically and in alignment with life's natural flow."
I look forward to welcoming you into the "La Femme Rose" community.
Irina Devi
Find us on FB: "La Femme Rose" Conscious Women Community https://www.facebook.com/groups/lafemmerose
Visit My Website www.fragrantwellness.com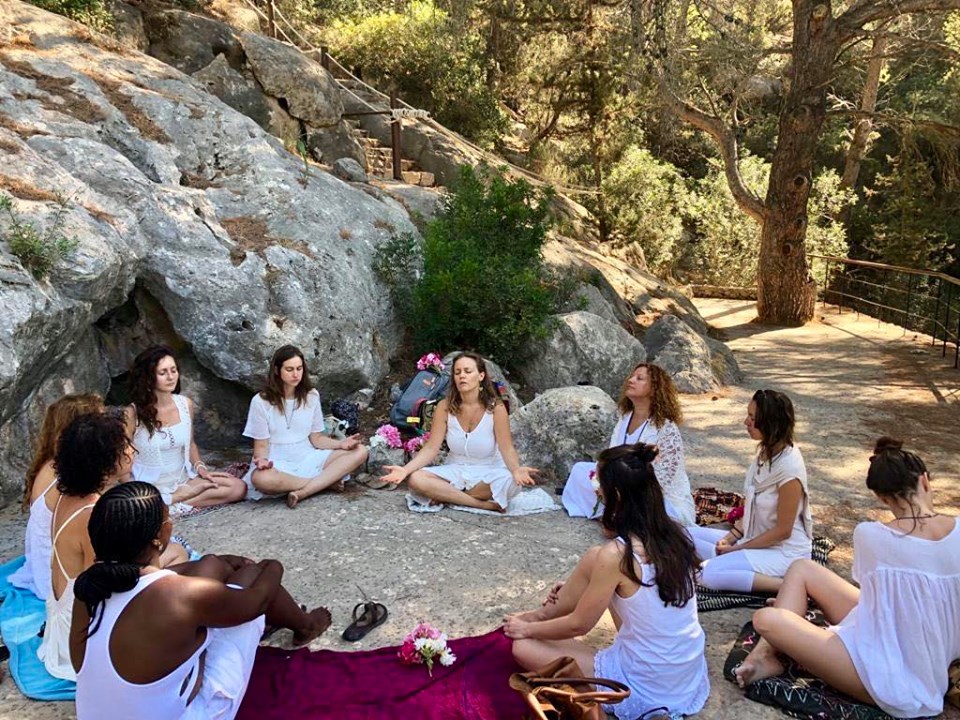 Date and Time
Location
Manhattan Plaza Health Club
482 West 43rd Street
1st floor conference room
New York, NY 10036
Refund Policy
Refunds up to 7 days before event
Eventbrite's fee is nonrefundable.