Event Information
Location
The Globe Theatre
740 s Broadway
Los Angeles
Los Angeles, CA 90014
Description
La's hottest fashion Festival Summer 2018 ! Mixer and after-party till 12 am HOSTED BY CHANEL WEST COAST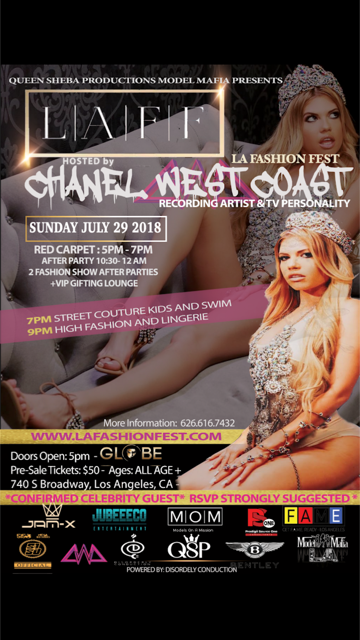 mingle with Celebrities and publicists, and Manufacturing companies
Collaborate with the full cast as well as the brands + influencers .

WHO SHOULD APPLY?
Hip, Fashion forward Boutique Brands & Low minimum Upscale Artisan Designer Brands
These are the categories:
Jewelry Designers
Hipster Designers Apparel Brands
Shoe Makers/ Designers
Hats maker/Designers
Hand Bags & Wallet Maker/Designers
Lingerie Maker/Designers
Swim wear Designers
Scarves & Belt makers/designers
Sunglasses
Leather Garment Designers
this event is open to all ages

EVENT DETAILS
July/ 29th /2018
Event HRS: 5pm -7pm walk the red carpet meeting greet with the cast and enjoy fabulous vendors
7pm 1st show street couture and swim
9pm 2nd Show high fashion and lingerie
After party 10:30 -12am
2 fashion shows
Live Music /Exquisite Food vendors/Art
enjoy all day games & give aways !
Red Carpet Interviews
Over 1000+ Attendees
Cast & Celebrity Meet & Greets
all ages


---



LA FASHION FEST 3RD ANNUAL SHOW


THIS YEAR'S CAUSE


Models on a mission clothes and food drive join the cast of La fashion fest and the models Model Mafia in their annual charity Event raising awareness to the Holmes's of La
Our goal is to help the less fortunate of our community. Including the elderly, unemployed, underemployed, poor, migrants homeless veterans – women, men and children. We feed the hungry and assist in our humble way to keep families together by providing them nourishment, and clothing since 2015
We have a "no questions asked" policy which has resulted in our serving more than 1500 hot meals to individuals and families in the surrounding the Los Angeles area
La fashion fest partners with other organizations and businesses to help bring greater success for reaching those in need in our community and helping the homeless.

What we do
Distribute collected clothing donated at the fashion show
Provide hot meals for 500+ homeless per year
Provide personal hygiene products donated


WHO WILL ATTEND THIS EVENT?
- Boutique Owners/ Buyers
- Fashion guru Shopping Public
- Stylist and Bloggers
Get in-front of the right people
- Trade buyers - get wholesale orders
- Passionate Fashion Shoppers - Sell retail to the public
- Press & media - meet and connect w/stylist and bloggers who can get your line press & publicity.
All of this helps your line thrive and grow!
WHEN IS THIS HAPPENING??
THIS EVENT IS HEAVILY PROMOTED to ensure a steady healthy flow of
shopping traffic.
WHY BE PART OF THIS EVENT?
It's a great way to get your start in the wholesale trade industry.
It's a great way to meet buyers face to face in a casual setting.
It's a great way to get feed back on pricing, styles,range, materials and other brand developing information.
Its a great way to get wholesale orders.
It's priced fairly so you can participate frequently.
It's a great way to fine tune your brand before hitting the LARGE and Expensive Trade shows.
and so much more....

Please note not everyone that applies will be asked to participate in the show.
There is limited Space so Apply NOW!
APPLY HERE:::::::::::::::::::::::
::::::::::::::::::::::::::::::::::::::::::::
THE MAIN EVENT
With surprise multiple celebrity guest appearances
join the up-and-coming models in La alongside of newly established clothing stores, designers,makeup artist hair stylist and wardrobe stylist, and vendors- as we get together on a sunday for a good cause!!
Get Pre-Sale Tickets!
Or
Get In INVOLVED:
Become a featured model !!!
Or
Donate Clothes
GET A BOOTH
SPONSOR US
DESIGNERS/BRANDS/TALENT
ADVERTISE IN OUR PROGRAM LOOKBOOK OR BACK DROP

JOIN upcoming LA models, fashion collections, luxury, and emerging brands. Come out and see the new boutiques, brands, labels and TALENT or rent a vendors booth to network and promote your own business.
Walk the Red Carpet in your head to toe fashion attire with nationwide media correspondents
Enjoy live stage talent Show!
Enjoy food vendors from around the world
get ready for Los Angeles most anticipated runway, ever! — Please contact us at 626.616.7432
for more information. Lafashionfest@gmail.com
*
- PROHIBITED FROM THE EVENT
Unapproved pamphlets, handouts, advertisements, etc. | Pets (certified service dogs on leashes are permitted), NO OUTSIDE FOOD OR DRINK
No Alcohol | Glass bottles Weapons of any sort | No bikes,
Date and Time
Location
The Globe Theatre
740 s Broadway
Los Angeles
Los Angeles, CA 90014
Refund Policy