San Francisco's La Doña performs original music based on the rich history of Spanish language and Mexican and Mexican-American culture
About this event
PLEASE NOTE NEW VENUE: MITCHELL PARK BOWL - -OUTDOORS. 600 EAST MEADOW DRIVE, PALO ALTO
Due to the demands of her growing fanbase, we have moved the concert with La Dona to Mitchell Park Bowl, in Palo Alto, Middlefield and East Meadow roads, about 2 miles south of the previous location.
Attendees are asked to register in advance here at EventBrite.
This is Palo Alto's answer to recent La Dona venues like Stern Grove and Yerba Buena Gardens in SF.
Any questions, please call Mark Weiss, Earthwise Productions at (650) 305-0701.
Guests can bring blankets or chairs, although Palo Alto restricts the use of alcohol in the park. We are planning a safe, fun event for all music lovers. Note: we have added a show the following Saturday with Vetiver and David James Band. Also, 2 p.m.
Please note, beside the below excerpt, recent articles on La Dona by Andrew Gilbert in the Chron and Montse Reyes for KQED.
The video for "Quién Me La Paga" begins with Cecilia Peña-Govea testing the broth from a simmering pot of pinto beans, careful not to smudge her dark lipstick. We're in her childhood home in Bernal Heights, San Francisco, where the floral carpet forgives festive spills and her father and sister crowd the couch on accordions. We follow her fluent swerve between stove and living-room dance floor as the first scratch of the güira sets the rhythm — cumbia! — then, when the chorus hits, the distinctive dembow of reggaeton, a decidedly millennial mash-up. This is the lifelong party that incubated her versatile, confident musicianship as the artist known as La Doña. Not long after, off-camera, the whole scene came to life again to celebrate her father's retirement from 35 years in the city's Department of Public Works — service sustained always by a parallel practice of virtuosic play.
No one knew it would be the last time they'd gather like that — passing spliffs, breathing in each other's humid music — for a year and counting. The lost, forbidden pleasures are all immortalized onscreen. But even before the pandemic, her community of working musicians, public-school teachers, graffiti writers and activists was in crisis. Privatization, accelerated by the tech industry, had left the city's social safety net in tatters and pushed generations of Black and Latinx residents to the outskirts, where many worked three jobs to maintain a toehold. "Quién Me La Paga" alchemized the pressure of those conditions, La Doña's voice ringing with lucid power: "La vida, sí amor, me cuesta." Life — yes, my love — costs me. It's expensive. It takes its toll.
La Doña's first EP, "Algo Nuevo," dropped on March 12, 2020, the same day Disneyland announced it would shut down. Her release party was scheduled for that night; she had already paid out the deposits, sold out the tickets. Her kitchen was filled with buckets of pink roses. The venue hadn't canceled yet, but the call she had to make was clear, and in the hollow solitude that followed, she hung the roses from her ceiling to dry.
On the phone this February, La Doña told me how, in the early weeks of the pandemic, "we saw all the tech offices shut down, people leaving in droves." The exodus seemed to play out the vision of cosmic justice she had articulated in another song from "Algo Nuevo," "Cuando Se Van": "Sueño con terremotos/la ciudad pa' nosotros." Maybe the disaster would chase out the opportunists, las ratas que quieren comer nuestro pan. She felt almost guilty, "like oh, no, evil prophetic me" (her middle name is Cassandra, after all). As we now know, this abandonment of U.S. cities by the rich — I witnessed it in Manhattan, too — was not the harbinger of a new era of equitable distribution. The apocalyptic fantasy of "Cuando Se Van" yielded to the quotidian desperation of "Quién Me La Paga." And La Doña's careful plans for her triumphant debut blew away like a castle in the sky, "un barrio compuesto de nubes."
The previous year, La Doña was one of 14 artists from around the world selected for the Foundry, the YouTube incubator that jump-started the careers of Rosalía, Dua Lipa and CHLOE x HALLE. Her face appeared on a billboard in Times Square; then, suddenly, Midtown was deserted. La Doña's national tour — which was set to begin with South by Southwest — was canceled. She went from playing to crowds of 7,000 to livestreaming for a couple of hundred dollars and handling all the tech herself: sound, video, production, editing. La Doña's management urged her to take on each and every virtual gig — for "exposure," that dreaded euphemism for exploitation. To her great relief, she was still making money as a Latin-music analyst for (a social media firm) and as a teacher with SFJazz on Zoom, putting her home training in music theory to work.
But as an artist, she felt frozen — with anger, with fear and with the disoriented grief of losing the human context for her creativity. La Doña has been a live performer since she took up trumpet in her family's conjunto, playing regional Mexican music, at age 7. Her songwriting first emerged through the call and response that generates invention within traditional Latin forms; even her recorded music, despite its electronic flourishes, fizzes with embodied, improvisational energy. She wrote "Quién Me La Paga" jamming with old friends, Camilo Landau and Ayla Dávila, commiserating over the city's impossible rents and invoking the simple pleasures that sweeten the hustle: steaming coffee, cold beer, a fresh set of acrylics.
The song itself, of course, is another simple pleasure, especially the frenzied breakdown at the end: just drums and voices, Afro-Caribbean fundamentals, doubling down on the chorus: "La vida me cuesta/¿quién me la paga?" Under the pressure of repetition, the lyric phrase releases its full range of meanings. The question has developed a new resonance in the pandemic, now that mere survival has become a privilege available only to those who can afford to stay at home. "Quién me la paga?" "Who will pay?" Who will face responsibility for the lives sacrificed to profit? Who will give La Doña back her golden year? Repetition has a purpose that most "American pop music misses," La Doña says. Repetition "makes the listener feel heard," involves us all in fortifying the song's power. In the oppressive privacy of my studio apartment, I sing along, until my individual anxiety starts to sound like a collective demand.
(From The New York Times, new music issue, spring, 2021, by Carina del Valle Schorske)
Great article, I can only add that as someone who has worked with new bands and artists for 25 years this is like discovering a cross between Ozomatli and Imogen Heap, both of whom played my Palo Alto tastemakers series as relative unknowns. Updating that, a week later: it reminds me that I produced a mini-series at Mitchell Park years ago, with Maria Muldaur and then Los Straitjackets -- La Dona is better than a mix of Maria Muldaur and Los Straitjackets.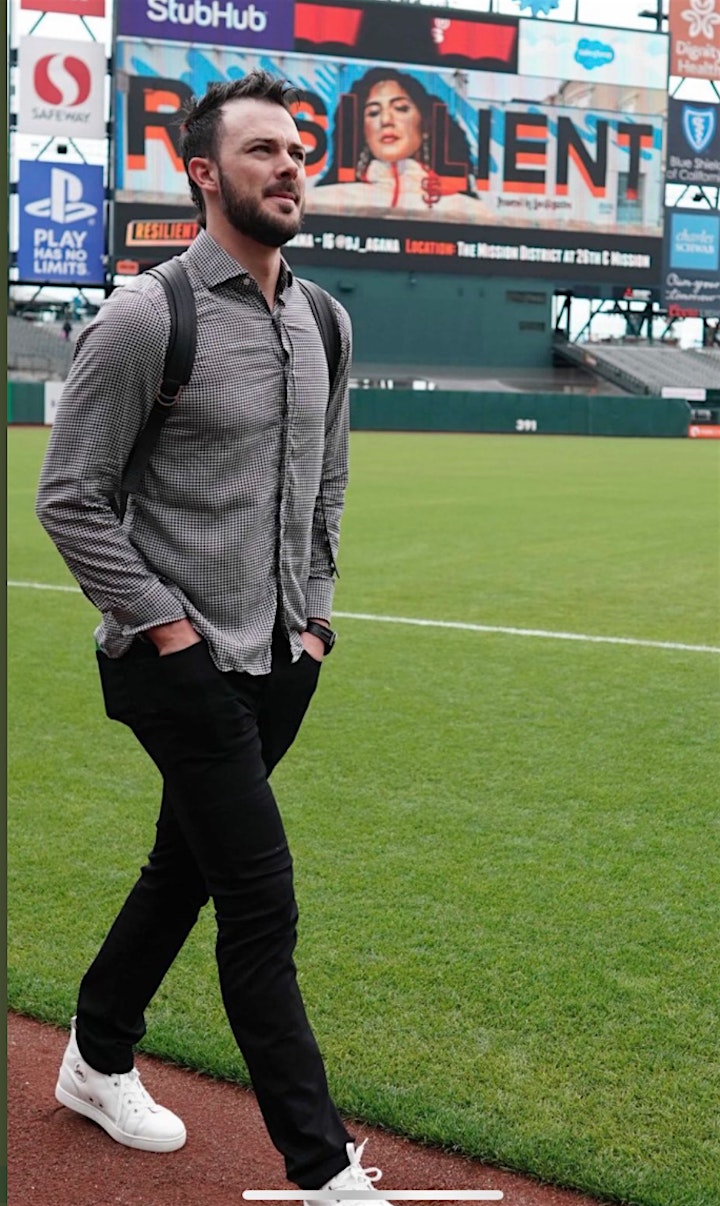 New cute guy in town Kris Bryant of the Giants would check out La Dona in person and not just on billboards and scoreboards were he not in Milwaukee that day
Organizer of La Doña free concert at Mitchell Park Bowl -- outdoors CHANGE IN VENUE