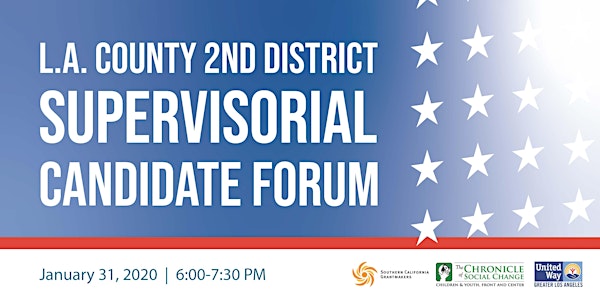 LA County Second District Supervisor Candidate Forum Creating a Bold Vision
Join your community for a non-partisan forum geared around critical safety-net, child welfare, and housing issues for the Second District.
When and where
Location
Los Angeles Trade Technical College - LATTC 400 West Washington Boulevard Los Angeles, CA 90015
About this event
The next Supervisor representing Los Angeles County's Second District on the Los Angeles County Board of Supervisors will face critical policy decisions that will determine the future health and well-being of the county's most vulnerable children and families. This election presents a key opportunity to ensure that the issues facing vulnerable children and families are heard in the election. We invite you to join us for a community forum where candidates for the Second District Supervisorial seat will share their vision for the issues that will impact the county and the Second District.
Los Angeles County boasts the biggest, best, and brightest in many categories – and the Second District is fundamental to the success of our region. We also face serious challenges: crushing housing costs, an enduring homelessness crisis, and stark and increasing inequality. In this district of 2 million people, such contrasts are clear. These issues range from creating affordable housing, addressing homelessness, protecting and improving children's health care, ensuring a strong child welfare system and reforming our youth justice system—all have profound implications and long-lasting impact on the 2.3 million children in Los Angeles County.
Southern California Grantmakers, The Chronicle of Social Change, and United Way of Greater Los Angeles is proud to host a candidates forum for the Los Angeles County Board of Supervisors – Second District. Join us for a nonpartisan, community forum focused on issues around children and families, housing and homelessness, and other critical issues for the Second District.
Candidates:
Jake Jeong, Lawyer
Holly J. Mitchell, State Senator SD-30
Jan Perry, Former LA City Councilmember
Herb Wesson, LA City Councilmember
To learn more about the candidates on the issues, we are sharing the candidates' policies related to child welfare, juvenile justice, homelessness, and affordable/supportive housing. You can find them by topic by clicking on the following: Child Welfare, Juvenile Justice, Homelessness, Affordable/Supportive Housing
Sobre este Programa
El Segundo Distrito del Condado de Los Angeles, con sus 2 millones de residentes, es fundamental para el éxito de nuestra región - pero se enfrenta a serios desafíos, incluyendo el alto costo de vivienda, una crisis duradera de personas sin hogar y una desigualdad marcada y creciente. La persona que representará al Segundo Distrito del Condado de Los Ángeles tomará decisiones importantes cuales determinarán el futuro de la salud y el bienestar de las familias y menores en el condado.
Southern California Grantmakers, The Chronicle of Social Change, y United Way of Greater Los Angeles, se enorgullecen en presentar los candidatos para el Segundo Distrito de la Mesa Directiva de Supervisores del Condado de Los Angeles en un foro communitario. Este foro no tiene relacion a ningun partido politico, y se centrará en temas relativos a menores, familias, la vivienda y la crisis de personas sin hogar, además de otros asuntos importantes para el Segundo Distrito.
¡Habra interpretación simultánea al español disponible completamente gratuita gracias a la generosidad de Libérate! Language and Healing Justice Cooperative. Porfavor indique en su registro si utilizará este servicio.
Candidatos:
Jake Jeong, Abogado
Holly J. Mitchell, Senadora Estatal Distrito -30
Jan Perry, Anterior Concejal de la Ciudad de LA
Herb Wesson, Concejal de la Ciudad de LA
Cuando: viernes, 31 de enero, 6pm
Donde: Los Angeles Trade Technical College – LATTC
400 West Washington, Boulevard
Los Ángeles, CA 90015
_________________________________________________________________________________________________________________________________
This nonpartisan event is made possible by the generous support of the following:
Forum Co-Host: